The kegel exerciser of my discontent
Squeeze those muscles and feel the Vr1's vibrations. At least that's how its supposed to work. But this will only happen if you can push it down as you squeeze or otherwise prevent it from moving to a level higher than your PC muscles. The flexible neck makes using the Vr1 for clitoral stimulation less than satisfying also.
Published:
Pros:
has potential as a kegel exerciser, novel design, waterproof, rechargeable
Cons:
fragile cord
The Vr1 is a unique toy designed to be used either like a traditional egg, with constant vibrations, or with vibrations that you control by contracting your vaginal muscles.
When I first tried the Vr1 in Exercise Mode, where you control the vibrations by squeezing, I was embarrassed to find that I couldn't exert enough force to trigger its vibrations. I turned it this way and that, squeezed in various positions with as much force as I could muster, pressed down hard on my abdomen with as much force as I can tolerate and still no vibrations. It vibrated as I inserted it. It vibrated if I inserted a finger and ran it around the outside of the Vr1. I just couldn't make it vibrate by squeezing.
I felt so weak. I couldn't help imagining it as a strict drill sargent.
me: I can't make it vibrate.
Vr1: Squeeze harder! You are not worthy of Vr1's vibrations. Drop and give me twenty squeezes!
me: Sir! Yes Sir!
In a way the Vr1 richly succeeded, even during this initial period of frustration. I squeezed more and harder than I ever have. Maybe its my imagination, but I think I may already have stronger PC muscles.
I admit that I did find a couple of ways to make it vibrate inside me other than inserting a finger. 1) sneeze. 2) cough. There.
When I hold it in my hand and squeeze with fingers, it feels like it takes only a little force to trigger the vibrations. If I toss it from one hand to the other, it remains silent. You need to press on a select area on the front or the back of the oblong part of Vr1, then both parts of it vibrate.
When I insert a finger inside myself and squeeze, I can feel gentle squeezing. Do other women feel more than gentle squeezing? I have no idea. And I also don't know how my muscle strength compares to others.
Charging and adjusting the mode of use
The Vr1 arrived charged and ready to use. To unlock it and put it in exercise mode, press the lock button down for four seconds. This is tricky. Press too long and you'll set it to steady vibration instead. Once in exercise mode, a red light under its skin will brighten then go out every few seconds to let you know its in this mode.
To set it to steady vibration, or 'pleasure mode', hold the lock button down until its at the desired vibrational level. A single touch of the lock button will then turn it off. To return it to lock mode, hold the lock button for four seconds.
Charge it by inserting the charger into a tiny hole at the bottom of the unit. A red light will glow as it charges and will turn off once its fully charged. The instructions state that it takes three hours to fully charge the first time. Recharging it took two and a half hours.
Materials and design
Vr1 has two balls, one oblong, both covered entirely in silicone. The tiny hole for the charger closes when the charger is not inserted, making it completely waterproof.
The cord is also made of silicone and is thin, soft and bendable. I didn't find the cord to be annoying at all. I was only aware of it for a minute during the very first use. But one end of the cord broke right where it attaches to the body after less than a week of use. I haven't been rough with it. I was only removing the Vr1. So there may be issues with the strength of the cord. Now there's a small hole where the cord used to attach and only a thin thread of silicone is keeping that part of the cord attached to the new hole, so my Vr1 may not be waterproof anymore. Water seeping into the new hole may be responsible for its somewhat erratic behavior.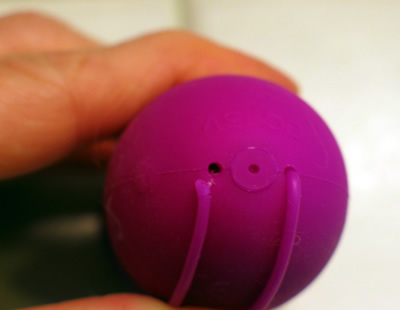 The neck that connects Vr1's two parts is quite flexible.
I wouldn't use this in public unless you're somewhere with a fair amount of background noise. It vibrates loudly enough to be heard by others even when its inside you. I can imagine some awkward scenarios that could result from public use.
boss: Update me on your project.
you: Well... [cough] BZZZZZZ
boss: O.o
On the outside of the unit, the word Powerbullet reminds you what kind of vibrating motor is inside it. It also says 'DC 5V' near the charging hole.
It comes with a black storage bag that is large enough to hold the Vr1, the charger and multiple other toys.
Only use water-based lube with this toy.
Experience
Exercise mode
As I insert the Vr1, it buzzes with each inward push, as if to object to the coming darkness. If I leave it partially inserted but keep my muscles relaxed, it buzzes continuously. If I keep the Vr1 very low and close to the vaginal entrance, I can trigger vibrations. But, alas, each squeeze pulls it further and further inside me to a location where I can no longer exert enough pressure to make it vibrate. It continues to rise until there is only about a half inch of cord left sticking out of me. Apparently this brings Vr1's pressure sensitive parts out of range of my PC muscles. There is a lattice of muscles surrounding the vagina, but mine aren't strong enough to make Vr1 vibrate.
So the Vr1 is like the
Peter Principle
of kegel exercisers, rising to a level where it becomes incompetent at its job.
I am not deep inside - at most I can accommodate a little less than six inches and certainly much less when not aroused - so it surprises me that it won't stay low enough to be within reach of my PC muscles.
I did some research to see exactly where the PC muscles are in order to determine whether the problem is my own weak muscles. It turns out that they are also called 'pelvic floor' muscles for a reason. They are located quite low and surround the urethral and vaginal entrances and the anus. No wonder I can't make it vibrate inside me. Learning this has taken the wind out of my sail about using Vr1. I was hoping to use it as a way to measure my progress, but that is not to be.
Upside down exercise mode
I tried inserting the Vr1 upside down, leaving the ball outside. Sadly, I didn't try this experiment until after the cord broke and the Vr1 started behaving less reliably. The vibrations of the round ball feel quite nice when used in this manner. Its still not as satisfying an experience as I had hoped though.
Pleasure mode (constant vibrations)
When its set to constant vibration mode and inserted, I could feel the vibrations but they were only mildly stimulating. I need to be able to press a vibrating object against my G-spot for the vibrations to be truly effective.
I tested to see whether keeping it inside me in constant vibration mode would enhance a clitoral orgasm. I believe it did, but its hard to tell.
Using it for clitoral stimulation was a bit problematic. The neck is flexible and if the oblong part is against you, the round ball is oddly and ineffectively positioned. The only way to use the ball as a clitoral vibrator is to hold the ball against yourself which then gives your fingers more vibration than you probably want.
Final comments
I had such high hopes for this toy. Maybe this toy will work well for you if your anatomy is such that the Vr1 doesn't travel further inside you than the point where your PC muscles can reach. Or if constant vibrations inside you are what please you. I just wish it worked better as a kegel exerciser for me.
This product was provided at a discounted price in exchange for an unbiased review. This review is in compliance with the FTC guidelines.

Thank you for viewing
Vanity Vr1
– egg vibrator review page!