This Smoking Pistol Turned Out To Be A Smoking Gun...
If you like girth, texture, power and variety then this pistol very well could be for you---if you have a certain body type. The "ears" (barrels) of the clitoral attachment are far too high to reach my clit, and the trigger is far too low. This leaves me at a stand still. Add in the super amount of texture that doubles up on the girth and you have a powerhouse made for the texture goddess within(who has a super high clit).
Published:
Pros:
Beautiful, texture, light up controls.
Cons:
Only works for certain anatomies, may be too textured or girthy for some.
*Use*
Jesse Jane's Smoking Pistol (JJSP) is designed for texture queens. Size queens may enjoy it as well, but if you don't like a lot of texture than pass this baby up.
This is intended for both vaginal and clitoral stimulation. The large curved head is great for G spotting, while the large pistol attachment is designed to hug the clitoris.
I would
*not* use this anally
unless you think you can handle the extreme texture that it provides. If you do decide to use this anally, be sure to have a LOT of lube handy and use a condom as the material cannot be sanitized.
*Material/(Insane)Texture/Design*
I was so excited to get this baby in the mail. After watching it for months in my wish list, I finally decided to snatch it up.
Once I could finally bust it out of the package I took a minute to feel its luscious bumps and curves. The whole thing is designed with a fascinating texture. The head has a nice curved tip that fits the g spot perfectly. Nubs circle the shaft where it connects to this curve, and swirling raised tentacle designs adorn the remainder of the head. The middle of the shaft is super smooth while the bottom portion is styled by a skull inside of a heart.
The clitoral attachment is a large, double barrel pistol with extreme potential for the right body type. For me the part didn't match my anatomy and I was left with a huge want for a orgasm(and a huge tease) from it.
Demonstrating the texture around the head...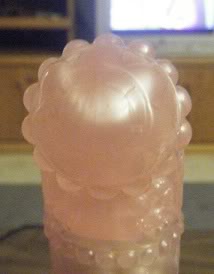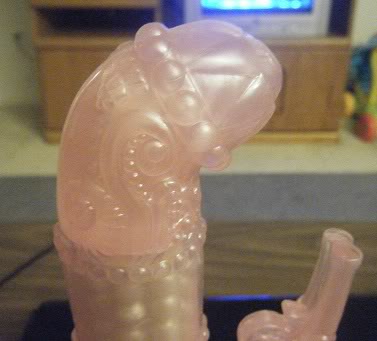 ...and the rest of it! You can also see how the clit attachment sits.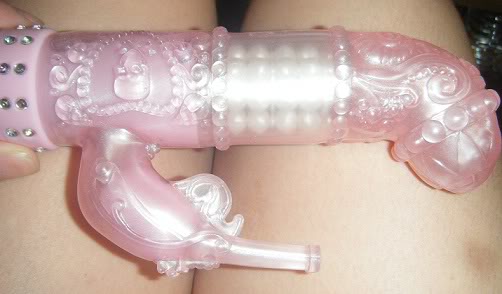 So on to the material! Jesse Jane has a nice thick plastic base that isn't too clunky like some traditional rabbit vibes. The shaft is made of TPE which is somewhat porous, but still pretty safe on the
materials list here at Eden
. It has no taste or smell and is fairly flexible for the most part. This TPE, however, is full of texture and feels pretty rigid.
*Functions*
This rabbit has 3 speeds of rotation which are fairly powerful, and 6 vibration patterns consisting of low, medium and high steady vibrations and 3 pulsation patterns. The pistol, though far from hitting the clit, provides a good tease while thrusting and works great if you can snuggle it up to the right spot.
*Performance*
As I mentioned above, the head of this is great for g spotting. It fits mine perfectly and rubs it just right for maximum pleasure. The texture gives you a feeling of being filled up nice and adds good stimulation while thrusting.
The pistol attachment on this is located pretty far up(down?) the shaft and protrudes out enough where it doesn't have any contact with the clitoris. If your anatomy is different and your clit sits up higher, or you can comfortably take more of the shaft to allow contact, this may work for you.
I have a feeling that it won't work well with a lot of women, though.
Experience
The first few times I used JJSP the texture was just too much. Add the fact that the pistol wasn't hitting the mark (clitoris) and I just stuffed it back in my drawer for a month or so. I ended up pulling it back out though, and to my pleasure it is a wonderful G spot toy.
This product was provided free of charge to the reviewer. This review is in compliance with the FTC guidelines.

Thank you for viewing
Pirates Jesse Jane's smoking pistol
– rabbit vibrator review page!