WARNING: weight limit of 160 lbs
These are sexy, fish-net stockings that have a 160 lb weight limit. The weight limit is not posted on site but printed on packaging. These are nice quality stockings that anyone under 160 lbs would feel absolutely sexy in. I was very disappointed since these were to go along with my Halloween costume, but they did not fit me right.
Published:
Pros:
- Reenforced toe
- Long-lasting material
Cons:
- Has a weight limit of 160 lbs
- Lace rolls
Overview:
The lace top fence net stockings by Legs Avenue are a very affordable, durable pair of fish net stockings. These particular stockings feature a wide diamond pattern, they show much more skin then the small diamond patterns of other fishnets. The lace top is elegant and adds even more sex appeal to these sexy stockings.
Use
These stockings are just great because you can wear them with almost everything. You can wear them under a sexy black dress or wear them with your lingerie. Either way, they add a lot of sex appeal. When you wear these stockings with lingerie, most pieces have garter straps but you don't need to use them because the lace band holds these hose in place.
The stockings can be worn during sex. The material is durable. You can wear these stockings out in public. They look even better with knee high boots. Some may think it's slutty to wear these, but they really aren't, it's just someone else's opinion.
Material && Care
The stockings are made of 90% nylon and 10% spandex. Nylon makes these stockings super durable. They will last a long time if taken care of the right way. The spandex allows the stockings to stretch just a little bit. If you have larger thighs you will not need a garter belt. If you weigh more then the weight limit, the lace top with roll. The lace, located at the top of the stocking, has very minimal stretch to it and has a floral pattern. The lace band can be snagged like all lace, so take caution.
At the feet there is a reinforced toe that stretches completely over your toes, preventing them from falling out of the stocking. I have come to believe that the 10% spandex is all located in the reinforced toe. The elastic material by the toes cannot be torn, even with sharp toe nails you wouldn't be able to snag the material.
These stockings should last you a very long time. To care for your leggings, NEVER place them in the washer ALWAYS hand wash them and air dry. If you want to place them in the washer, make sure they are in a lingerie bag. The nylon does a very good job of resisting stains and lubricant.
What I really like about these stocking is that there are no seams. The stocking are made extremely well, and there are no loose strings or tears in them. Also they stay snug and don't stretch out.
Sizing
The stockings say one size fits most, but it doesn't specify at all. The package says 90-160 lbs. I am 175 lbs, and I wouldn't have got these stockings if that had been mentioned. Unfortunately, there is no size chart for them.
I am 5' 2 and these stockings went just mid-thigh, no higher. If you are more then 5'5 I would stay clear of these stockings unless you want them about to your knees.
The lace top does stretch, but not a bunch. I have average sized thighs for my weight. The lace top didn't create a muffin top, but they did roll down. If you have smaller thighs I won't worry about these stockings falling off of you. The lace top starts out small and stays small unless you completely stretch them to the max.
Packaging
The stockings come in a clear packaging that shows the stockings. On the front on the package you see the company name and the product name. The front also features a picture of the stockings worn by a model. On the backside you see the product name once again. The back also tells you the weight limit, 90-160 lbs. The packing also instructs you on how to wash the stockings. Once you open your package, you have to remove the huge cardboard piece out of the stocking.
The packaging would be good for gifting and storing your stockings.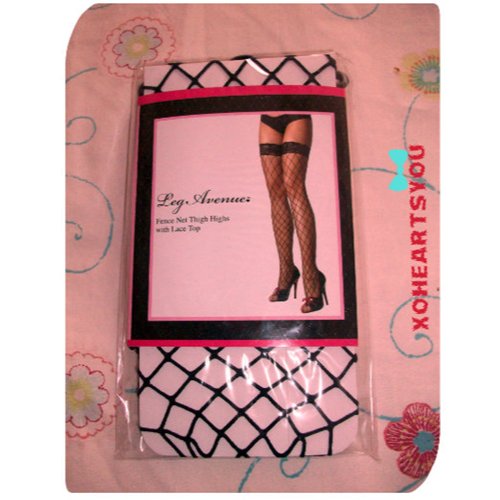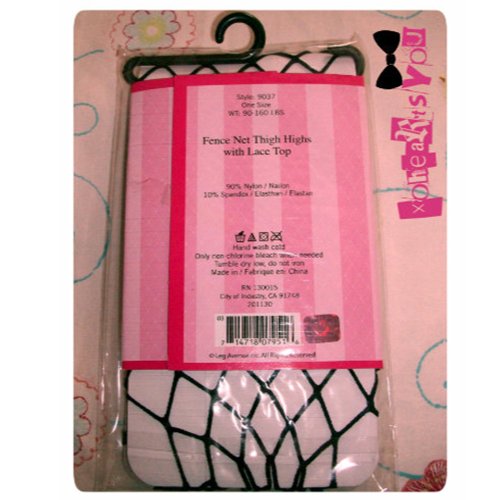 Experience
I am giving this product 4 stars because they are a great pair of stockings. They are sexy and durable. These stockings unfortunately didn't work for me. The website doesn't list the weight limit. I am 175 and the limit is 160. The only problem I had with the stocking was that the lace didn't stretch and it didn't want to stay. The lace keep rolling down. The lace was only rolling down because it was stretched too much. I don't believe this product should go by weight limit, I think that they should go with the circumference of your thighs. All in all, this is a great product even though they didn't work for me.
Follow-up commentary
12 months after original review
I still don't approve of the stockings. I wish the company would give measurements instead of weight to determine your size. I really do wish these would have worked out for me.
This product was provided at a discounted price in exchange for an unbiased review. This review is in compliance with the FTC guidelines.

Thank you for viewing
Lace top fence net stockings
review page!