Thunder Thighs
I didn't think this pair of thigh highs would have reinforced toes, but they do, which was a happy surprise for me. These are cute looking and the price wasn't bad, but the lace bands pose lots of trouble for me. If not for the thighs, these would be great. If you don't have thin legs, you should probably get something else.
Published:
Pros:
Soft lace, reinforced toe
Cons:
Fragile lace, rolls down, muffin top on thighs, one size
These stockings come packaged the same way as most Leg Avenue hosiery: inside of a pink/black striped paperboard sleeve.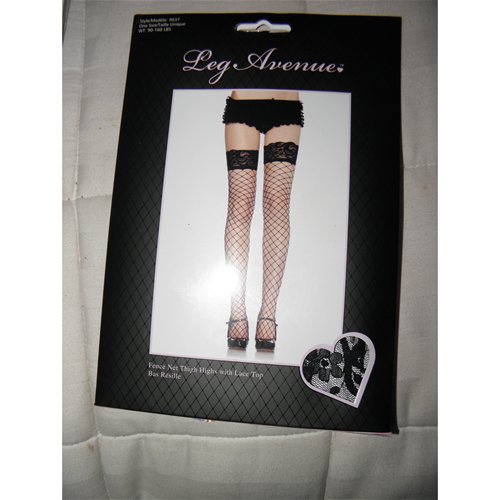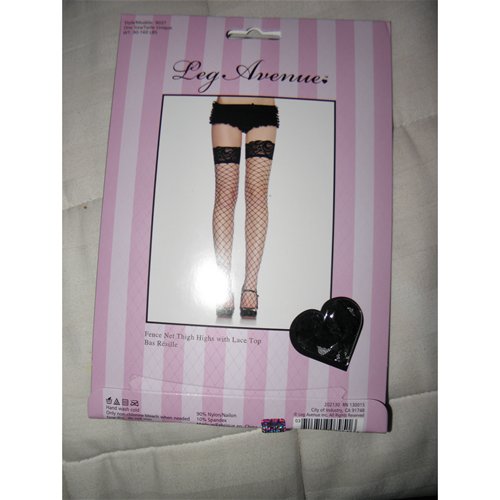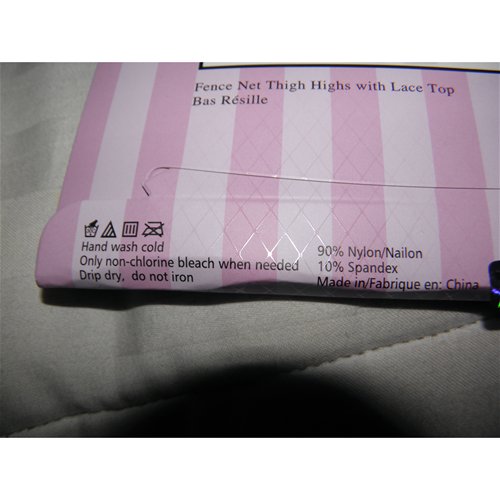 Packaging is minimal, and if you have lots of hosiery, you could keep them stored in this package so you could find them at a quick glance.
When I took them out of the package, I noticed how soft the lace band felt. I rubbed it against my hand, and it felt so silky! There is one seam on each lace thigh band where the band was stitched together, but it is not hugely noticeable and does not take away from the stockings at all. Though I love how soft and silky the lace bands are, I worry that they are so fragile and could tear more easily because of this. They look and feel very delicate, and nobody wants to have their stockings tear at the thighs, so I would advise to be careful with the lace on these. Also, handwashing would be best, given how delicate these are.
I worry with all hosiery that I get, particularly net, about reinforced toes. To my surprise, these actually DO have a reinforced toe, which makes them easier and more comfortable to wear. This is definitely an advantage, because then my toes don't slip through the netting, and it takes away some of the risk of potential damage or snags. The toes are definitely more comfortable with the reinforcement than without it, because I hate wearing net hosiery and feeling like my toes are getting tangled or poking through the net in places - not a problem with these, thankfully!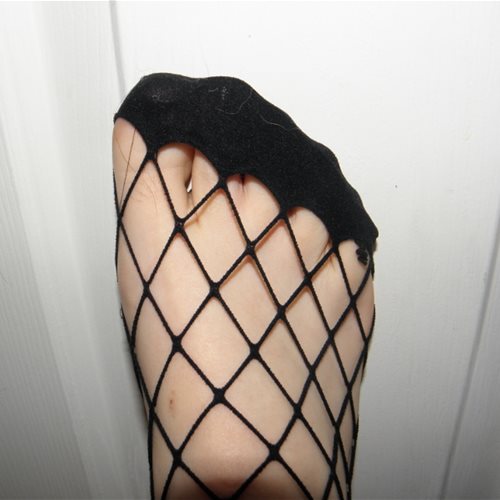 The netting on these is not huge (it's not diamond net), but it is wider than standard fishnet. Fishnet is typically smaller, closely woven netting, with smaller gaps between the net. The gaps between the netting on this are about 1" unstretched, and closer to 2" when stretched as much as possible.
Although I think the lace is very soft to the touch, these bands are troublesome for me. They are so delicate that I have to be very gentle in putting these on, so as to not rip the bands. Plus, once I got them on, the lace immediately started to fold backwards over itself and roll down. My thighs are not huge, but they are kind of thick, at just over 20" around. If your thighs are larger than that, the bands will probably tear once you get them on. It would be nice if these were available in a plus size as well, and if they were it would probably fit me better than these. The netting fits and stretches just fine, but the lace is just difficult. The lace rolls down, no matter if I pull them up or down, higher or lower. These definitely need to be worn with garters to keep them up, and to prevent them from continually rolling.
I don't like the way that the stockings fit and look just fine all the way up my leg, and then they are visibly tight once you see the lace bands. The bands on these should probably have been made from a more durable and more stretchable lace; even though this is soft to the touch, it isn't all that practical. I tried to see if maybe I could stretch the lace out, try to break it in so that it would fit better - I can't. I already have the bands stretched to their limit without them just ripping, just by wearing them. I have a feeling these won't last very long because of the bands, they will likely end up getting torn, or maybe just tearing from wearing. They don't look or feel flattering on my thighs.
The thighs rolling back on their own: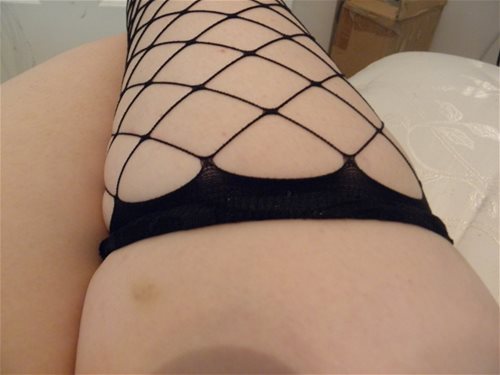 I had to roll the lace back and hold it in place to get a picture of the detail of it: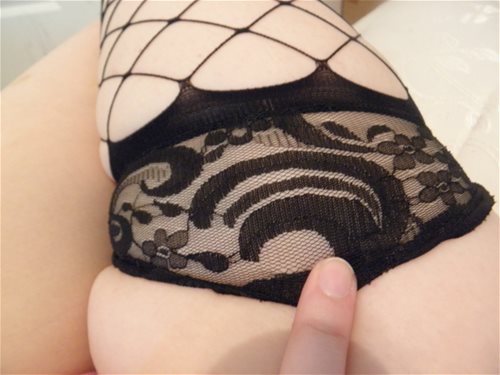 This content is the opinion of the submitting contributor and is not endorsed by EdenFantasys.com
Thank you for viewing
Lace top fence net stockings
– hosiery review page!