The Ego Has Landed!
This is a great ring if you like them powerful. It's 'vroomy' rather than buzzy and does feel good to the wearer. Unfortunately, my ego was the only thing that got stroked - if you're on the receiving end the design might not work so well. The stylised motor housing is either a blessing or a curse - sadly, we found it to be the latter. Plus this doesn't have the stretch that some other powered cock rings do. The USB charger is a nice touch though, as is the fact that this is totally waterproof.
Published:
Pros:
Powerful, unique design, easy to care for, well made, USB charger
Cons:
May be too bulky/too specific to work for everyone, no patterns, no travel/storage pouch
The Ego 3.5 is the latest in Jopen's line of vibrating cock rings. Now I don't own any of their other models, and for that matter we (as a couple) don't own any other Jopen products. We've been hoping to change that, and it was actually a toss-up between buying this or one of the Vanity bunny lines. The ring won, but that might not have been such a good thing.
Make no mistake, this is a high-quality ring. Regular viewers will know that I've got several rings now, ranging from the inexpensive Adonis and Tantus' wonderful
Supersoft C Ring
to the
Mio
by Je Joue. So I didn't really
need
another any more than I
need
half a dozen different types of lube. But they're nice to have, especially if they offer something different to things you already own.
The Ego is certainly different, and is made of royal blue, high quality silicone (which, as you should all know by now is a mighty 10 on Eden's
Safety Scale
). Silicone toys generally share the same properties - such as being easy to clean with warm soap & water, being body safe, repelling dirt, etc - this doesn't have the same velvety texture as my Mio does. It's still very nice, but I think Je Joue have spoiled me there. The Ego is also waterproof, and in theory that would mean that you can boil this to clean it but personally I'd advise against it because of the motor in the top of the ring. Besides, it really shouldn't get
that
dirty anyway.
It seems that some people, both here on EF and elsewhere, are concerned about this being waterproof but still having a plug-in charger. Don't worry - the charging plug takes quite a bit of effort to push past the little hole in the silicone to connect to the motor. I did try to put the whole ring in water, dried it off then brought the ring back to my computer to plug in the (USB-powered - no wall plugs here) charger and it worked perfectly.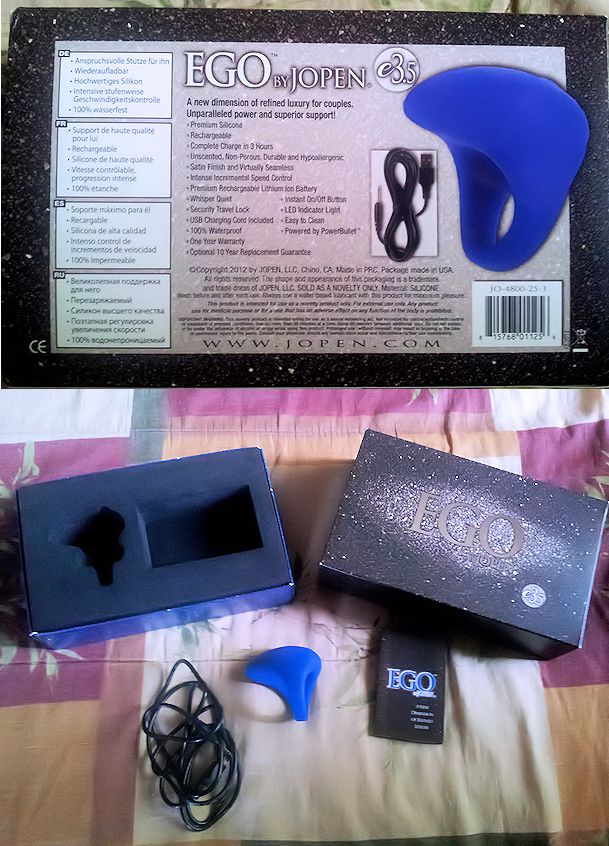 The ring comes in a nice presentation box, and while it's not as nice as the Je Joue toys, it's not too much of a step down. It's essentially a two-piece affair, with an outer sleeve that features an almost mystical star field on the front with EGO in big silver letters on the front. Underneath the box is a picture of the ring itself, together with all of the info that you'd normally expect to see in a manual (as you can imagine, that means this isn't particularly discreet packaging).
Despite the high quality silicone, I didn't find this to have anything like the same stretch as my Mio. With a little work, I can get the Mio over my cock & balls, which is how I prefer to wear a cock ring if I'm going to wear one at all. No such luck with the Ego though. I was only just able to get this over my cock and there's no way it was going to stretch enough to go any further. While that in itself didn't make it a deal-breaker, it was the first of two problems for me. More of that below.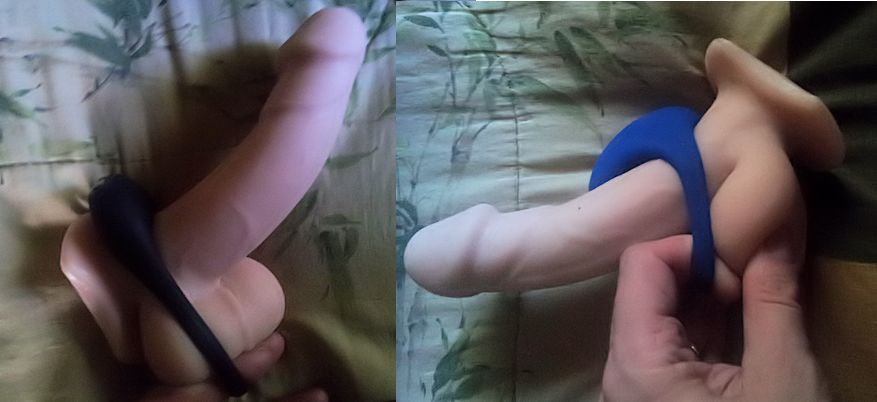 Comparing the 'stretch' on our Goodfella. You don't want to see the pictures I took when I did this on myself...
What sets this apart from other cock rings is the shape. In fact, the shape (a comparatively big 2" long and 1 1/2" wide motor housing) played a big part in ordering this since the Mio really does everything I need. But after reading the reviews here, I felt that it was worth a go since the design of this is supposed to mean heightened pleasure for the person on the 'receiving end'.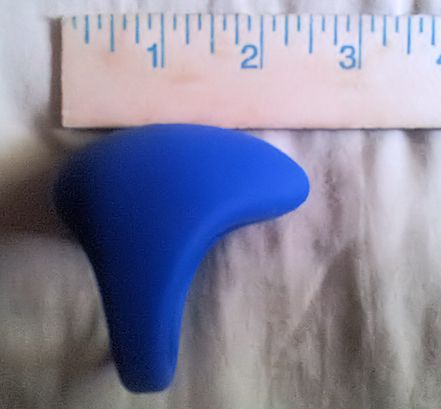 I swear I stuck out of the other end when I first tried it!
Experience
Since I already knew that this wasn't going to stretch around
everything
, I'd resigned myself to trying it out anyway. I knew that the vibrations were up to the task, having compared it to the Mio, although the Mio wins on the low settings thanks to more of a rumble in positions 1 and 2. Speaking of power, here's another difference: the Ego has just one very discreet button on the top of the ring. Pressing it once will turn the motor on and also light up a nifty blue LED. If you were to use this with one of those
Fleshlight Cyborg
dildos then you'd have a blast. Four more long presses take you through each of the increases in intensity, but that's all you get. The Ego has no patterns, and I'm not sure why.
It seems that you've either got to have a partner with pretty specific anatomy to get the best out of this or use certain positions. When we used it during sex, I thought about telling my wife "Maybe it's just you" but quickly thought better of it. Even after that momentary lapse of reason though (thank you Pink Floyd), we both agreed that some women might not get to feel this directly on their clit unless in positions such as cowgirl/reverse cowgirl. Missionary didn't do it for us, nor did doggy with the ring turned upside down.
For normal use, the whole top of the ring sits level with the top of your shaft, and was just too long to do anything other than bump against her. When I was inside of my wife during missionary, the ring was hitting her just slightly above her opening and the extra length and downward curve at the tip meant that this was never able to get as high as her clit.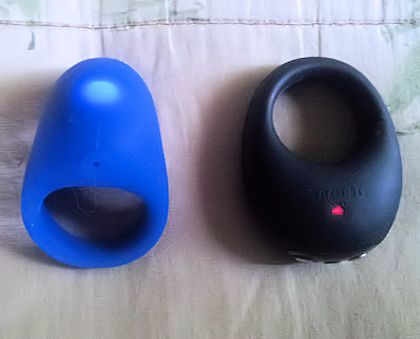 Ego v Mio. Ok, so the blue light is cooler
After a minute or so of her not hitting the ceiling in ecstasy, I asked my wife what she was feeling.
"A bit of buzzing on your cock"
"And?"
"And nothing. It was better with me on top. Put the other one back on".
So I put the Mio back on and all was well with the world again.
It turns out it's not the power of this ring that was the problem. In fact it's every bit as powerful as the Mio, perhaps even fractionally more so. No, the problem was that the shape just wasn't doing anything for her except in specific positions. And since we tend to move around a bit and never quite know where we're going to end up, we don't particularly want a ring that limits what we might end up doing.

So this is what 'Going head to head' means
Of course you don't need a man in your life to get something out of this ring. It works very well as an add-on to make solid dildos vibrate, or you could just use it as a clit vibrator alone, holding it in your hand or by slipping a couple of fingers through the ring. It's also worth buying to add to an existing collection, but I'm not sure I'd recommend it as a first rechargeable ring if you're just looking for something for intercourse.
This content is the opinion of the submitting contributor and is not endorsed by EdenFantasys.com

Thank you for viewing
Ego e3.5
– cock ring review page!