The Oracle says Mio just might be the One
There are cock rings and there are cock rings. If you want one that'll just prolong an erection and won't break the bank then the Mio won't be the best choice for you. However, if you're looking for a male toy that does the job AND makes wearing a cock ring more of an event for you and a partner then this could well be the last one you'll ever need.
Published:
Pros:
Well made; Easy to figure out controls; Good amount of stretch; Good size to power ratio
Cons:
A pouch would have made this easier to store than the presentation box
Ahhh, cock rings. Once the pre-Viagra domain of ageing men, these humble bits of silicone/steel/pipe cleaner have come a long way in a short time. So too has our experience of them. I'll freely admit that the thought of trying one had never occurred to me until Eden stopped offering those great little wipes for free so instead I opted for one of the disposable rings 'just to see'. That particular ring proved a let-down but it
did
pave the way for more interest. Next came the
Cal Exotics Adonis
, soon followed by the
Tantus Super soft C Ring
which did a much better job. But as with many toys here on Eden, you try one and you're soon wondering what else is out there.
Since my first few cock rings had all been $10-or less offerings, I wasn't sure what a high-end ring would offer other than a dent in the wallet. Still, my wife decided to treat me to a new toy since she tends to get spoiled a lot more than me and my research led me to several seemingly similar models. In true "Love It Or List It" style, my list of 'must-haves' in a cock ring included the following:
*
Be comfortable to wear
with no seams/rough edges
*
Rechargeable
(since I don't want to be fiddling with watch batteries)
*
Easy to work
- I didn't want a toy that needs six fingers on one hand or a degree in Physics to figure out
*
Silicone
- I wanted a stretchy and easy-clean option
I eventually settled on Je Joue's Mio which ticks all of the above boxes and more, and it turns out I'm not the only one who's thrilled with it.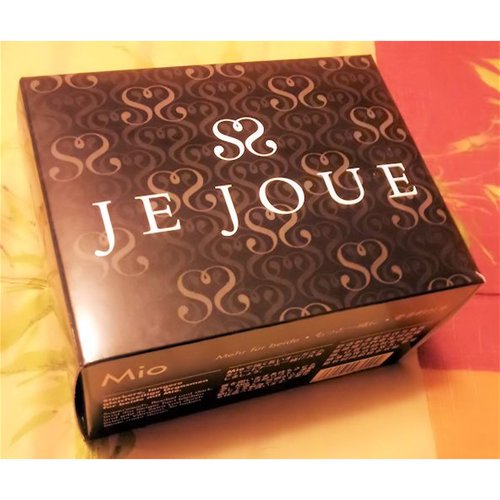 The Mio comes in a very nice presentation box, reminding me somewhat of Lelo's packaging. It's discreet from five of the six sides, with only the underside showing a picture of the ring. Even then it's obviously a sex toy, but it's a
classy
sex toy. Weighing a little under 2 ounces this is surprisingly lightweight for the size and power (approx 2.5" tall x 2" wide x 3/4" deep) and the ring itself has got enough stretch to go over just the shaft or both the average cock and balls if that's your ring-wearing preference.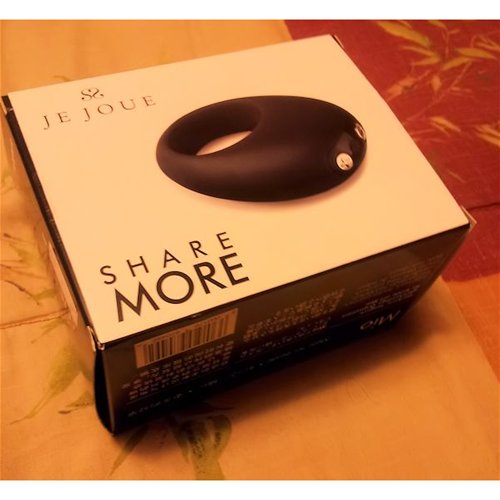 Measuring a 10 on EF's
Safety Scale
, the Mio is made of soft food-grade silicone with a matte almost velvety texture. It's Hypo-allergenic/latex free while being non-porous (in fact Je Joue say the whole thing is waterproof) and Phthalates free. Naturally, being silicone means that only water-based lubes should be used with this. As with most of our other silicone toys, we find that
Sliquid's Sassy Booty
is a great choice but you'll probably have your own fave. It does have the very slightest of seams along the outside of the ring part, but I actually had to look to see if it was there, it's
that
unobtrusive.
Our Mio arrived with no power whatsoever, but of course it comes with a charger so that was no problem. The charger is unlike any I've seen before, being magnetic (since this is our first Je Joue product we have no basis for comparison with their other toys). Obviously the magnetic charger helps with the waterproof aspect since there's no need to plug anything into the cock ring other than yourself of course! Instead, two of the three buttons on top of the ring, conveniently marked with a + and a -, double up in function. On the one hand they'll either increase or decrease vibration power by a maximum five times (the middle button cycles between 7 vibration pattern), while on the other they're the positive and negative magnetic terminals for the charger, which I think is a great idea. A full charge took less than an hour to complete and the motor was still going strong after an hour of use later the same night. When charging, you'll notice a small red LED on the large flat side of the motor's casing which will blink when charging and stay lit when fully charged. This same LED also blinks when you change settings during use but given the placement I only noticed that when I wasn't wearing the ring.
When it comes to noise & vibrations, there's no deep 'rumble' to this, giving more of a powerful (for a cock ring) buzz. It kind of put us in mind of one of those 'personal groomers' (nose-hair trimmers to the uninitiated) in terms of power and volume. If you're using this behind closed doors there's not really any chance of anyone overhearing what you're up to even on the highest setting.
Experience
For our first attempt at using the Mio, my wife wanted to know what I thought of it while she was playing with me. Curiosity soon got the better of her though, and what started out as a hand job progressed to oral which was my first indication of how good this could be. When the Mio was on me with the vibrator running I could feel it and it was just ok. Once she took me in her mouth though that all changed. I could feel every single buzz from the motor down every inch of me, and I'm sure I could have finished quicker than usual. My wife told me that the vibrations still felt nice while she was sucking me (which was great - I had thought that she'd find it too much and wouldn't want to do this again!)
I'd read reviews saying that this works best for Cowgirl sex so my wife climbed on and began to grind against me. Here's where we found one of the few limitations of this - if she's grinding against me but wants more power or variation in the vibrations she has to pull back while one of us works the buttons. I can't criticise the Mio for that though since the only way around that would be to make it remote control. The buttons happen to be easy to work and are unobtrusive when you're using the ring, so having to pause to readjust is a small price to pay.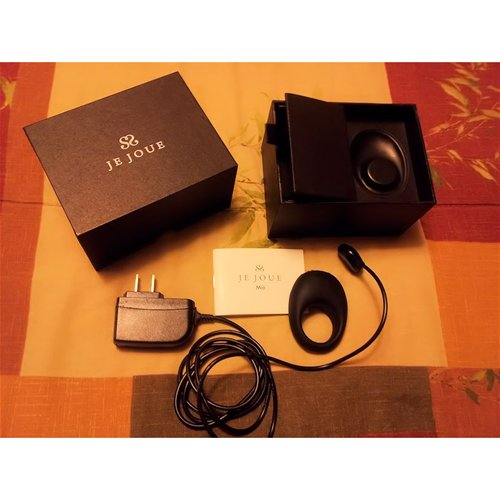 The softness of the silicone means that the Mio works perfectly as a clitoral vibrator too. We tried it with my wife grinding against me without penetration and she felt that it compared well to her
Lelo Nea
when it came to the way the vibrations felt. The game changer though was when we used my cock a little more. Using it almost like a vibrator on her clit, I was able to once again feel all of the vibrations down my whole length and she was able to pinpoint exactly where she wanted to feel the buzz. After that I kept it on for full sex and an already great cock ring suddenly got even better. It's a shame there's no real way to compare because I'm convinced I was getting as much out of this as my wife was. We've noticed that when I'm wearing the Mio the vibrations feel far more intense for me when there's contact between me and something else (whether that's her mouth, her clit or simply being inside her). My other cock rings feel like something I'm wearing for me, the Mio feels like something I'm wearing for
us
.
A little extra info is that if you're into anal, this will very quickly take you both to an 'Oh My GOD' place. Being high-grade (and waterproof!) silicone, clean-up is as easy as soap and water or silicone-safe toy cleaner or wipes. For a thorough cleansing, make sure to clean around the three buttons on top of the unit too.
Overall it's a great cock ring to enhance lovemaking. We didn't find that it added as much in the way of firmness as less expensive rings nor did it help to prolong erections very much but it's still worth the money.
Follow-up commentary
2 months after original review
The Mio is still one of those things that makes it out of the bedside table drawer and into our bed about once a week on average. She loves the rumbles against her clit although we have to be careful not to grind around too much (at least not without a lot of lube or flowing juices!) since it can drag slightly on her most sensitive parts.

One thing we should point out though is that you really have to keep on top of the charging. We let it sit in its box for almost 3 weeks at one point and when I took it out (about halfway through our lovemaking session), I put it on, pressed the button and... nada. Turns out the Mio will lose its charge if it's just left alone for a while. The upside was that it gave me a chance to time a full charge - it takes about 2 hours to go from zero charge to full.

Despite the annoying battery drain, we still consider the Mio to be in our Top Ten Toys, perhaps even Top Five.
This content is the opinion of the submitting contributor and is not endorsed by EdenFantasys.com

Thank you for viewing
Mio
– cock ring review page!