Mio is the luxurious cock ring which can help intensify penetration with your partner or a toy
Mio is a great luxury cock ring which doesnt take too much away from your partners length. It is not long enough to reach my clit but it still gives a nice sensation while having intercourse.
Published:
Pros:
Velvety soft silicone
Rechargeable
Thin design
Cons:
Pattern button difficult to press
Seam around toy on outside and inside of ring
The Mio by JeJoue comes in a cardboard box describing the product. The box is not discreet and has a picture of Mio on it.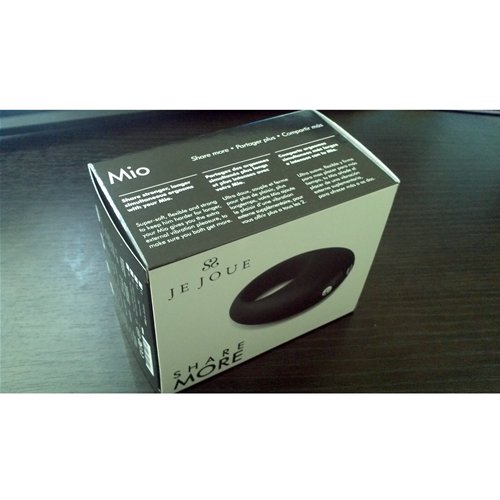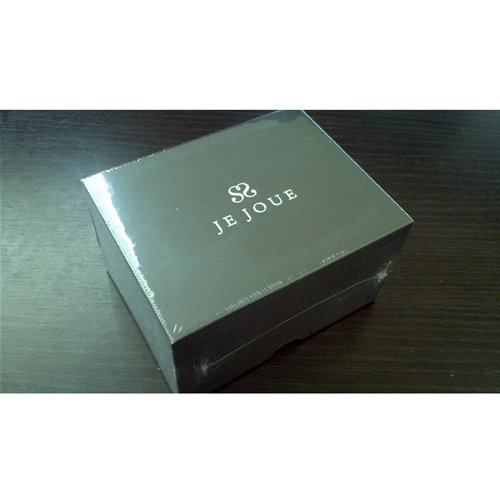 Inside the outer box is another box, which is wrapped in plastic. This box is extremely strong and has the JeJoue logo on the top. The box lid slides up to reveal a compartment with a pull tab on the left housing the charger and instruction booklet and Mio on the right. Mio does not come with a storage pouch but you can easily reuse the beautiful box for storage.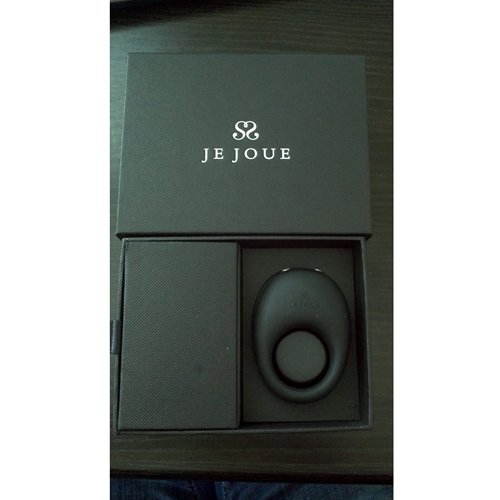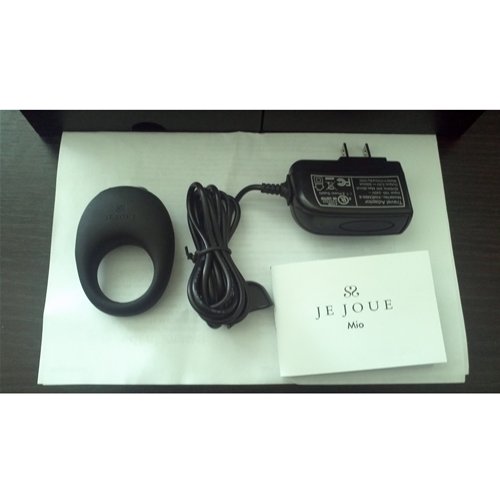 The charger features a 4 1/2 foot long cable. One end of the cable has the part that magnetically connects to Mio, the other end plugs into the wall. When the charger is plugged in there is a blue light on the front that lights up indicating it is receiving power. Mio charges with the plus and minus buttons which connect to the charging cable. While Mio is charging the heart in the JeJoue logo on the front blinks red. When it's fully charged the red light will just stay on.
Mio is made of silicone and does not smell or taste of anything. When I pulled it out of the box I was really impressed with the quality of the silicone. The silicone is velvety soft and Mio is now the softest toy I own. Mio's ring is extremely stretchy and it's thin so it doesn't take away too much from your partners length. It starts at 1 3/8 inches and can stretch up to 2 1/2 inches diameter easily. Though it might not be extremely comfortable being stretched so much. My boyfriend, who is about 1 3/4 inches in diameter, said he noticed it was there because of the vibrations and it didn't bother him at all. Mio measures 1/2 inch on the bottom part of the ring and the top part of the ring measures about 1 inch. Mio is about 2 inches wide and 1 1/4 inches tall above the ring opening. The below picture should help illustrate the dimensions as well as the location of the red power light. In the picture Mio is powered off so the red light is not on. It looks a little dirty but silicone is a real dust magnet as you might have noticed if you own your own silicone toys. You can also see the seam going all the way around the outside and inside of Mio. The seam is very smooth and cannot really be felt but do keep this in mind if you're extremely sensitive.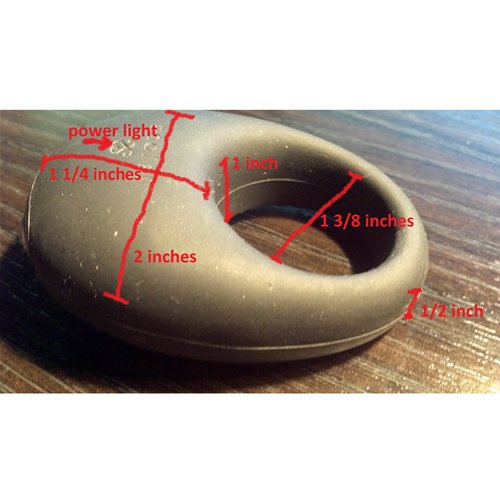 Mio comes uncharged so you will have to charge it. It reaches maximum charge within 2 hours. When Mio is done charging, the red light goes solid so just look at the red light on Mio to check if it's charged fully. To turn Mio on just hold down the plus button for about 3 seconds. Press the plus and minus buttons to cycle through the different vibration intensities. The toy features 5 different vibration intensities. Once you have your intensity selected you can use the pattern button in the middle to cycle through different vibration patterns. The pattern button is more difficult to press than the plus and minus buttons. Mio has 6 different vibration patterns with a couple of rolling pulsing functions and some regular slow and fast pulsing functions. Mio's motor is located at the top of the ring, under the control buttons. On low I would give it about 1 vroom with 2 bees and on high about 3 vrooms with 3 bees. On high it can be heard through the covers and possibly through a closed door. The vibrations are pretty deep but will most likely not be felt down your partners shaft. To lower the vibration intensity, even if you've selected a pattern, just press the minus button. Holding the minus button in for 3 seconds will turn Mio off. Mio is actually not that easy to control while having intercourse or while the ring is on your partner. I suggest setting the correct setting then putting it on. Be sure to use some water based lube to help with the drag. Any water safe lube is fine for use on Mio's velvety silicone. Mio can also be used with most insertable toys if your partner is away. To clean the toy use warm water and a little bit of soap or some toy wipes. Be sure to get along the seam where the buttons are and around the buttons themselves. It is easy to miss those spots when cleaning quickly.
Experience
While Mio did not have strong enough vibrations for me it did add nice sensations to our play time together. We had some issues with it moving around a bit but it does stay in place better than the Eden Fantasys cock ring and much better than any bullet we've used. My boyfriend says that he didn't notice much of a difference. It may have helped him last a little bit longer, but it didn't have any other effect. It did not help him with extra girth or make his orgasm stronger. If anything it helped him hold it back a little bit as I mentioned. It certainly didn't make him orgasm faster. He said he actually thought it was mostly for my enjoyment, rather than having any benefit for him.
This content is the opinion of the submitting contributor and is not endorsed by EdenFantasys.com

Thank you for viewing
Mio
– cock ring review page!