Every bone should have one!
Tantus' Super Soft C-Ring is not only a great cock ring for beginners, it's also a great addition for the more experienced user's bag of tricks. Simple, effective and easy to take care of, the price alone makes this a must have for anyone who has ever wanted to explore rings and erection-enhancers.
Published:
Pros:
Inexpensive; High Quality; Easy Clean; Easy Use
Cons:
Might not stretch enough for the bigger guys
You know that saying about less being more? Now we all know that's not always the case (I'm looking at you, Mr Bank Balance), but there are exceptions. I had always wanted to try cock rings but just never got around to it. Thanks to EF I now own a few (the
Mio
being the most expensive for now) but I just keep coming back to my trusty Tantus Supersoft.
Retailing at just shy of $10, this cock ring ranks as one of the best, most cost-effective purchases I've made here. I had previously tried the
Adonis Caesar
for the same price but was frankly disappointed. It was only my long-term craving to try a really good ring that led to me trying again, and I'm glad I did.
This ring is available in Red, Black and Purple. We chose the latter - partly because our previous ring was red and partly because the purple looks so much nicer than the regular black & red options that many toys come in. The silicone is Tantus' 'Ultra Premium Silicone' and is velvet-like, with an almost powdery feel to it but is otherwise completely smooth. The Adonis, on the other hand has a grooved edge which dug into me, making it quite uncomfortable to wear, despite being shaved 'down below'. Not so with the Tantus, though. There is no drag and no pinching, just comfort. I've read that it sometimes helps to use a little water-based lube on the inside of a cock ring to help put them on. It's a great idea, but not one I've had to do with this.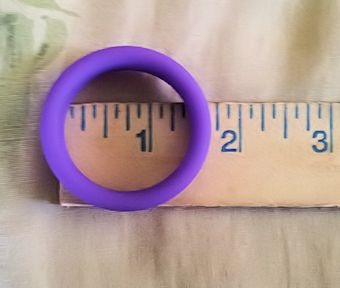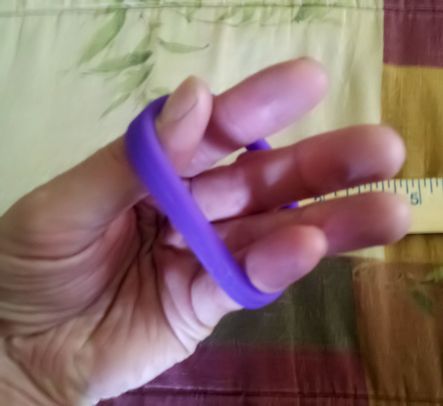 The C-ring measures 1 1/2" (internal diameter) and can comfortably stretch to 2 1/2" or more (again, that's internal). I've actually managed to get this to go as far as 4 1/2" but that's a maximum and really only applies for putting the thing on. It's something of a no-frills ring, with no bells and whistles, no vibrations and no moving parts. But they're really not necessary with this. It simply does the advertised job and does it well.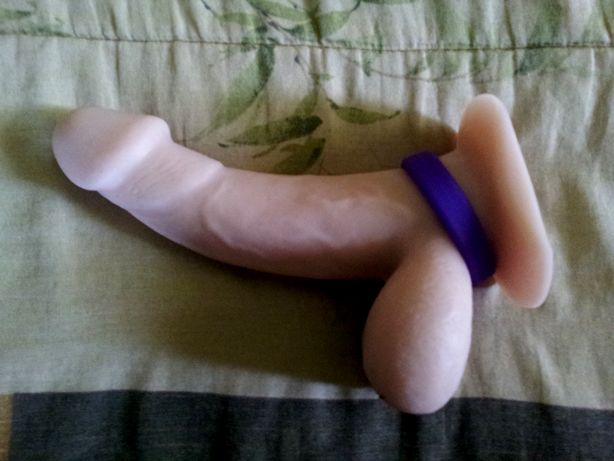 The recommended way of wearing this. It's even better on your own cock!
Some rings are worn on the shaft only, but I use this behind my balls. In fact, the back of the label in the packaging (which is the only instructional information that's included) suggests:
"Wear it around both the penis and testicles for the most intense effect"
Speaking of the included info, the ring itself came in a fairly simple, clear clamshell case. It's far from discreet but it's small and convenient enough to be good for storage, and I've kept mine for that reason. The ring sits in its own little cutout in the front, with the circular label providing the backdrop.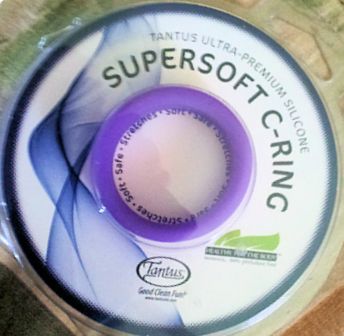 He went to Tantus! He went to Tantus!!
As with other silicone toys (especially in the Tantus range), the Supersoft C-ring is bleachable, boilable, easy to clean and non-toxic. In fact Tantus also say that with minimal care, (this) can last a lifetime. That's quite an impressive claim for a $10 sex aid!
I liked this ring so much I ended up buying another. Now I have one in the bedside table drawer and another that I can get to if the wife and I are out and about and in the mood for a quick fool around. They're THAT good!
Experience
As a couple, we own quite a few Tantus products. Every single one of them is high quality - made extremely well out of high-quality silicone. There's something about their silicone actually. It never feels cheap and is always very touchable. Silicone, as most of you know by now, is a wonderful material for adult toys, being smooth, non porous and easy to clean. No wonder it rates as a 10 on EF's
Safety Scale
.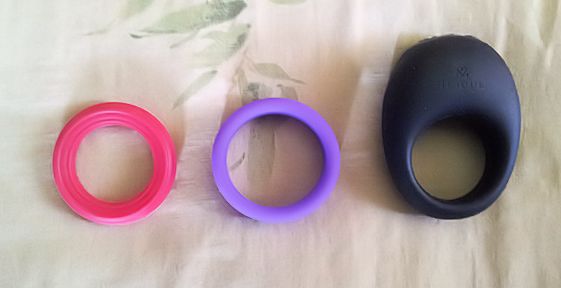 Adonis Caesar Ring, Tantus Supersoft, Je Joue's Mio
This holds tight and certainly does its job well. It makes me harder for longer, and the slight pressure behind my testicles when I'm wearing this is quite pleasant. It's not suggested that you wear a cock ring for longer than 20 or 30 minutes, although I have gone longer with no side-effects.
This content is the opinion of the submitting contributor and is not endorsed by EdenFantasys.com

Thank you for viewing
Super soft c-ring
– stretchy cock ring review page!