Why look at anything else?
Tantus has raised the bar by making a soft silicone ring so guys can enjoy the benefits of a great cock ring without the worry of getting it on and off. We all know that silicone is one of the best materials out there for sex toys, right? What could be better than a cock ring made out of silicone...one made out of soft, stretchy silicone or course! This ring does it all, looks good and will out last most sitcoms.
Published:
Pros:
Come on, soft silicone that stretches easy? Everything about this ring is a pro.
Cons:
Are you crazy, it's silicone!
There are some 61 cock rings offered at EF that are made out of soft materials, 15 if you narrow the search down to rings made out of silicone. While silicone is great for providing restriction, much like metal, to the penis but they have to be put on when soft as it can be hard to stretch regular silicone to get it on after you are erect.
Well, the fine folks over at Tantus has made this ring with SuperSoft silicone and getting it on is just as easy as one made out of jelly or TPR but you get the benefit of being able to fully sanitize the ring. Plus should the need ever arise that you have to cut it off during a emergency a pair of scissors will solve the problem and save you the expense and embarrassment of a ER trip.
So why a cock ring? For some guys they are the only way to sustain an erection, others just want the benefit of lasting longer and the increase in firmness and size. Did you know that cock rings have been in use for a couple thousand years? Ya, nothing new here, the good thing is we have great materials to make them out of. I'll not gross you out by telling you what those first rings were made of but lets just say that folks back then had no concept of cleanliness.
To use a cock ring you simply have to apply some lube to the area you are going to wear it and either slide it on or stretch and put it into place. Then you can sit back and watch as you cock becomes engorged and enjoy the look on your partners face when the feel it. The silicone has a matte finish so it will have some drag to it. This is where the lube will come in handy.
This cock ring starts out with an inside diameter of 1 1/4" and it is about 3/16" thick. You get half an inch of material to provide comfort while wearing, this is way more comfy than thinner rings which will make longer term wear more pleasurable. A nice thing about the SuperSoft is the ability to stretch so much, this ring should fit 99.999% of the guys out there.
I was looking for something to show just how much it could stretch and found another Tantus product that should give you a good idea.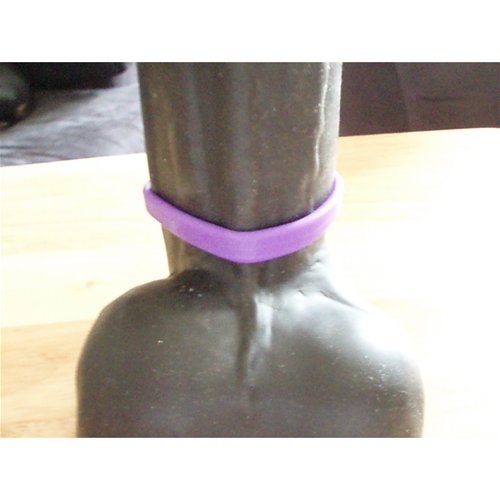 That is Hoss and as one of the biggest dongs you can find on EF. Hung like a horse? It just might fit you.
This ring can be worn on the shaft or around the cock and balls, you could also wear it just around the balls if wanted. The best part is the ability to put it on when you want, unlike regular silicone or metal rings. Since a cock ring should not be worn longer than 20-30 minutes, this goes a long way with ease of use as you can put it on or take it off as you need. Please remember that any pain, discoloration or discomfort is a sign of problems so get it off ASAP.
You can clean this ring just like any other silicone toy; 10% bleach solution, boiling in water, antibacterial soap or a toy cleaner will be fine. The only thing you need to be careful with is the kind of lube you use, water and oil based lubes are fine but silicone lubes may cause a reaction so stay away from them.
Store your ring in the nice package it comes in or anywhere else you see fit. Just keep it way from dissimilar materials and you will be fine. Like all silicone this ring is a dust magnet, no worries though a quick rinse will clean it off in a snap. Silicone will also hold temps pretty good so be sure to try it hot or cold for some extra stimuli.
The package is pretty simple and great for storage. You get a plastic clam shell that opens easily with the ring displayed for all to see. There is info on the ring, it's use, material and company info. To someone not familiar with cock rings the package is somewhat discreet. Nowhere will you find "Cock ring", instead Tantus say fit to just say "C-ring". Nice, eh?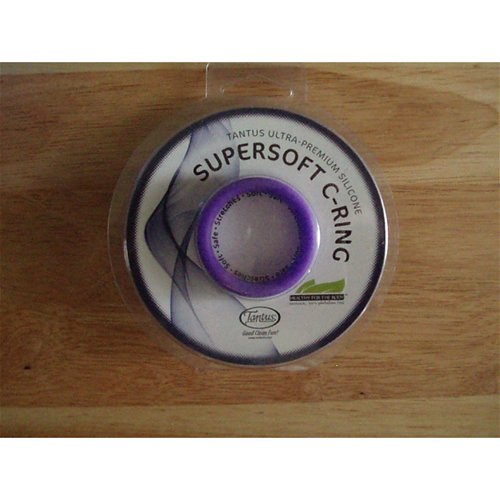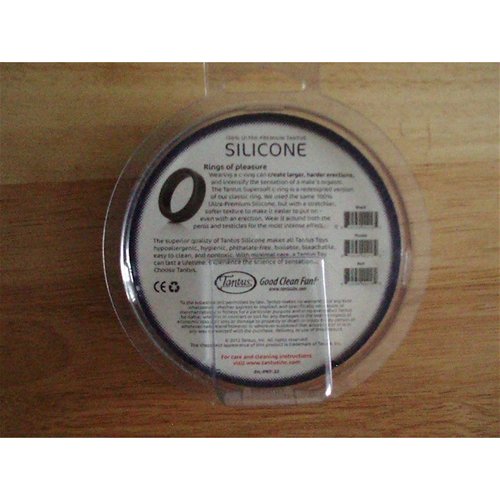 Experience
I have been wearing cock rings/straps for over 25 years, not that I need them but the look on the wife's face when she feels my engorged cock is just priceless. I have tried all sorts of rings, everything from jelly to stainless so I know a thing or two about cock rings, I even did a
work shop
on them. I am hear to tell you that they don't get much better than this one. Comfy, great restriction, good looks and easy on/off all add to the appeal of the Super Soft ring. I mean really, unless you have to cut it off this ring will last longer than your sex drive, even then you can still use a penis pump and the ring to get that erection back.
If you are a connoisseur of cock rings like me or just want to try one out, you will be hard pressed to find a better cock ring, don't think about it just buy it.
Follow-up commentary
73 months after original review
SIX YEARS OLD and still just as soft and stretchy as the day I got it. It is still my go-to ring during sex or solo time. Of course when a good company makes awesome silicone toys you can bet they will last.

A word on lubes and Tantus silicone, use what you like. This ring has seen it all; water based, silicone, oil based even laughed at vegetable shorting.

This content is the opinion of the submitting contributor and is not endorsed by EdenFantasys.com

Thank you for viewing
Super soft c-ring
– cock ring review page!