A Good Erotic Read
I love reading books that take me to where the author is coming from. I could see the people and hear the spankings the slaves have went through.
Published:
Pros:
A book to take your mind away for a little bit
Cons:
Like the older cover over the new ones
This is a review for Beauty's Punishment, which is book 2 in the Sleeping Beauty Trilogy by A.N Roquelaure (Anne Rice)
Some people have compared this series of books to
The 50 Shades of Grey
series by E.L. James. Ok, I have read both series of books. I can definitely see things I do and do not like about both. You do not have to read the trilogy in order, but it helps to do so to know all the characters and how they work in the story.
Before I go farther into this review I need to state, for the record, that this is not safe, sane of consensual BDSM. It is a great read but it is not based in reality, it is fantasy. I know that Ms. Rice set it in the medieval period so that these rules might not apply. Be aware that certain things the characters do in this book are illegal and wrong so when you are playing please be safe and sane. I write this review from the view of a submissive because that is what I am. I know the feelings of the slaves in these books and how they can enjoy the things they go through.
In this book you will read many things about BDSM, and you will learn about whips, paddles, chains, and wood and leather dildos called "phalluses". If you are faint of heart; I warn you know there are scenes of rape of both women and men. I want to add this for some of you who may have issues with this subject matter. I have and had to work my way through those parts. I have been through a rape and was abused as a forced slave many years ago.
In this story our heroine, Beauty, chooses to leave the Castle, and go to the Village for punishment after attempting to run away and back talking a Lord. She learns that in the Village things are very different than in the Castle. The owner of the village inn, who bought beauty's services, had many slaves and things are much crueler here. Was it worth the talking back to, and running away from the Lord, and upsetting the Queen?
In Beauty's Punishment, we meet Prince Tristan, Ms. Rice goes into his life in the village. She shows the life and punishment of the other prince's also. In book 2 we are shown a lot from Tristan's view point, and all he has to go through. A ponytail is placed in his bum and he has to have a bit in his mouth. He was made to prance like a horse.
The "punishment" that is talked about in the book is much more harsh than is allowed in the real world. As a fan of Anne Rice, I know she does her research for all of her books, and I know, in the past, that she would know how things would have been like. Still she takes it a bit far in her book.
She said in the Preface her that she always loved the fairy tale of Sleeping Beauty and found something erotic at its core.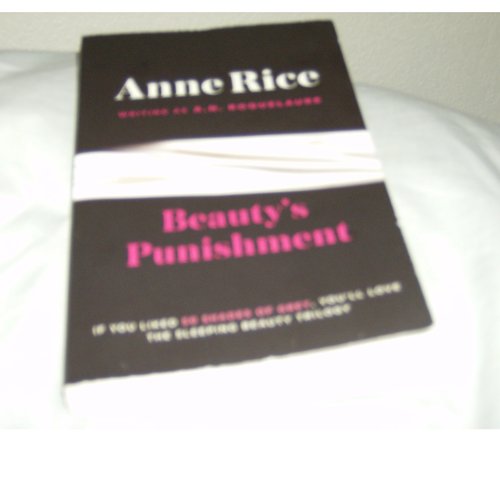 This product was provided free of charge to the reviewer. This review is in compliance with the FTC guidelines.

Thank you for viewing
Beauty's Punishment
– erotic fiction review page!