Everything You Ever Wanted To Know About Your Guy's Pickle
I really enjoy Dr. Sadie Allison's open and inviting writing style and even the artwork is reminiscent of a girls night out atmosphere. The book does have quite a bit of useful information, but only for a very specific audience of cis-gendered people in a heterosexual relationship. Despite this, I think it as a very entertaining, albeit short, read.
Published:
Pros:
+ Easy, entertaining read
+ Cute, helpful pictures
+ Casual, inviting writing style
Cons:
- Target to a very specific audience
Dr. Sadie Allison is the author of five books on sexuality and the maker of Slippery Kitty lubricant. Her books are always entertaining, easy to read and full of information. One of my favorite things about her writing style is that she writes as if she is talking to a room full of her friends. It is a very non-threatening and engaging approach to talking about something many people are shy about. On the other hand, the book is pretty overtly sexual, so it wouldn't be great for someone very modest and is first exploring this area of sexuality.
This book in particular is designed to talk about one topic and one topic alone, the many ways to please a penis without intercourse. If you are interested in reading about Sadie's favorite positions for intercourse, you would be best suited reading
Ride 'Em Cowgirl
. Amazingly she manages to fill 143 pages on the many wonderful techniques and positions for blowing his mind. Each position or technique is explained in detail and is often accompanied by a picture.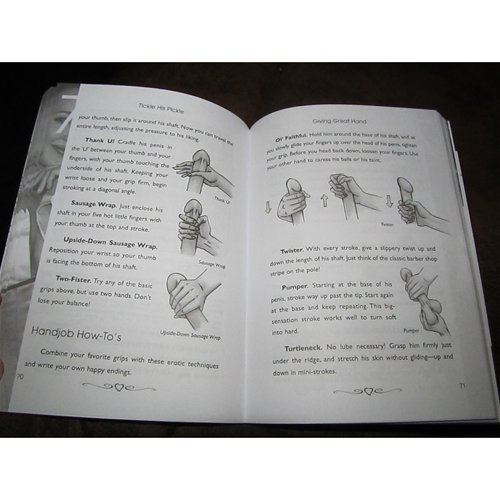 The cover of the book itself is not explicit but is is not exactly discrete either. The title is listed very plainly with the subtitle, "Your Hands-On Guide to Penis Pleasing". I would not recommend reading this in public if you are shy. Then again, it is quite easy to read it in just one or two sittings so there really is no need to carry it around.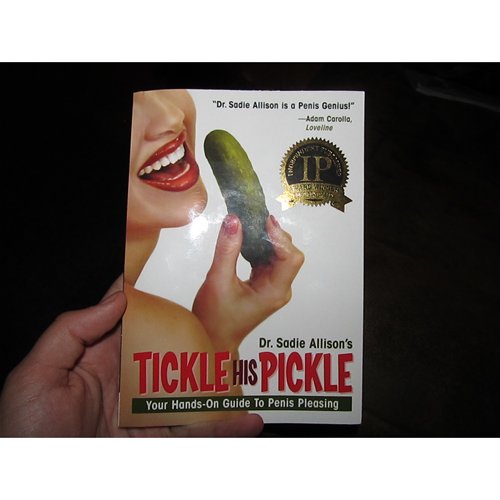 The 143 pages of penis pleasing possibilities are divided into 10 wonderful chapters as follows, making it more than easy to skip to a particular topic of interest.
She begins with a foreword and introduction to "Penis School", as she calls it, where she talks about the goals and format of this book.
1. Let's Talk About You: Sadie starts with the most important piece of pleasuring a penis, the person doing the pleasuring! She explains how to get past many of the hang ups many people go though (such as the PIT's or Pleasure Interrupting Thoughts) because you need to be fully in the moment to give the most pleasure.
2. Meet the Penis and the Land Down Under: A brief anatomy lesson and how all of this ties into making it all feel good!
3. He's Commming: Explains the physical process of arousal and ejaculation, even including a recipe for improving his taste.
4. Sights! Sounds! Seductions!: This chapter talks about how many men are visual creatures and how to best use this to your advantage.
5. Hair Today- Gone Tomorrow: This chapter covers all the best techniques for grooming his most tender bits.
6. Slippery Stuff: A short chapter on lubricants.
7. Giving Great Hand: Now down to the good stuff, a whole chapter dedicated to one of the best sex toys around, your hand.
8. Giving Great Head: Finally what we've all been waiting for -drumroll please- 33 wonderful pages about my personal favorite, oral sex!
9. His Back Door & more: For the more curious, she even includes some tips for starting out with some prostate play.
10. Ready... Willing... Unable...: Sometimes a guy's little guy just won't do what he says, and this can be very frustrating and demoralizing, so Sadie has some tips on how to cope.
Finally there is an afterword about safe sex and some ads for her other books.
Experience
While this books was a very entertaining read, I found it was like many of her other books and didn't contain anything revolutionary. Other than that, my only other complaint is that they tend to be very hetero-normative targeting a very specific audience of heterosexuals within the gender binary. I do not hold this against her, as she does not seem close minded, that is just the target of her writing and probably what she knows best. Although, one chapter touching on people in alternative lifestyles might have been nice. Overall this is a nice simple book that would be great as a gift at a bachelorette party or similar event.
This content is the opinion of the submitting contributor and is not endorsed by EdenFantasys.com

Thank you for viewing
Tickle His Pickle
– book review page!