Holy Pop-shot Batman!
This has to be one of the best parodies I've seen. Although the the sex is pretty vanilla it plays second fiddle to the plot and comedy anyway and both of those are fantastic. The sex scenes are also not so long that you loose the rest of the movie as well which is really nice. The sets and acting is impressive (for a porn) and overall they did a great job re-creating the classic 60's Batman.
Published:
Pros:
+ Funny
+ Well-written plot and script
+ Decent budget
+ Batman!
Cons:
- Vanilla Sex
- The Riddler
With the many incarnations of Batman that have developed over years Vivid media chose to base their parody on the 60s television show. I'm actually impressed by the production values of the movie, they really made it look true to the series; The sets are perfect, even including a bookcase that moves to reveal the entrance to the batcave. The costumes can be a little cheesey at times, but overall they're pretty damn good as well considering how low budget most pornos are these days. The acting, while far from impressive, was not the worst I'd ever seen by far, and there was actually a decent amount of plot to be found. The comedy was wacky and entertaining with some great one liners and memorable moments, even a cameo appearance by Ron Jeremy!
Unfortunately the sex is where this movie is somewhat lacking, it's not that it's particularly bad, it's just nothing special and pretty vanilla. The actors usually leave at least a portion, if not all of their costumes on during the scenes and stay in character which is interesting. The movie is roughly 2 hours and is comprised of five scenes, three m/f, one m/f/f, and one m/m/f. The movie opens with Batman and Dick Greyson engaging in a rather complicated game of chess when his fiance is kidnapped by the Riddler.
Scene 1 (23 min)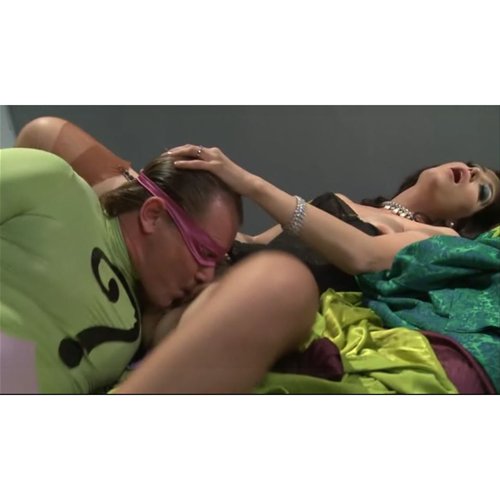 Lisa Carson (Kimberly Kane) and The Riddler (Evan Stone)
Oral performed on male
Oral performed on female
PIV
Analingus
Anal
The first scene begins with Bruce Wayne's fiance in a cell attempting to barter her release with The Riddler by blowing him through the bars of the cell. I must say I actually enjoyed the oral sex in this scene because there was minimal gagging, although there was a moment with an excessive amount of saliva that was a little gross. Eventually he joins her in the barren cell and goes down on her before they start having sex. There is a variety of positions, mostly variations of girl on top or her laying on bed with him standing/kneeling next to her. This is the only scene that includes anal sex and it is a pretty small portion of the scene. Kimberly Kane's performance was impressive, and she genuinely seems to be enjoying herself, but I can't get past the 60's style hair, such a turn off. Evan Stone on the other hand was a bit disappointing, his sexual performance was fine but I really didn't like his performance as The Riddler, it was annoying and since his costume stays on and he stays in character throughout the entire scene it ruined it. The scene ends with him finishing onto her chest followed to a traditional bat-style transition into the next scene.
Scene 2 (23 min)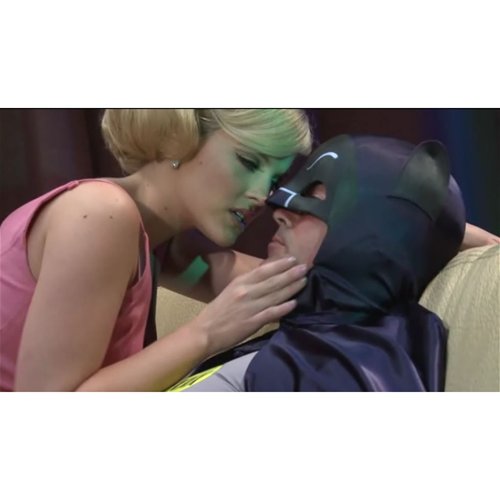 Go-Go Dancer (Alexis Texas) and Batman (Dale DaBone)
Oral performed on male
PIV
In an attempt to infiltrate the enemy's base and rescue his fiance Batman winds up in a dance club where he is drugged with a drug that takes away his will-power, then the dancer who was sent to bring him to the villains' hideout chooses to have her way with him. What could be a pretty interesting femdom scene turns out to be pretty bland. The scene is made up entirely of PIV and blowjob in about a 50/50 ratio, for the majority of the scene Batman sits on the seat and either receives oral or lets her ride him, although there is some time spent doggy-style as well. Occasionally she will say something to remind you that she is the "dominant" one in the scene but it rather unconvincing. The scene ends with him cumming into her mouth and then we return to Robin and Batgirl.
Scene 3 16 min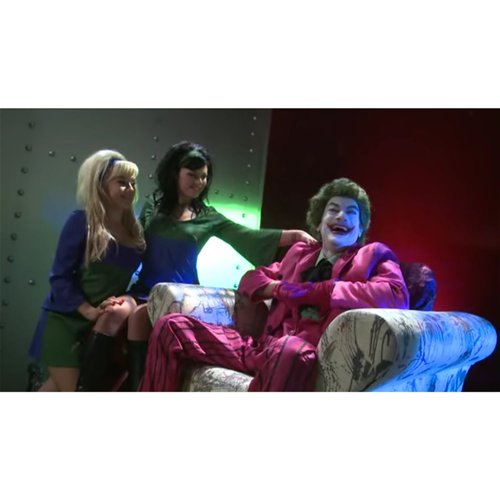 Go-Go Dancer (Andy San Dimas), Go-Go Dancer (Syren Sexton), and The Joker (Randy Spears)
Oral performed on male
PIV
Female Masturbation
Robin and Batgirl are sent to watch the villains' hideout and wind up watching a threesome between The Joker and two Go-Go dancers. The girls mostly take turns blowing The Joker, riding him in his chair, or taking it doggy-style, but they don't spend any time interacting with one another. When one girls is pleasuring The Joker the other is pleasuring herself off to the side, I would have liked to see some more interaction between the girls themselves. Other than that my only complaint is that The Joker's face paint is clearly covering a really bushy mustache, it just looks dumb. The scene ends with The Joker finishing into both of their mouths (but not before reminding them to "smile") and then quickly moves into the fourth scene.
Experience
Scene 4 11 min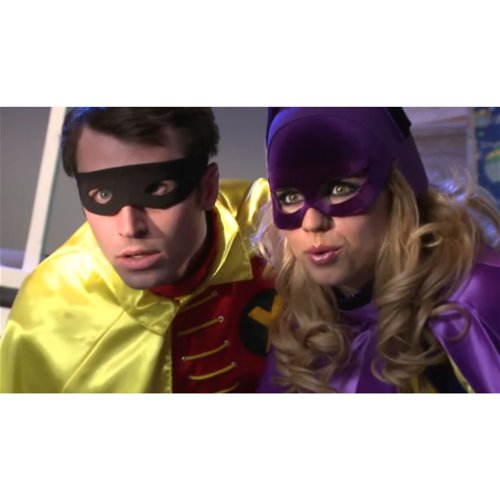 Batgirl (Lexi Belle) and Robin (James Deen)
Oral performed on female
Oral performed on male
PIV
This is my favorite (and the shortest) scene in the movie, mostly because I think Lexi Belle is adorable and (like every other girl) I have a bit of a thing for James Deen. This is the only scene in which the girl doesn't completely remove her costume, leaving on her cape and cowl (which I must admit made the nerd in me very happy, something about having a cape on during sex). They did both seem a bit uncomfortable with the costumes and kept having to adjust them, especially the masks. The scene contains a variety of PIV positions and ends with him cumming on her vulva before they are rudely interrupted and captured by The Joker's henchmen.
Scene 5 24 min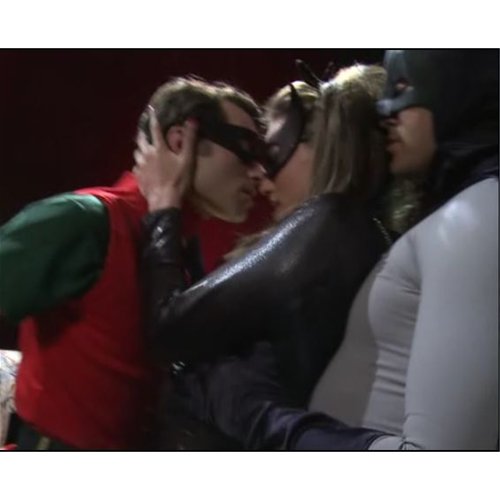 Catwoman (Tori Black) Batman (Dale DaBone) and Robin (James Deen)
Oral performed on female
Oral performed on male
PIV
This scene begins with one of my favorite moments of all time in porn, Batman and Robin are discussing what to do with the recently captured Catwoman:
Robin: Holy Threesome Batman?
Batman: Indeed.
From there on it is still quite entertaining but not the best I have ever scene. I was a little unhappy with Tori Black as Catwoman, I think she could have been much more coy and in character but instead she just seemed like "some girl" instead of Catwoman. The sex itself was much better balanced than the last threesome, no one ever seems ignored. Typically Tori would have one of the guys in her while performing oral on the other. They both finish into her mouth before ending the film with a cliff hanger and an invitation to return at the same bat-time same bat-channel.
Overall I was very happy with the film, although I wish they had included Poison Ivy or Harley Quinn. Although Harley Quinn wasn't added to the Batman universe until the 90's in the animated series I think it would have been great to see a scene with her and her beloved "Mista' J;" and I must say I was amazed that Ivy wasn't included, a sexy villain whose always naked and secretes pheramones to make people do whatever she wants? Seems made for a porn parody! Otherwise I really enjoyed the movie, it made me laugh, kept me entertained, and even turned me on! Oh and Robin gets to fuck Batgirl and Catwoman, that's just full of win he deserves a high-five for that.
This content is the opinion of the submitting contributor and is not endorsed by EdenFantasys.com

Thank you for viewing
Batman XXX - A Porn Parody
review page!