Sexy Science
This book is for anyone who wants to learn how to better pleasure a woman and any woman who wants to become more familiar with herself. With a confident style that is equal parts whimsical and educational, Dr. Kerner outlines the practical ins and outs of cunnilingus and the importance of mutual pleasure in any sexual relationship.
Published:
Pros:
Helpful, easy style
Pictures/diagrams
Funny and informative
Cons:
None!
Ian Kerner, the author, is a regular contributor to Cosmo magazine, as well as Today, Maxim, Redbook and Men's Health. He is currently a sex counselor living in New York City.

He is the author of other books, the companion volume [italics|Passionista: The Empowered Woman's Guide to Pleasuring a Man], [italics| Be Honest, You're Not That into Him Either] as well as a dating advice title [italics| DSI: Date Scene Investigation]. All Ian Kerner's titles are bestsellers, if that means something to you. I haven't read his other books, but after reading [italics|She Comes First] I'll definitely get the sequel!
Kerner compares his approach to sex to that of the famous Strunk & White, who authored [italics| The Elements of Style]. He writes very maturely, with a passionate and intense focus (sounds steamy already!) Elevating the pleasuring of a woman to an art makes for very flattering prose. Likewise, any woman who has ever felt neglected or insecure about her claim in the sexual experience will be both comforted and empowered. Kerner largely emphasizes enjoying the act of love itself, not the end result -- but he claims that once comfort is found, the orgasms will follow! Throughout the book, helpful asides in dark grey boxes are really good footnotes to the various topics.
Kerner breaks up his book into three parts. Each part is then divided into chapters that range from 2-8 pages (there are 47 chapters over the course of less than 200 pages). This organization allows for a wide breadth of knowledge and fast, whimsical delivery.
Part One is the anatomist's view point, which includes many interesting and sexy scientific facts. Did you know the clitoris has, count 'em, eighteen parts? Or the complexity that is 'getting wet' and how it relates to arousal (hint: it's not straight-forward). Knowing your or your partner's body fosters understanding and familiarity, which is essential to relaxing and enjoying sex.
Part Two is the practical section, giving expert pointers on the various methods, rhythms and 'hot spots' to pay attention to. His confession that he was once clueless and found successful methods is of course, compelling. I wouldn't poo-poo this section -- cunnilingus, fingering and pleasuring of a woman is complicated! Even if you think you know, I would say Kerner's presentation of the facts and helpful style are worth reading.
Preview of just two of the helpful diagrams: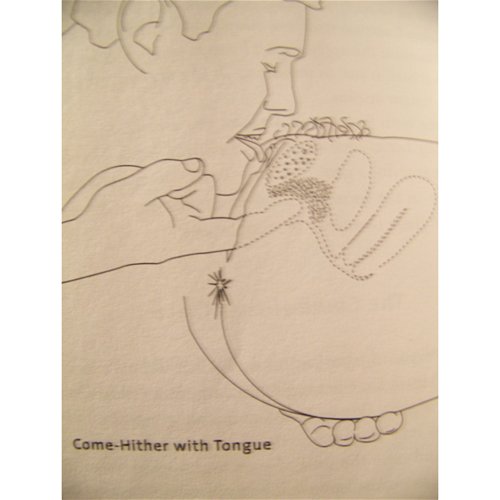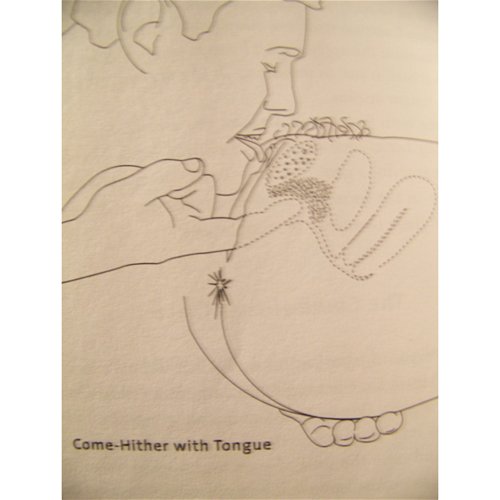 Part Three is a brief conclusion, called 'Putting it All Together'. It includes some routes in the advanced stages, but as a whole I'd say this book is for intermediate users and beginners. Useful appendices and diagrams can be found here.
The front cover really says it all -- a gorgeous papaya that very much resembles a woman's anatomy (gracefully, not obscenely) faces the viewer front and center while a phallic banana lies out of focus in the background. The fruits are telling us who the star of this show is without being too on-the-nose.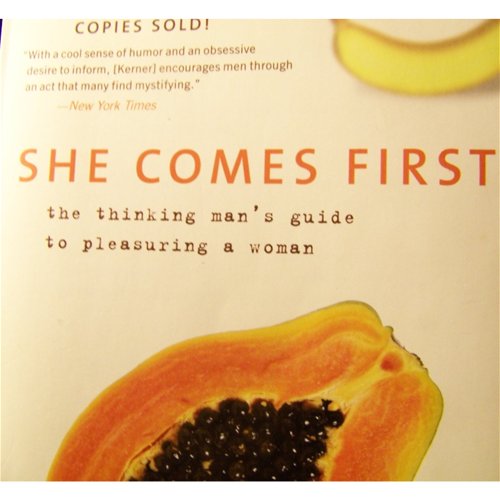 Follow-up commentary
16 days after original review
I finished this book last night after having read it twice. This has great diagrams and ideas! This book definitely provides a step-by-step process for the giver of cunnilingus. For the receiver, there are probably many concerns that are addressed. In addition, there's gentle advice for those who feel something is not quite working out.

This is well worth the read for all levels!
This content is the opinion of the submitting contributor and is not endorsed by EdenFantasys.com

Thank you for viewing
She Comes First
– book review page!