The Vagina Keeper's Required Reading
I've gotten to the point where I can barely stand most books like this because they bore me to death. So repetitive, irrelevant, and incorrect. This book is the must-have vagina manual. Not only does it give incredibly accurate information about toys and techniques, but it does it in a fun way. It doesn't waste time giving you lengthy technical descriptions of things. It's more of a guidebook than it is an instruction manual/cheerleader.
Published:
Pros:
Informative for the experienced, truthful and educated information, humorous, fun design
Cons:
Soft-core porno pictures everywhere.
If you've ever looked for books on sex you've probably run across several titles by Tristan Taormino. I personally have three of hers in my collection even though I wasn't specifically looking for things she'd written, the other two being
Opening Up: A Guide To Creating and Sustaining Open Relationships
and 'The Ultimate Guide to Kink'. Some of her works are considered required reading in the realm of sex education. She is well-known for her witty, humorous, engaging style of writing that sheds all of the clinical textbook feel that other sex books sometimes. Taormino turns sex into a fun thing to learn about.
After reading 'Opening Up', the first book of hers I got, she had fallen out of favor because of the bias that was spread throughout the book. I felt slightly disrespected and insulted as a reader because I chose to have a monogamous relationship. I did not appreciate her view that people in conventional relationships are simply brainwashed by society and ignorant to how more civilized people loved. I was angry and disgusted with this and wanted to throw the book across the room because of this. I got 'The Ultimate Guide to Kink' because it featured an essay from my favorite sex author but I slowly started to warm up to Taormino again and decided to give this third book a chance.
It's hard to write a book about sex that applies to all skill and experience levels. I've wasted time reading other books on G-spot stimulation and ejaculation that were written for
completely hesitant and clueless beginners
. These books dedicate whole chapters to and constantly repeat the idea that it's okay to be sexual, have orgasms, and that female ejaculation isn't pee so you shouldn't be afraid or ashamed of it.
Yeah, yeah, yeah, I get that. The one chapter on this subject in
The Whole Lesbian Sex Book
covers much more relevant information than those other books do. I already know where my G-spot is. I know how to do fun stuff to it. I know how to make fun stuff happen from that fun stuff. I wanna know more, though! What's a girl to do? Pick up this book, that's what.
I was really impressed with everything that was packed in here. I sit here and do nothing but read about and talk about sex all day at my adult store. Books bore me with repetitive nonsense, have inaccurate or horribly outdated rundowns of toys, or don't tell me anything I didn't know. This book didn't do a single one of those things.
Chapter 1: Does it Exist?
Here we get a couple of pages explaining that yes, the G-spot is real. Scientists say so. This one's a mere 6 pages.
Chapter 2: Where is it?
Next up is 8 pages of the technical stuff with some cute diagrams thrown in. There's a brief rundown of internal and external anatomy and such. Most other books would have wasted somewhere around 20 pages just on this one topic.
Chapter 3: Solo G-spot Stimulation
Masturbation techniques! Instead of spending ages telling you how to touch your vagina (because you obviously haven't figured out already) and have an orgasm, the book takes a direct approach and shows you some techniques to get the best out of your solo time. Taormino gives practical and useful tips on how to get yourself in the right state of mind and find positions that work best for you.
Chapter 4: The G-spot Toolbox
Okay, when I flipped to this chapter I got super giddy and wanted to squeal out of happiness. One of the first pages had a photo of a woman holding a bunch of toys in her hands and I was like "I have that one and that one and that one!" Made me feel cool. In this chapter we get REAL information about lubes, toys, and materials and not just "Water-based lubes are the best and jelly toys are great because they're flexible." Taormino lays out the truth. She suggests some of the best brands that are known to be great quality and can easily be found on this site. She also throws in some great info on harnesses which most books skip, and touches on safe sexBasically, this chapter is made up of everything I'd tell my customers. Happy times.
Chapter 5 is a brief little erotica story.
Chapter 6: Partnered G-spot Stimulation with Fingers and Toys
This is G-spot stimulation in someone else's hands. It's nice to have a chapter for those who want to please their lover's G-spot. It gives techniques for navigating and pleasing the inner female workings, how to communicate about what's working and what isn't, and how to use toys on your partner. Unskilled wielding of a Pure Wand is never a fin thing. Again, I loved the toys featured in this chapter. Some of the best from the best.
Chapter 7: Positions That Hit the Spot
Yep, how to hit that G-spot while doing it. We get taken through some standard positions that aren't too crazy, but are offered tips on how to make them better. Then, surprisingly enough, we get a harness tutorial which is important because using them can be somewhat of an art.
Chapter 8: Anal Penetration and G-spot Stimulation
I looked at this chapter like "Oh, really?" I'm well versed in sexythings, but I didn't ever really make the connection between the two. Apparently, anal penetration can indirectly stimulate the G-spot. Who knew? I didn't. This chapter covers the basics of anal penetration and then offers toys and positions that make the most of it. I also really enjoyed that it had some great toy/position combos in there.
Chapter 9 is a another little erotica story.
Chapter 10: G-spot Orgasms
A rather short little deal on the types of orgasms along with some techniques for mastering the G-spot orgasm.
Chapter 11: You Make Me Gush
Time for the squirting, of course. This chapter is a bit of an intro that explains female ejaculation. It also places emphasis on the benefits of toning your PC muscles.
Chapter 12: Learning How to Squirt
I would have thought this chapter would have been longer. We get about a page of techniques for you, a page for helping a partner to do it, a few tips, and the best ways to clean up.
Chapter 13 is another little erotica bit.
In the back we have a bunch of references for further reading. Of course it's mostly Taormino's books.
I like how this book's cover makes it look fun. It sets itself apart from the books with crazy pictures or boring things on the cover. It's not in your face. It's cute and I like it.
The way the book is laid out is classy and fun, as well. You get little quotes on the sides of the pages, cutely drawn diagrams, a lovely page layout, . . . and some lovely softcore porno pictures littered throughout the book. At first I was wondering why they did this and thinking that it really wasn't necessary, but I warmed up to them quickly. I mean, an orgasm book that turns you on with sexy pictures and erotica? Double win! Plus, I also like playing "Name That Toy!".
This is why I trust this book. I have some of these bad boys in my arsenal.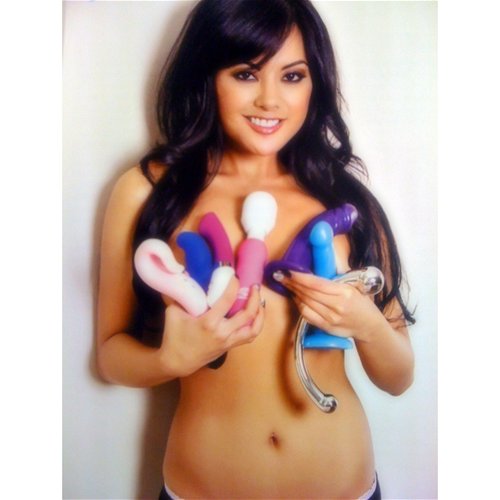 Haha! Awkward, sorta.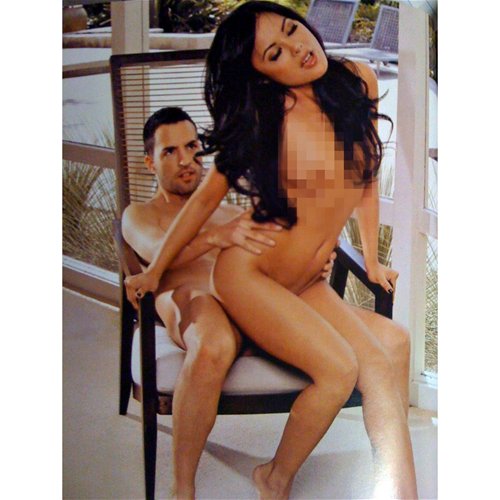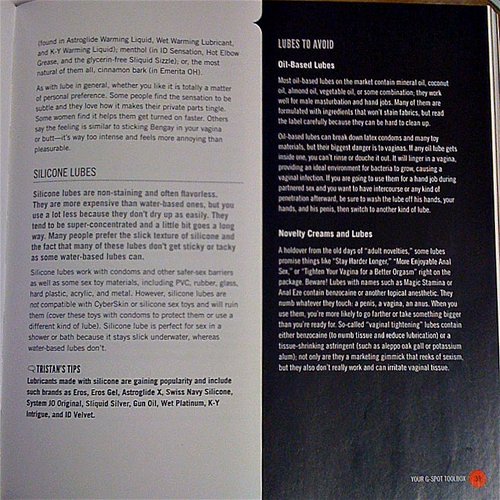 This content is the opinion of the submitting contributor and is not endorsed by EdenFantasys.com

Thank you for viewing
The Secrets of Great G-spot Orgasms and Female Ejaculation
– book review page!