What a pretty book.
This is a visually appealing book, with gorgeous photos on glossy pages. It's broken down into basic and beginner positions, positions to spice things up and advanced positions. It also includes information on toys anal pleasure for men and a few erotic stories thrown in to get you in the mood. Overall, a great book for beginner anal players.
Published:
Pros:
Visually appealing, great information for beginners and covers a wide variety
Cons:
Text can be a little dry and slow going to start with
This book is one of the prettiest erotic books I have seen in a while. The imagery is stunning, the layout is simple and easy to read. It's better then I expected, not semi cartoon drawings or diagrams, just gorgeous pictures, along with beautifully written instructions and even ideas for variations.
The book is a little wider and a little shorter than a A4 sheet of paper and is 176 pages of glossy awesomeness. The title is quite easy to read and the cover does include a beautiful erotic image, so if you are having guest over for dinner, you might need to take it off the coffee table and put it in a drawer somewhere. I will include more sizes below.
It covers everything from male and female pleasure zones, cleaning and perpetration. Basic and beginner positions like missionary and then variations like Upright Missionary and Missionary L. It then moves up to "Positions to Spice up your Repertoire" like the Flying Doggie, my new favourite! It's got information on anal toys, anal sex and pregnancy and "Anal Pleasure for Men and Strap-On Sex". Chapter 10 looks at "Advanced Positions" and the Inverted Spider is our favourite position in this chapter.
One of the things that the author has included - which I love - is something he has called "Giving it Good" and "Getting it Good", which are tips to make it good for her and tips on making it good for him. Pretty standard you say! Well, while I admit I have seen a lot of tips on making anal great for women, I haven't seen anything on tips for making it great for men. I drove my husband crazy, just following one of these tips that I had never thought of doing before. Check out the experience section for the naughty details ;).
Have I mentioned how beautiful this book is? Here take a look.....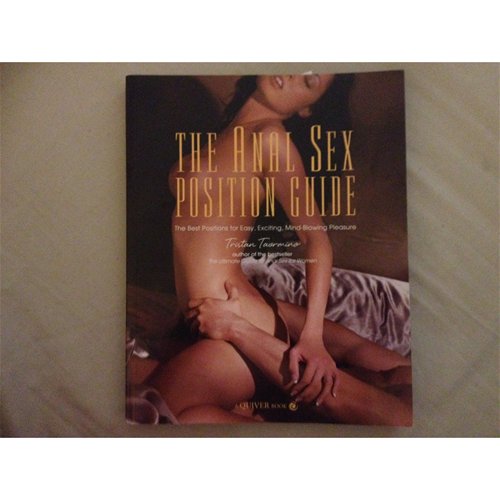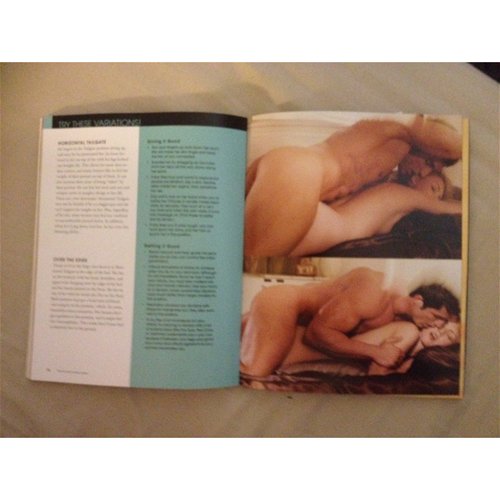 SIZE
Length - 25.3cm
Width - 20.3cm
Depth - 1.4cm
He has also thrown in short erotic anal stories by erotic authors, Alison Tyler, M. Christian and Rachel Kramer Bussel. Just a few quick words to get you excited and in the mood. It's a great addition to the book and it breaks up the chapter nicely, it may have been little dry.
There is also a great and thorough Resource section at the end of the book, from books and video, websites and sex toy shops.
Overall, this is a beautiful book that is well written and includes an amazing amount of information, all of which I have found useful. It's now located in my bedside drawer, close to hand and comes out nearly every time my husband and I have anal sex.
Experience
I am so excited to add this book to my library, it really is a beautiful book, as I have mentioned many times before. My husband and I have used it nearly every time we have had anal sex since it arrived, but I will let you all know about the first time, as I promised. Our normal anal sex position repertoire involves spooning and missionary, but my husband has been wanting to try me on top for a while now and we though it would be a great first position to try. Cowgirl is in the basic and beginner positions, along with its variations. It was a bit of a learning curve and it did take a while for me to get the angle right, but my husband's favourite bit.... Me being the one to guide his cock in. I haven't heard him pant and moan so much before, which in turn, turned me on to no end. In totally honesty, I couldn't come this way, for a couple of reasons.
My husband was really enjoying it, so his cock was a little to thick for me to be able to take all of him this way, so I wasn't able to grind my clit against him like I would during vaginal sex to cum. Plus the angle didn't really allow me to play with my clit, but it did mean I could control the depth and speed, which means I could give my husband a wild ride.
This book is going to add a lot of variety to our anal sex life and most like just our sex life in general.
This product was provided free of charge to the reviewer. This review is in compliance with the FTC guidelines.

Thank you for viewing
The Anal Sex Position Guide
– book review page!