You want to put that WHERE?
Appealing to everyone from beginners to advanced anal 'sexperts', The Anal Sex Position Guide by renowned author Tristan Taormino is a must-have for anyone who is either considering introducing anal play to their love lives or to those who are looking to spice things up a little. This artistic and informative softback book is as pleasing to the eye as it is to the brain (and all points further south)
Published:
Pros:
Informative, Lots of advice, Many positions & photos, High quality book (glossy pages throughout)
Cons:
Not graphic (might be a con for some), Some subjects only covered briefly
I'll start this by saying that my wife and I are no strangers to anal sex. We had both dabbled with a little anal play before we met, and ended up going all the way not long after we began dating. We've never really been the types for sex manuals though, preferring to explore and learn for ourselves (what that actually means is she doesn't like porn or books so he researches when she's not home!)
During one such 'research day', I came across quite a few online posts mentioning renowned sex-educator Tristan Taormino. It seems she's held in pretty high regard when it comes to many sex-related subjects. As well as being a respected author, Taormino also lectures at some pretty high-brow Universities on gay and lesbian issues, sexuality and gender, feminism and other subjects. She has also hosted and appeared on countless television shows, so she's obviously somebody who knows what she's talking about and not just another author jumping on a popular bandwagon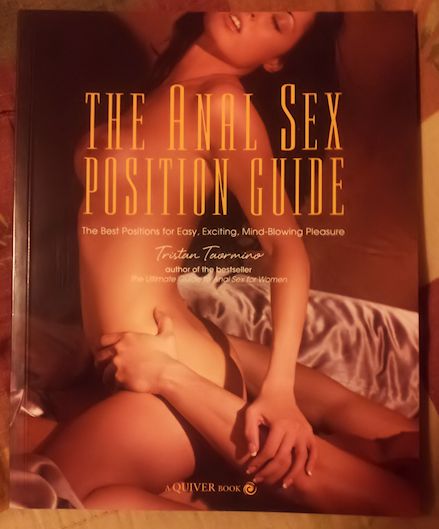 Those last couple of words might seem strange, but these days it seems that anal sex is becoming something of a norm (or at least less of a taboo subject). In our opinion, that's a very good thing. We're the type of people who believe that nothing should be off-limits if both partners are happy. We haven't got extreme sexual tastes and don't get into all sorts of weird and wonderful practices, but still try to keep that 'live and let live' philosophy when it comes to what goes on in the bedroom between consenting adults.
Boasting more of a coffee-table design and appearance, this book actually manages to combine class and eroticism with the act itself. The book is 176 pages long and most of the glossy pages feature sensual pictures of couples (who are all very easy on the eye) having what I assume to be anal sex. I say assume because this definitely isn't hard core by any stretch of the imagination. While the pictures are all sexy and sensual, the most you'll see in any of them is boobs & bums - everything else is implied.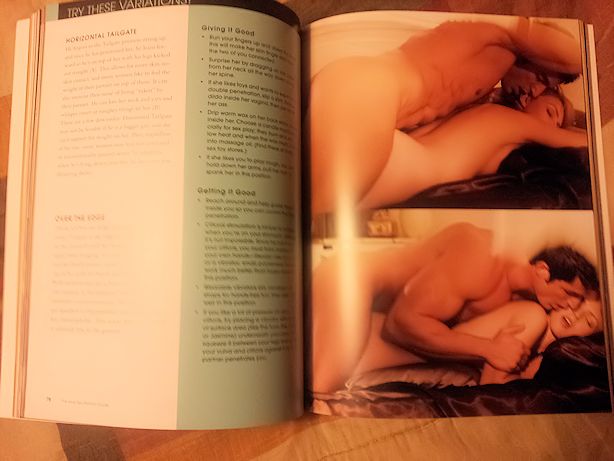 The back of the book sums up the contents pretty well and amongst other things states that this guide will teach you:
* Ways to bring up the topic (of anal sex)
* Simple techniques to ease into it
* How to make your physical and emotional health and safety a priority
* All the ins and outs of the latest anal toys
* Positions, positions and more positions for beginners to anal aficionados
* The best methods for achieving maximum pleasure
* Above all, how to make anal sex a healthy, positive, pleasurable experience.
That's quite a claim for a book to make and sounds somewhat like something an Ad Man will use to sell his product. However, this book really does deliver. It's not a guide for beginners, nor is it so advanced that most people will be put-off. Taormino really does take you from the very beginning baby steps of why anal sex feels so good, through how to bring up the subject with a partner who might be less willing than you right up to advanced positions and toys. There's even a chapter on Anal Pleasure for men & Strap-on sex, which also suggests specific toys to try, including the likes of the Share and Feeldoe. There's also a section in the same chapter on men's anal toys (Aneros, for example are specifically mentioned) and P-spot stimulation. In fact, so many aspects of anal sex are covered here that there's even a section entitled "What if he's well-endowed?"!
Experience
Having spent the best part of 10 married years with a pretty healthy sex life and a fairly regular dose of anal sex, we weren't totally sure that a book like this would be for us. After all, it seems that all you'd really have to do is adapt regular Karma Sutra-esque positions by an inch or two and voila, you suddenly have the Anal Karma Sutra. But this book isn't really about that.

If I'm honest, it's not a book that sees a whole lot of action. We keep it next to the bed and will sometimes thumb through the pages together. Not as a mood-enhancer, more as a bonding thing. We've found that we get the best results when we read sections on our own and bring it into our play that way rather than planning it out together. That might not work for those couples who aren't 100% on the same page (no pun intended) when it comes to anal, so if that's you then make sure to discuss things with your partner first. The nice thing is that this book will help to tell you how to do that too!

Since we bought this book, EF have sadly discontinued it. It's a shame - we haven't bought many books here but this is one that anyone with a real interest in anal sex really should own.
This content is the opinion of the submitting contributor and is not endorsed by EdenFantasys.com

Thank you for viewing
The Anal Sex Position Guide
– book review page!