Blackberries and honey... and so much glitter! DEAR GOD THE GLITTER!
The luminizing body butter is an amazing addition to anyone who wants to add something new to their collection. It leaves your skin smelling good, and feeling soft. It adds smoothness to your skin that I've never seen in other lotions. This is perfect for curing dry skin, and leaving you feeling sexy.
Published:
Pros
Smell, Jar, Gift, Beautiful, perfect texture,
Cons
Some may not like the unique smell, Glitter,
I'm a sucker for a new lotion, or something that smells good. I'd never really tried that many body butters. I wasn't scared to try it; I just thought I maybe wouldn't like it too much. I was very wrong, and I'm glad that I ordered it. I use it just about every night, and my boyfriend loves the smell of my new body butter.
When you first receive the flirty little secrets luminizing body butter, it comes in the really discreet silver box. The box is very beautiful, and is perfect for gift giving. The box doesn't have too many designs on it, but it does have a pink ribbon with black lining. It has writing on each side of the silver box. One side as information on why it's a must have such as,
-Brazilian Murumuru & Cupucau butter blend with jojoba, Coconut and Avocado oils to aid in skin Hydration.
-Antioxidant-rich Cranberry and Acai extracts helps skin to appear young and supple.
-Pure pearl pigment delivers a sexy, subtle body glow.
-Pheromones are the attraction agent that subtly inspires self-confidence, flirtation, and attention form the opposite sex.
-Paraben and Lanolin free!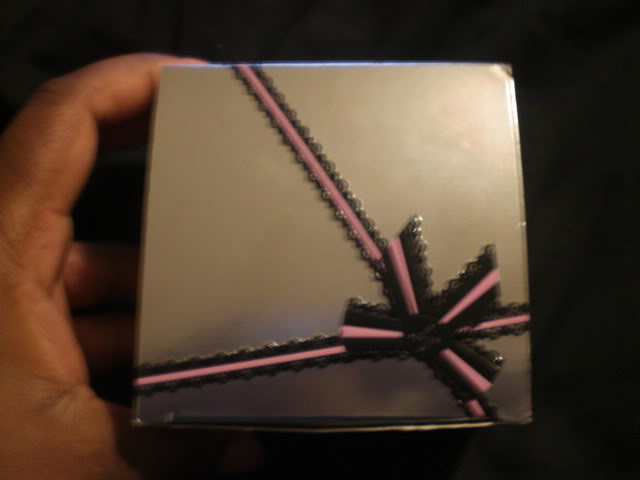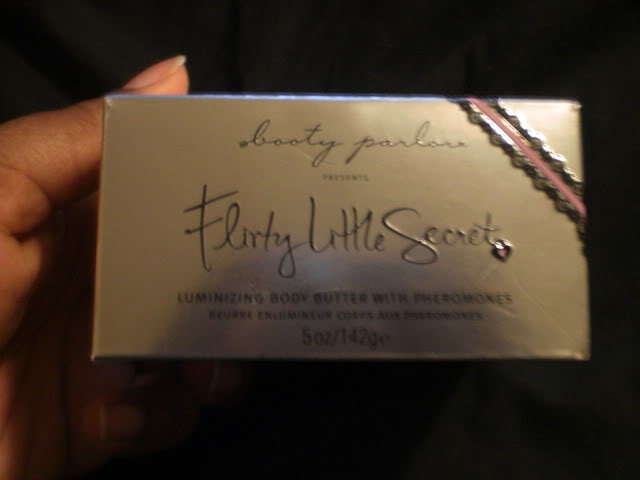 For those of you who don't know parabens are mostly non-irritating and non-sensitizing, but Parabens can, cause skin irritation and contact dermatitis and rosacea in individuals with paraben allergies. Also lanolin is a fatty substance found naturally on sheep's wool. This can be a problem for people who have an allergy to wool. If you are unsure if you do then I'd recommend doing a spot test. Rub a very small amount into your inner arm and wait to see if there are any reactions, before placing it all over your body. I personally didn't know what paraben and lanolin was until this product.
When you open the beautiful otter gift box, inside lays an even nicer jar. The jar that the body butter comes in is a very pretty pink and black jar. The jar is well built and can stand a little rough housing, and you don't have to worry about mistakenly dropping it and breaking the jar. This is something I've personally done quite a few times with other items. The jar does have some writing on it. The top has the booty parlor logo, and the name of the body butter. The jar itself had the same information on it, but it's decorated with a few stars. The jar is very subtle, and is perfect for giving to just about anyone. You can leave this jar sitting out in plain view and no one would ever think twice about it.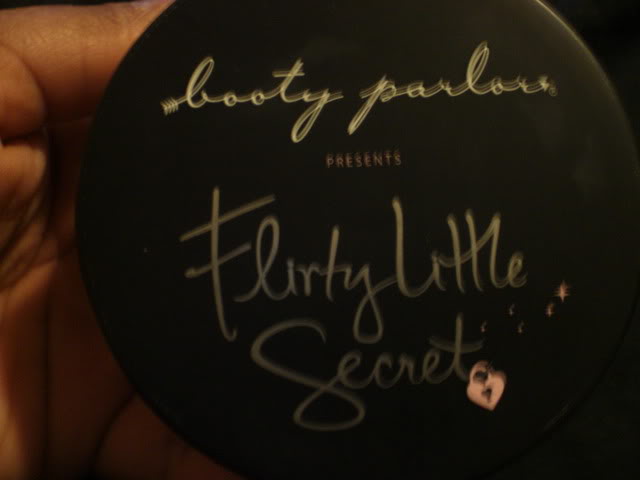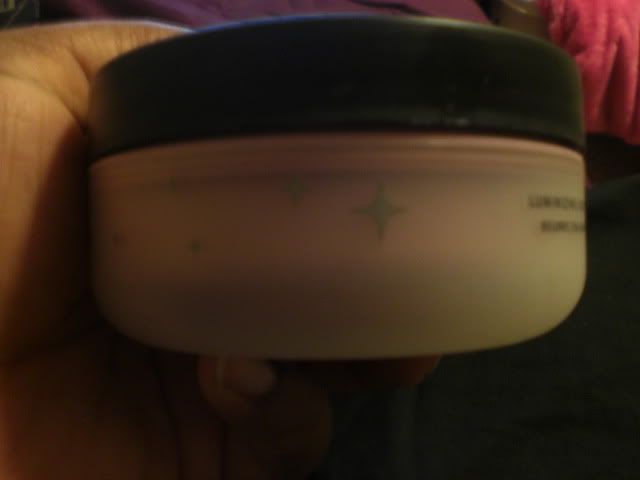 Experience
continued....
When you open the jar you'd notice that there is a white thick seal. The seal can be removed, and reused as you please. My boyfriend personally thinks I should toss that, but I don't plan on tossing it away.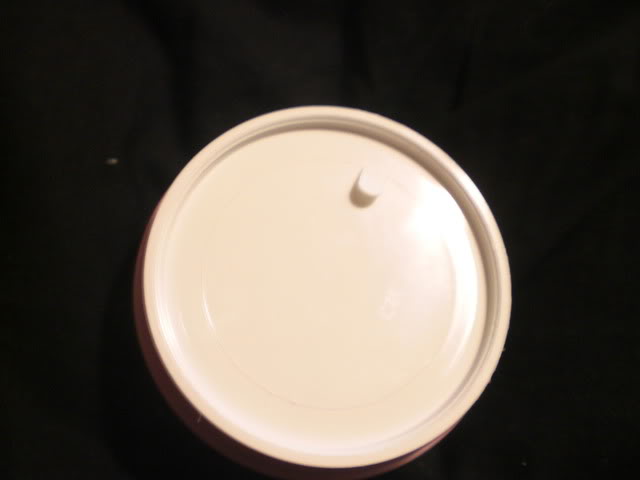 When you remove the thick top, you finally get to the body butter. When you first open it you do get a big whiff of a very distinctive smell. It's one I've never smelt before, and I wouldn't even know how to compare it to anything. It's a lite smell, and is perfect for just about all noses. The smell is a blackberry honey. I smell more blackberries than I do honey.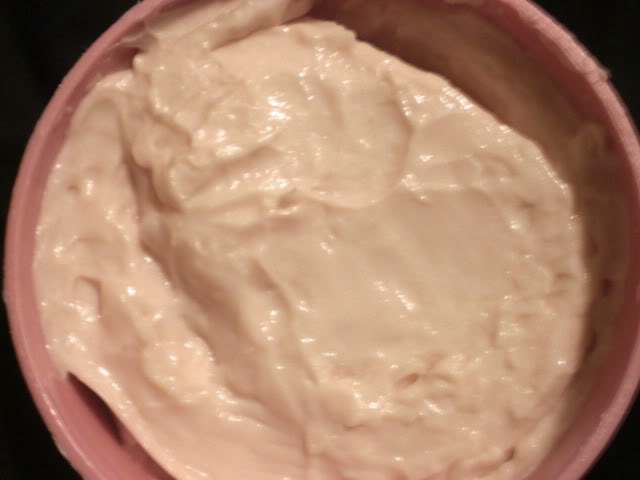 The lotion is a very pretty pink color, but when you rub it onto your hands it's more of a white color. The butter does rub in very well and doesn't require you to spend hours rubbing it in. It does leave your skin smelling and feeling amazing. The smell does stay on your skin for a few hours, and is easily cleaned with just a wet cloth. It doesn't leave your skin feeling sticky, and oily. It's very thick so, you don't have to worry about reapplying it over and over again.
As for the pheromones part, Maybe it would work for someone else, but pheromones don't really do much for me. Maybe because I know what they are supposed to do, and I'm waiting for it to happen. I can say it does in fact bring you closer. When I put it onto my skin, my boyfriend is all over me, and smelling, me which does lead to sex 9 times out of 10. Maybe on some odd world it pheromones does work.
I only have one problem with this body butter! That would have to be the glitter. I'm guessing the glitter is the luminuzing part, but it's way too much. The glitter gets all over the place. Your skin, and your bed. It gets on your lover. It just has too much glitter for my taste.
This content is the opinion of the submitting contributor and is not endorsed by EdenFantasys.com
Thank you for viewing
Flirty little secret body butter with pheromones
– body moisturizer discontinued review page!