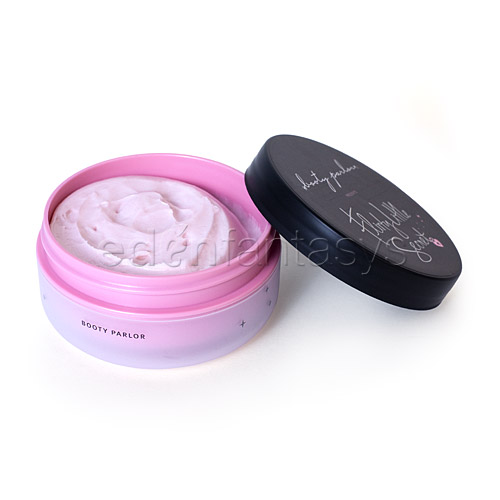 Flirty little secret body butter with pheromones
Body moisturizer discontinued
by Booty Parlor
It's no big secret - Flirty Little Secret is fantastic!
From dry, cracked skin to needing just a nice-smelling lotion Flirty Little Secret is an excellent choice. With a delicious blackberry scent and packaging to show how much effort went into making this product worth owning, you simply can't refuse to own this! I know I couldn't!
Published:
Pros
~Hydrates well
~Smells great
~Cost if you are used to buying expensive body creams
~No Parabens!
Cons
~Cost if you are NOT used to buying expensive body creams
Flirty Little Secret body butter
by
Booty Parlor
is an amazingly scented skin moisturizer.
The product comes packaged in a shiny silver box with a ribbon design to make it look like it is gift wrapped. In my personal opinion, the box itself is discreet, unless someone recognizes the company name, or a phrase like "make you irresistible to the opposite sex". I do not keep mine in the box, but the jar itself is discreet in the sense that it does not directly list anything sexual. It does say "Flirty Little Secret", but it is clearly a body cream, and many body creams come in jars with such labels. The jar has a black lid with the product name and company name on the top. The lid screws on and off easily, but will not come off by itself. The body butter inside is pink, giving a pinkish tint to the clear jar. There are silver star designs on the jar itself. Once you unscrew the lid there is a white flap covering the cream inside, which you can remove and throw away. This product gets and A+ for packaging!
The purpose of a body butter like this is, above all else, to hydrate the skin. I tend to collect lotions, body butters and creams (among other things!) and so it was no surprise to my partner when I decided to get this cream. I have very dry skin which gets very flaky and because I work in a medical practice I am constantly washing my hands, so sometimes during the winter my skin will crack and sometimes even bleed. I always am on the lookout for something that I love to use to prevent my skin from getting to that state, and I also just love the feeling of soft skin! You may apply this anywhere on the body, but keep in mind that it
does contain glycerin, so please avoid use on genitals if you are sensitive and risk infections
! Also, this product is
comedogenic, so it can clog pores and you should not use this on your face if you are prone to acne breakouts
.
The scent itself is a bit different than I'd expected. I think that because the scent is blackberry/honey on the product page, it would smell like a blackberry pie with a hint of honey or something. The actual scent is blackberry, honey and vanilla. It does smell like some sort of blackberry candy, almost an "off" scent. It does smell very good especially once applied to the skin, but was not what I was expecting. The honey scent can't be detected at all, and I did ask my mom to take a good whiff and see what she thought and she agreed. The vanilla is definitely there, you just have to take a deep whiff of it, but the blackberry-like scent is most prominent. The scent, even in the jar, is not so powerful that it will overwhelm or cause a headache.
Once applied to the skin, the scent does mellow quite a bit but can be easily smelled from at least a foot away for about 30 minutes to an hour depending on how much you've used. At 3 hours after application, I could still smell the product but only if I held my hand right up to my nose. As for the amount of time the product was working, although the aroma had faded, 5 hours after application I could still feel the product working on my skin. It was very hydrating for dry skin, and for rough skin like on feet which already are rough, it did help to soften after a few applications.
The product comes out of the jar thick, not runny at all and not messy. To use, you just dip your fingers into the jar and scoop out the amount that you desire to use. It spreads well and a little goes a long way! I was able to appreciate the fact that it did not leave an oily or greasy residue on my skin and absorbed very well. There was no stickiness or tacky feeling either, even right after application.
Despite how very sweet this product smells, it is of course, not edible! You may be tempted to lick your skin after you apply this product, but please don't! I didn't taste this product, because you aren't supposed to and I didn't feel like a tummy ache for this review!
Box: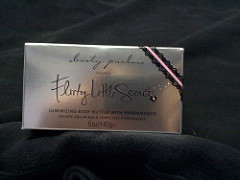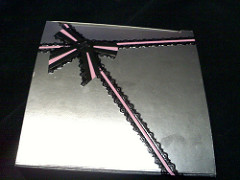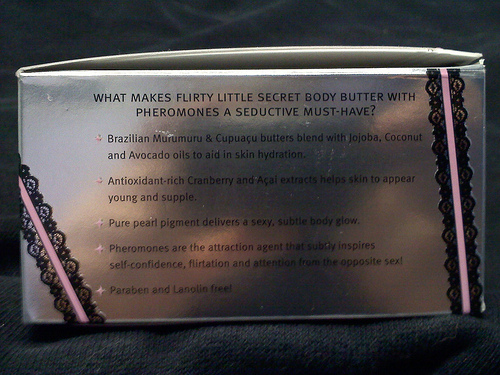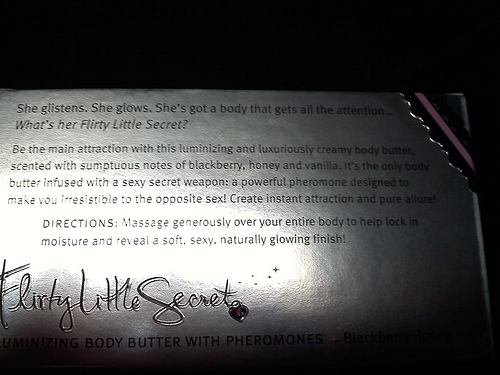 Lid of jar: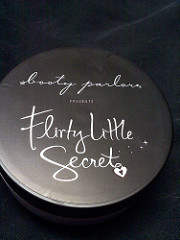 Here you can see the pull away tab: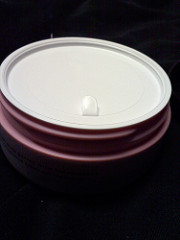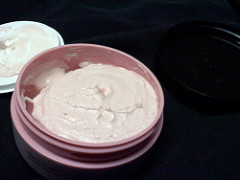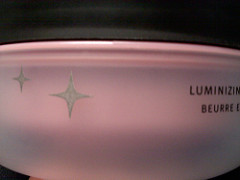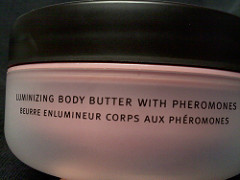 Here is the product: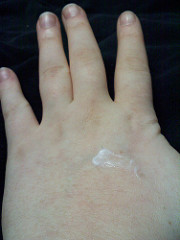 And as you can see, there are some sparkles left on my skin!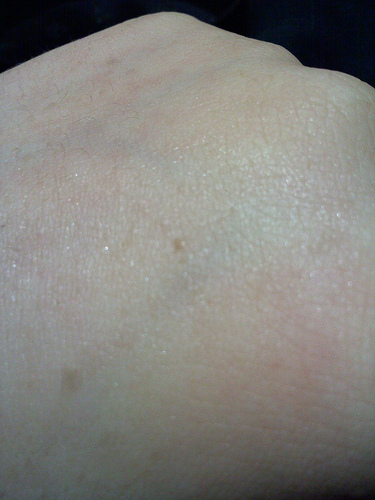 Experience
Now, for some sizing information. Your jar will contain 5 fl oz of product. Now, for $26, this doesn't seem like you are getting a lot for your money, but really you are if you consider similar products by other companies. I tend to buy my body butters from stores like
The Body Shop
and
Victoria's Secret
, so really this is not too terribly expensive to me.
I tend to use this most right after I've gotten out of the bath or shower. I love the silky, smooth feeling it leaves on my skin and the aroma is just great! I am definitely glad I made the choice to get this with my order. This product does contain pheromones although I did not notice them. Typically, I do not notice them in products, so I wasn't surprised. I still loved it though! The product also left a shimmering effect on my skin after use, which looked almost like shining diamonds on my skin! Very appropriate with the stars on the jar!
Ingredients are:
Water, Glycerin, Shea Butter (Butyrospermum Parkii), Capric/Caprylic Triglyceride, Glyceryl Stearate, PEG 100 Stearate, Ceteryl Alcohol, Glycol Stearate, Triethanolamine, Neopentyl Glycol Diheptanoate, Isododecane, Dimethicone, Stearic Acid, Botanistat (PF-64), Androstenol, Flamenco Superpearl, Propylene Glycol, Fragrance, Tocopheryl Acetate (Vitamin E), Carbopol, Murumuru Butter, Cupuaco Butter, Passion Fruit Oil, Cranberry Seed Oil, Cranberry (Vaccinium Macrocarpon) Fruit Extract, Acai (Euterpe Oleracea) Fruit Extract, Red 40 Lake (CI 16035), Red 33 (CI 17200), and Citric Acid.
This product gets 5 out of 5 stars for packaging, smell, the amount you get for your money, performance and how it feels on the skin.
Follow-up commentary
5 months after original review
I still have quite a bit of this body butter left even 4 months after I first got it! I still love the way this feels on my skin and the way it smells! It has worked very well over the winter months when my skin was very dry from the lack of moisture in the air! I know that when this jar finally runs out, I will be buying another to put in its place!
This product was provided at a discounted price in exchange for an unbiased review. This review is in compliance with the FTC guidelines.
Thank you for viewing
Flirty little secret body butter with pheromones
– body moisturizer discontinued review page!