Color My Chakras Happy!
Sensual Chromotherapy Bath Treatment by Dona is a truly unique product to add that something special to your bath! It also works very well in a spa or hot tub, and per our local spa dealer, it is safe for that type of use. The scent is amazing, and the vibrant colors are beautiful, and do not stain you or your tub!
Published:
Pros:
smells amazing, pretty, non staining to bath surface
Cons:
small bottle, can stain skin if touched undiluted
I have been a big fan of every Dona product I have tried so far, and their Sensual Chromotherapy Bath Treatment is no exception!!
So, you might ask, what exactly is this Chromotherapy stuff? For those not familiar with Chromotherapy, here is a short rundown on it:
Chromotherapy
, sometimes called color therapy, colorology or cromatherapy, is a complementary medicine method. It is said that a therapist trained in chromotherapy can use light in the form of color to balance "energy" wherever a person's body be lacking, whether on physical, emotional, spiritual, or mental levels.
Practitioners of ayurvedic medicine believe the body has seven "chakras," which some claim are 'spiritual centers', and which are held to be located along the spine. In New Age thought each of the chakras is associated with a single color of the visible light spectrum, along with a function and organ or bodily system. According to this view, the chakras can become imbalanced and result in physical diseases but it is believed that these imbalances can be corrected through application of the appropriate color. The purported colors and their associations are described as: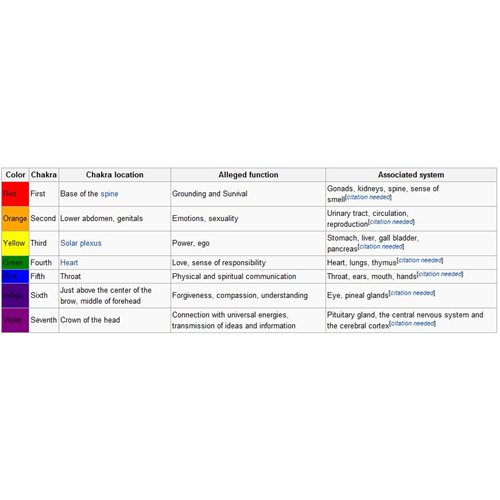 While I am not sure that I totally subscribe to the idea of curing physical malady with color, I do feel the colors have a very strong bearing on the emotions. For that reason I was really excited to try the product!!
I chose the Pomegranate variety for two reasons. I have used Dona products in the past and know I love this scent, second, this scent comes in red. From the time I was a small child my favorite color has always been red. For me, it is more than just "oh, I like that color", having red around me makes me feel happy, content, and at peace. I identify with the color. It feels like me.
So, what does red mean from a Chromotherapy standpoint? Here is what I have found:
The color Red is the color of the root Chakra, or the 1st Chakra. This Chakra is said to exhibit the qualities of physical energy and vitality. The color Red is the color of physical energy, passion, courage, power, will, and desire. Red is powerfully linked to our most primitive physical and emotional needs of survival and self preservation. The Root Chakra is stable and grounding.Red symbolizes energy, action, confidence, courage, and change. The color red brings passion and strength to your relationships, your life and your work. Qualities associated with red: grounded, centered, belonging, pride, fully alive, able to trust, independent, determined, trusts in self and others, secure, patient, constant, ambitious, passion, commitment, energizing, mobilizing, warming. Keywords associated with red: passion, determined, assertive, daring, energetic, energy, action, devotion, enthusiasm, impulsive, courage, protection, power, spontaneity, warmth, heat, blood, fire, love, excitement and aggression.
So, now back to the actual review...
I mentioned above, that I love Dona products, and especially the Pomegranate scent. Dona's version of Pomegranate is less fruity and more of a spicy floral scent with undertones of sweetness and fruit. It is amazingly sensual and sexy!
This bath treatment comes in a standard plastic bottle, with a screw on cap. There are 4.25 oz of product included. Here are the ingredients:
Purified Water (Aqua), Fragance, PPG-25 Buteth-26, Hydrogenated Castor Oil, Phenoxyethanol, Ethylhexlglycerin, May Contain: FD&C Red #40, FD&C Green #4, FD&C Yellow #5, FD&C Yellow #6, FD#C Blue #1.
I have a pretty good size tub, so I used 3 cupfuls of the product in my bath. Do take care when pouring the product as several other reviewers, and myself, discovered that straight from the bottle this will stain hands and anything else pours it comes in to contact with.
Immediately upon pouring it in the water, my entire bathroom was filled with a lovely amount of scent. I ran my bath extra hot, and the scent seemed to swirl into the steam that filled the room. The 3 caps of product tinted my bath a lovely red color.
You can pour the product in the tub while it fills, and it will mix the color as it fills. I however prefer to pour it in once the bath is still. When you do it this way the product sort of swirls in ribbons through the water. It looks really cool and sexy to me, and I love to sit and watch it swirl for a few minutes before I get in the tub. No matter how or when you add the product, it is very easy to mix into the water.
I have used this several times, and have seen zero staining on my skin or tub from this product.
My only complaint is that the bottle is rather small, and a bottle only lasts about 5 baths.
Experience
I thoroughly enjoyed my experience with this product!!! I lit a Dona candle (also Pomegranate), sipped a glass of icy cold white wine, and laid in my steamy hot, red tinted, and deliciously scented bath until the water went cold.

Upon getting out, my skin had no dye residue, or residue of any other kind, other than a light scent.

If you have a hot tub or Jacuzzi, per our local spa dealer, this product is safe for use in any spa system. After getting the all clear, I did use some in our Jacuzzi and it worked very well! The water stayed tinted for almost 3 days. The scent only lasted for about an hour, and then the chlorine knocked that out. There were no harmful effects to the spa in any way.
Follow-up commentary
5 months after original review
This is not an everyday bath product for me, but I love it for a special bath when I really want to feel pampered. Can't wait to try some of the other fantastic Dona scents!!
This content is the opinion of the submitting contributor and is not endorsed by EdenFantasys.com

Thank you for viewing
Dona sensual chromotherapy bath treatment
– bath oil review page!