Cramps Be Gone!
This is so worth the money. It makes a great gift for someone else or yourself. It's lightweight, small, and easily portable. It can be reused and heats up to 129F to help soothe aching muscles or make cramps more tolerable. Can be used alone or have a partner help loosen you up.
Published:
Pros:
Small, portable, reusable.
Cons:
None.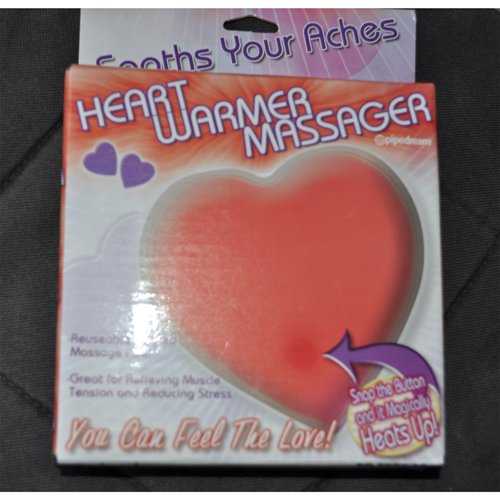 I was quite excited to order the Heart Warmer. For all you ladies out there who get severe PMS and cramps you will appreciate the Heart Warmer too! It arrived in a discreet cardboard box that is safe for children to see. The box explains how to use it on the back and explains how to reuse this particular item.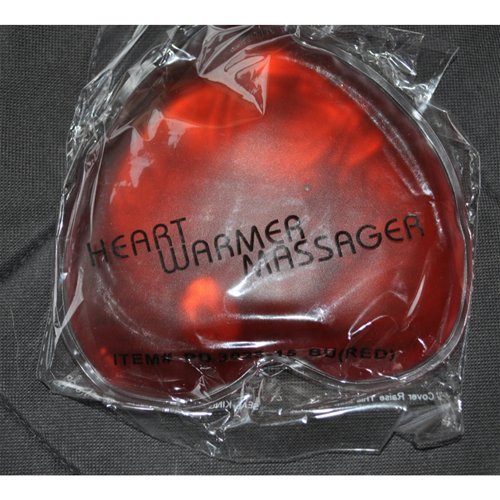 When you open it to remove the Heart Warmer it is wrapped in plastic that also contains instructions. However, the plastic is obnoxiously loud and the writing rubs off the plastic so hang on to the box for the first few times that you reuse this amazing cramp reliever.
So how it works is that there is a metal disc floating around inside the heat pack. You snap it back and forth a few times and suddenly crystals start forming in the Heart Warmer. Within a minute the whole heat pack is solid and quite warm. I would recommend covering the heat pack with a thin towel to protect sensitive skin and to prolong the heat. The heat pack can get as hot as 129F so be careful with it. The box and plastic wrapping state that you should discontinue use immediately. Also the liquid is harmful if swallowed so if you have a teething child or a pet that likes to chew on things hide this heating pad.
Another big no no with this item is putting it in the microwave. It is not microwave safe and should not be heated up in the microwave. While the packaging did not say what will happen if you do I assume it would be bad. To reuse this heating pad you place a small towel in the bottom of a pan and fill with water. A tea towel worked fine for me when I did this. Then you place the heating pack on top of the towel and bring the water to a boil. Once the water is boiling you leave the heating pad in for about 10 minutes or until all the crystals dissolve. I had to boil mine for 12 minutes before all the crystals were gone. Once the pad is clear use tongs to take it out of the water and let it cool off. Wait until its room temperature and then voila its ready to use again.
What I love about this product is that it is so easy to use and it heats up so much for such a small heating pad. I used this while cramping and it was fantastic. Normally I sleep or sit around with a bulky heating pad that is plugged into the wall and can get annoying. With this I was able to wrap it in my blanket while lounging around and move it easily. It did not take long to boil it and reuse it. The heat last for me about an hour or so when it was wrapped in the blanket. It is very small and portable measuring 3"X4". It is also very lightweight.
Follow-up commentary
15 days after original review
It took me a few tries to get the hang of re-boiling this so it could be used over and over. I still love and and recently used it for sore muscles. It fantastic and I just might order a second one.
This product was provided at a discounted price in exchange for an unbiased review. This review is in compliance with the FTC guidelines.

Thank you for viewing
Heart warmer
– massager review page!