You might want a glove to feel this love!
At just $8, the Heart Warmer makes a great little extra to add to your order and a nice relatively inexpensive stocking-filler for friends & family at Christmas to help keep the winter blues away. They're also an energy-efficient way to ease muscle cramps, sprains, menstrual cramps or general aches and pains.
Published:
Pros:
Cute, gets very hot, reusable, makes a nice non-sexual gift.
Cons:
Heat doesn't last very long, needs a cover to use it effectively.
Being relatively new to Eden, I was surprised to find this little gem on here. Maybe that's because I've never been into temperature play or anything like that, even though the Heart Warmer can easily be used for that. Actually, the reason I was surprised was because I've used something similar to this when I'd go camping in the fall. I used to own a reusable heat pad that came in its own soft pouch and was perfect for chilly nights in the tent or for keeping hands warm for an hour or two when walking in the wild. So when I was doing a totally unrelated search on here for massagers, up popped this little guy.
Made by Pipedream, the Heart Massager measures 5" x 5" at its widest points (being heart-shaped means that it's not a true 5x5 of course) and a little under 1" deep and comes in the kind of box that I'd expect to see hanging up in Spencer's (speaking of which, these exact warmers can be found elsewhere for at least twice the price, so thanks EF!). The packaging isn't really tacky looking and isn't discreet but it doesn't really need to be as this isn't necessarily a sexual item. In fact the packaging tells you just that, it's a "Reusable Heated Massage Pad", and is "Great for Relieving Muscle Tension and Reducing Stress", so even if someone sees this lying around they're not going to think you're doing naughty things.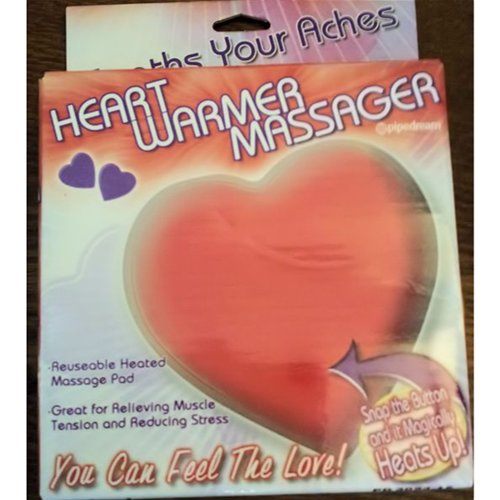 The instructions are printed on the plastic bag that holds the massager in the box and can be a little difficult to read. They say:
1. Hold metal disc inside of heat pad and flex back and forth until crystals form
2. Kneed (sic) crystals to distribute evenly and soften up the heat pack
3. Apply heat pack to desired area. To prolong heat, cover heat pack with a thin towel during use.

To Reuse:

Place small towel in bottom of pan and fill with water
Place heat pack on towel and bring to a boil. Boil for a full 10 minutes until ALL crystals dissolve. When the pad is completely clear, use tongs and take it out of the water and place on a cloth to cool down. Cool the heat pack to room temeparature (sic) and repeat steps 1-3.
CAUTION Heat pack can reach 54C/129F. Should redness occur discontinue use immediately. Liquid is harmful if swallowed. Do not heat in microwave. Do not put heat pack directly on pan when boiling. Do not leave unattended while boiling.
I know that all of that information is there on the packaging but I thought I'd share it for those who haven't ordered one of these yet but are interested in how to use/reuse it.
Unlike many products sold on EF, this one could have the potential to do some harm if you don't follow the instructions properly so please make sure you do. I followed each step as instructed on the packaging and have been fine, but if you're someone who likes to cut corners or do things their own way then you could land in hot water - literally - with this. An example would be when it comes to boiling the massager after use - I imagine putting a towel or washcloth in the bottom of the pan stops this from sticking and melting.
Experience
Having never had the desire or inclination to try temperature play, I bought this strictly as a warmer/muscle massager and found that it works very well for that. I tend to spend most of my day sitting at a PC so often have muscle strain on my upper and lower back and use these Heart Warmer to take the edge off the pain from time to time. My hubby and I have also taken these on a hike with us and found them to be pretty useful, although I'm thinking of getting some thick felt and making my own little 'heart holders' for them, since they get unbearably hot at first.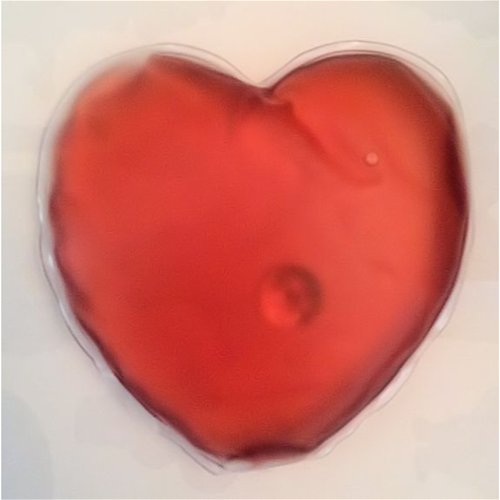 Speaking of the heat, it's really worth bearing in mind that the instructions seem to be pretty much spot on. These things get extremely hot, and while I haven't measured the temperature I can well believe the packaging's claim that they'll get as hot as the upper 120's F. The downside to that is that the heat doesn't last all that long, certainly not as long as some more dedicated reusable heating pads. In fact my old one would stay nice and warm for about 2 hours. The longest I've had out of the Heart Warmer was just over 50 minutes. If you need something that'll keep heat for longer then you might want to either look elsewhere or maybe just buy a couple of these and rotate them.
Follow-up commentary
2 months after original review
Given the time of year that I bought the Heart Warmer, it hasn't had very much use. I did use it after pulling a muscle several weeks back and felt that it really helped, and I've actually bought several more now as Christmas gifts. I'm thinking this will really come into its own over Winter as a hand/body warmer, but that doesn't mean it wouldn't work in the bedroom. Just bear in mind that it gets VERY hot at first, so you might only get about 20 minutes of massage time once you've given it a little cooling off time.
This content is the opinion of the submitting contributor and is not endorsed by EdenFantasys.com

Thank you for viewing
Heart warmer
– sex toy review page!