Delicious & Milky
The Inttimo Shave Kreme is an absolutely great buy. It provides a ton of moisture for your skin along with a pleasant shaving experience and a delicious smell. What more could you ask for?
Published:
Pros:
Great smell, moisturizing, easy to use, lasts a long time.
Cons:
Uhm, it runs out? Haha.
*This product also comes in a large. The small is 1.5 oz for $7.99 and the large is 8 oz for $8.44. Hello Eden, we need this one here :)
This shave kreme has a scent of Forbidden Fruit (Indulge your senses in the lush aroma of wild berries, yum!), made with a soothing formula, enhanced with Aloe Vera, Vitamin E and Jojoba Oil (good stuff!), which all softens your skin and hair. (Yes, it states you can use this in your hair. I'll do my follow up review on this.) This gives you a luxurious, moisturized, amazing smelling shave. I know some of us may get tired of shaving, but this smell really wakes you up and you're also treating your skin to certain ingredients that revitalize it as well as getting a smooth shave all in one. Also, a huge plus, this product is not tested on animals!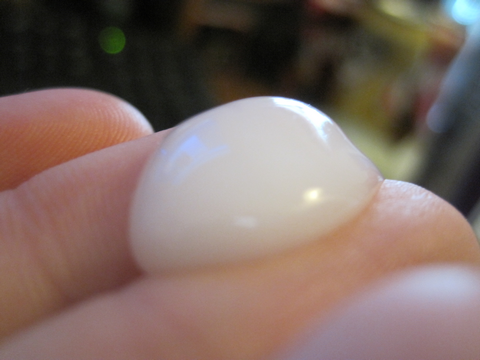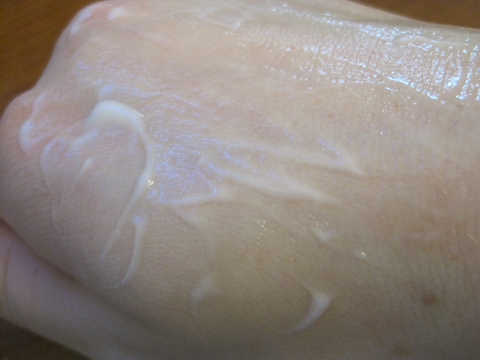 As you can see from the above pictures, the shave kreme is in fact very creamy. It's hard to describe without feeling it, but it's way creamier than a conditioner. It's sort of feels like a moisturizer times 10. I knew before I even put the product on my legs that I'd be moisturizing as well as shaving my legs. I used about a dime-sized amount for each leg, only shaving from the knee down, to see the effect the product had with my skin.
The second picture shows the lather of the product on my hand, there was no water or anything involved, that is simply the product on my hand. You can't tell me that doesn't look moisturizing! I wiped the shave kreme off of my hand probably 15 minutes ago and I can still smell the scent (it's not heavy/sickening) and my hand feels soft. Now when I got out of the shower, my legs were moisturized enough for me to go without lotion, but it doesn't give you the glisten-y lotioned look as you do wash the product back off.
I'm sure most of us gals that are cleanly shaved know that regular shaving cream plus a vagina equals a no-no. At least for me, I'm assuming most of us have experienced the pain of the 'burning' it gives you. (I now use conditioner if I have nothing to shave with, lol!) I used this to also shave my armpits and vagina and BOTH are bump-free. I normally get a few bumps here and there, but I'm absolutely in love with this product!
This product doesn't leak. I do not have the 1.5 oz bottle, I have this
this
bottle, and there are no problems with it leaking from the top.
They also have an original scent (not listed on Eden), which I'm assuming has all the same aspects of this product, minus the scent obviously, if you'd like to get this for your boy or don't like scented products :)
Follow-up commentary
4 months after original review
I still love this shave kreme. It's so smooth, it moisturizes your skin while making it super easy to shave, and the smell is to-die-for. I recommend this for anyone who shaves, especially if you get dry after shaving!
This content is the opinion of the submitting contributor and is not endorsed by EdenFantasys.com

Thank you for viewing
Inttimo shave kreme
– shaving gel review page!