Easy Peasy
It's easy to use, safe on all materials, non irritating and antibacterial. Label peels off cleanly for discretion! It might not be worth it for some, since it's questionable whether it's any better than soap, but I spend the money because of the peace of mind that it's safe for my toys and made to do what I'm using it for.
Published:
Pros:
Easy to use, safe, compatible, antibacterial, Petro-chemical, paraben and glycerin free
Cons:
A little expensive
I don't know that there is anything particularly special about this cleaner, other than it's foaming quality. I do know that it is compatible with all types of sex toy materials and it makes me feel better about cleaning my toys. It's super easy to use because it foams so I can clearly see that I've gotten it all over the toy and haven't missed anything. It's anti-bacterial and safe. I like that it's not greasy. It's not scented but it does have a slight, not-unpleasant odor, only noticeable up close. I don't notice it leaving any odor on my toys at all.
I had written this whole long part of this review about how I really wished this packaging was more discreet because it's a fairly tall bottle that is labeled as "toy cleaner" and in an all adult household, most people will probably figure out what it's for and I live with roommates and share a bathroom and don't want to advertise that I have toys that regularly need cleaning. Which I do, of course or I wouldn't be writing this review. But then I was examining the bottle and thought, hmm, I wonder if I can peel off the label. To my pleasant surprise, the label not only peeled off easily, it did so cleanly and without leaving residue or tearing into tiny little pieces I had to scrape off and with finger nail or anything stupid. So I tossed the label and my cleaner can now live happily ever after under my sink where it now looks like some kind of hair or skin product in it's label-less pearly white plastic bottle.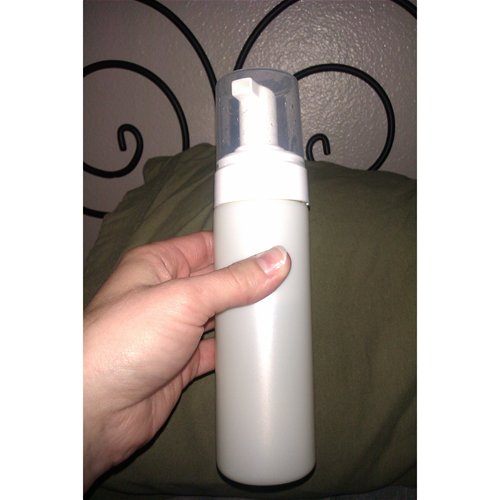 The original packaging, however, when first purchased, until the label is peeled off, is pretty obvious, as I said.
To use it, I pump the product directly on the toy and spread it across the surface with my fingers or a towel and rinse. I do rinse my toys well after I use it but I haven't had any irritation or any negative reaction from it at all. It leaves no residue or anything on the toy and it gets all the gunk and lube off cleanly. It's simple, easy to use and gives me peace of mind. I feel like I've used a lot of it because I clean my toys after every single use and sometimes before and the weight of the package doesn't feel any less than when I bought it so it seems like a bottle lasts a long time.
There's a clear plastic lid over the pump so it keeps the pump from being depressed in storage or, theoretically in travel. The plastic lid is fairly secure but I'd probably toss it in a zip lock to travel with it just in case since the pump itself doesn't lock or anything.
There's simple, easy to follow directions in multiple languages that I don't know, as well as English of course, on the label.
All in all, I'm pleased with the product. Does it work better than soap and water...maybe not, but being that this is what it's made for, it makes me feel more comfortable and safe and I know I don't have to worry about fragrances or other irritants for me or substances that may damage my toys. So for me, it's worth the $10. Plus with how long it seems to last, I don't think I'll need to replace it anytime soon so it's even more worth it.
Follow-up commentary
5 months after original review
Almost finished with the bottle and will definitely buy more. Seems to work, gives me peace of mind, discreet, easy to use, bottle lasts a long time. I'm a fan.
This content is the opinion of the submitting contributor and is not endorsed by EdenFantasys.com

Thank you for viewing
JO anti-bacterial toy cleaner
– toy cleanser review page!