Discreet and Anti-Bacterial
I have found this to be a decent cleaner. If it can keep my toys clean and keep me from having any problems, I'll be a devoted buyer. However, this could get a little bit pricey if it is all you want to use to clean your toys, depending on how often you use them and how big they are.
Published:
Pros:
Antibacterial, free of glycerin/alcohol/parabens, discreet looking bottle
Cons:
Debatable Triclosan issues, pricey, and potential to get used up quickly.
This cleaner is free of glycerin, parabens, petro-chemicals, and alcohol. Glycerin can cause infections in those who are prone, so I'm glad it doesn't contain that. It's nice that this doesn't contain alcohol, I've heard mixed information on alcohol potentially damaging silicone toys. This seems to be safe on really any material.
The ingredients are: Triclosan, Disodium Cocoamphodiacetate, Sodium Trideceth Sulfate, Propylen Glycol, Citric Acid, Phenoxyethanol, Purified Water.
Being ery prone to infections and issues,I like that this has antibacterial and antifungal properties. However, there is
some debate
on
how safe
Triclosan is for human use. Some say it is totally safe, others disagree. So far, I have not found this product to be irritating at all. Make sure you wash it all off when you use it.
This claims to be unscented, but that is not exactly true. This definitely does have a scent, but nothing bothersome or overwhelming. It is very faint, and does not linger on the toy after you wash it. It is a faint cleanser smell, nothing irritating, annd you can really only smell it once you pump it out of the bottle.
One thing I like is that the label is very easy to remove. This makes it ideal for roommate living, or if you share a bathroom, you can just leave it in the bathroom without everyone knowing you left your toy cleaner behind. The packaging looks pretty discreet to begin with, like a regular bottle of soap or shaving cream, without close inspection that is. I was worried about this, since it says "toy cleaner" right on the front of the otherwise discreet looking bottle. I wondered if I could take the label off, then worried that if I could it would be like a sticker and get stuck in places and sticky and gluey in places, and just look weird and messy, with a partly-missing label. Well, I peeled up one corner and pulled, and the whole thing came off with one pull! Awesome! The label is easy to remove, it's more of a plastic than a paper label, so it doesn't stay stuck in certain places, and removes cleanly. Now, without the label, I can keep it out without everyone who uses the bathroom knowing it's a toy cleaner. It just looks like a regular foaming cleanser of some kind, nothing suspicious about it. I'm pretty happy about that.
After I removed the label: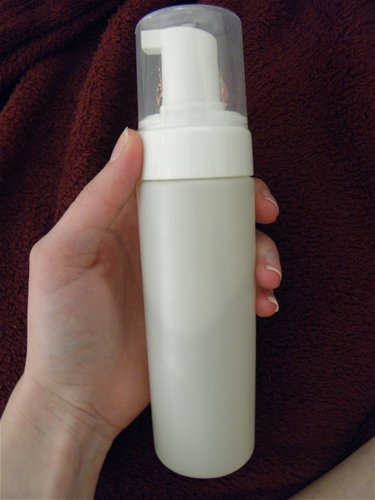 Before I removed the label: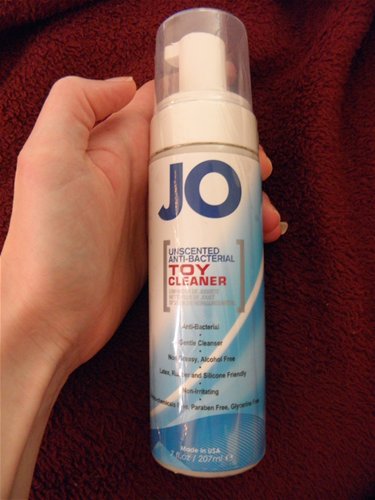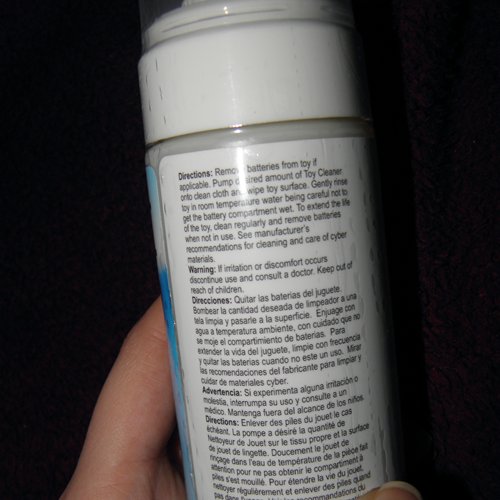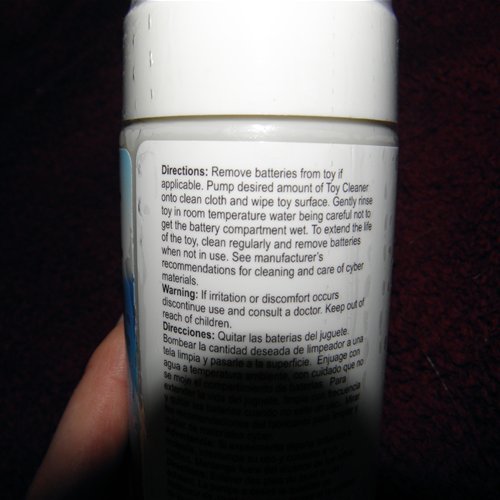 This is about the size of a bottle of an averaged-sized shampoo, so if you find that to be travel friendly then you would be fine traveling with this.
Depending on the size of your toy, and how difficult it is to clean (texture, or whatever else) how much of this you need to use to clean it will vary. This stuff is very easy to use. You just pump the top down, like using a foaming hand soap or any foaming cleanser, and pump out as much as you need, rub the toy down, and rinse it off. This is quick and easy, but not as quick and easy as wipe, though antibacterial cleanser and water is probably more thorough and effective for cleaning. I find that for my larger rabbit, I feel comfortable with three pumps of this stuff, which is about a handful of foam. For a smaller toy, one or two pumps is fine. For the price, it could get a pricey if you want to use this to clean all of your toys all of the time, especially if you use toys fairly regularly.
Experience
I'm waiting to see how long this bottle will last. I figure it will last for a few months. Also, being that this is $10 a bottle, I would hate to find that it is a better cleanser than the soap and water or wipes I use, and then have to keep it in stock in my collection at that price, could get a little costly. I'm sure there are cheaper foaming antibacterial soaps on the market, even regular antibacterial hand soaps contain Triclosan. However, regular soaps also tend to contain glycerin, and other things that could possibly be irritating. So, if you want to do a bit of searching around before buying a bottle of this, go ahead. If this can keep my toys clean, and stay worry-free without getting any irritation or infections, then it will be worth it.

I've basically stopped using Before & After spray cleaner, as I found that it didn't do much and soap and water was more effective and anti-bacterial. Toy wipes are more of an on-the-go, can't get to the sink to clean a toy, sort of thing. For what it is, this seems to be a decent product.
Follow-up commentary
1 month after original review
This is a pretty good cleaner. If you live with roommates, it could be a bit difficult if you have a shared bathroom, but it is a nice cleaner. I find it to be non-irritating, and I prefer it to wipes or Before & After spray, which I used to use. I'm totally over Before & After, and this has replaced it. It's less convenient, in that you need water and access to a sink when you use it, but I think it is more effective. Plus, it's fine for silicone toys, which is great for me since that's all I really use! One bottle has lasted me many uses, and I still have plenty left. It could get pricey if it's all you want to use to clean your toys, but one bottle will last two or three months probably with using it daily.
This content is the opinion of the submitting contributor and is not endorsed by EdenFantasys.com

Thank you for viewing
JO anti-bacterial toy cleaner
– toy cleanser review page!