First a tooth, now a bone?
The Contour I is an elegantly designed massage stone from JimmyJane. Shaped sort of like a rattle, this ceramic massage aid is made with deep tissue massage in mind. Roll it from the top of your lover's back to the bottom, or use one of the bulbous heads for single-point or focused pressure. Just be sure to pick up some massage oil as well. You'll thank me later.
Published:
Pros:
Makes sensual massage easier on those of us with achy hands, elegantly designed, versatile.
Cons:
Sort of requires oil or lotion.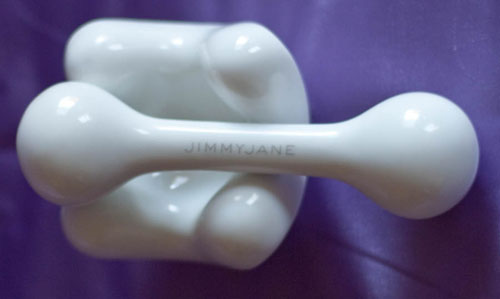 What's that for?
The Contour I is one of three sets of massage stones created by JimmyJane and sold here at Eden Fantasys. It's meant for manual deep tissue massage, but I've heard tell of it being used as a dildo. I haven't (and probably won't) tried it that way.
You can heat up this stone in warm water for a relaxing massage, or cool it off in cold water for an invigorating one. Use it with oils, or candles, or JimmyJane's
Beyond Massage Lotions
. Give your partner a relaxing end to a stressful day, or a sensual beginning to a normal one.
What'd it come in?
Pretty much everything I've owned by JimmyJane came in a white box with black or gray accents. The Contour I is no different. The box it comes in has photos demonstrating how to use this massage stone, and a few products that can be used with it. Inside, you'll find the stone, and directions for its care and use.
How's it made?
The Contour I is made of glazed white
ceramic
with "JimmyJane" printed in gray on the handle, and is shaped sort of like a dog bone, or a baby's rattle. It's about 5 1/2" long, each of the bulbous ends being about 1 1/2", and the thinner middle being about 2 1/2". The bulbs are about 4 3/4" around, and the handle's just under 1".
It's smooth to the touch, firm, and rather light. It contains no harmful chemicals, and has no smell or taste. And you don't have to worry about people knowing what you're up to in the bedroom, as it just looks like a massage tool.
How is it?
Awesome. Hands down, I got the biggest reaction from M when using this massage stone. He really likes how it feels.
Neither of us is overly fond of using the Contour I with the Contour M. If you've read
my review of the M
, you'll remember that using it with the other stones made it squeak and click. M says that because I was trying to keep it from squeaking, it changed the experience of the Contour I completely, so he prefers I use it by itself.
My hand fits perfectly between the two ends, which enables me to effortlessly roll this stone from M's shoulders to his hips. It's strong, and durable, so I don't worry about being too rough on it. It lengthens the amount of time I can give M a massage by reducing the strain on my hands. And I can even use it on my own achy muscles.
The only downside? You kinda have to use oils with these stones. Especially on oily skin. The glazed surface causes a bit of friction, which M says detracts from the experience.
Anything else I should know?
The Contour I can be used in conjunction with massage oils, lotions and candles, and is easily cleaned with nonabrasive antibacterial soap and warm water. While I'm sure it could stand up to a dishwasher, it's really not worth the risk, since it's nonporous, and body safe. Keep the box for storage, or pick up a
bag
or
two
to store your stones in.
Please read the warnings listed in the instructions in the box carefully before use.
This product was provided at a discounted price in exchange for an unbiased review. This review is in compliance with the FTC guidelines.

Thank you for viewing
Contour I
– massager review page!