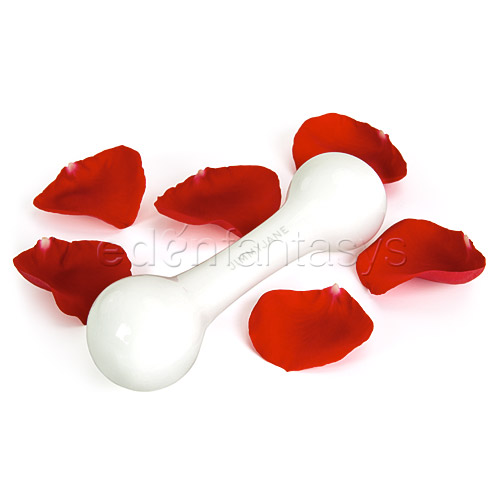 Contour I
Massager discontinued
by Jimmyjane
Modern Massage
The Contour I is made out of double-fired porcelain; it's bio-compatible, hygienic, and retains heat and cold phenomenally well. This massager provides for deep tissue massage and the luxury of a Hot Stone Massage without having to pay a lot.
Published:
Pros
Inexpensive solution to a costly luxury.
Cons
Ceramic can be broken if dropped.
Native Americans used to warm hot stones by a fire and then use them for massage in order to feel better. In Today's world, we'll spend well over $100 for a hot stone massage, an extravagance that many cannot afford. With the recent economic crisis and for couples on a budget, JimmyJane presents the Contour I, their solution of luxury that doesn't require spending a lot.

The Contour I is made out of double-fired porcelain; it's bio-compatible, hygienic, and retains heat and cold phenomenally well. A pure white, sleek, 5 1/2" long massager, shaped like a dog bone, that's easy to wield and feels sensational.

The smooth, polished surface glides over skin for instant relaxation and the nodes make deep kneading massage a cinch, instantly providing relief for tired fingers, limbs, and backs. The small ballhead nodes also help with hard to reach places and effectually and efficiently release tight knots.

The Contour I, being inspired by Hot Stone Massage, can be heated in a bowl of warm water or run under the tap, alternatively, it can be chilled as well under the tap or if placed inside of a refrigerator. Always check the temperature as ceramic retains heat incredibly well and if placed inside of a stove pot or microwave, could burn the skin when used.

Warm stones help to expand your blood vessels, thus helping the blood to move more quickly around the body and sedate the nervous system. Hot Stone Massage is often pursued to release toxins from the body, improve circulation, alleviate pain and stress from the joints, tissues and muscles. Patients also hope that a Hot Stone Massage will cure their depression, insomnia, anxiety, back pain, arthritis, fibromyalgia, or multiple sclerosis.

For those with inflammation or muscle injury, cold stones are sometimes used. Cold stones help to stimulate the nervous system by causing the blood vessels to contract and increase the lymph flow of waste material around the body.

During a Hot Stone Massage, a massage therapist will use traditional strokes of Swedish Massage while holding a heated stone. As the stone cools, the therapist replaces it with another. Be advised that pregnant women and those with hypertension should not pursue a Hot Stone Massage as the heat from the stone can raise your blood pressure temporarily.

Using the Contour I is easy and does not tire hands or fingers quickly. Using lotions or oils (the Contour I is compatible with all types), or having the recipient wear a light piece of clothing, helps the Contour to move swiftly and easily over the body.


Techniques on using the Contour I:

Single Node, Deep. This is great for focused massage pressure and deep stimulation of larger muscle groups such as backs or legs.

*How to: Brace on end in the palm of your hand and support the narrow stem with your thumb and fingers.

Single Node, Shallow. Exceptional for lighter pressure and the combined sensation of using both your fingertips and the Contour at simultaneously.

*How to: Cup one end in palm of your hand with the narrow stem passing through the valley between your thumb and your forefinger.

Dual Node. Good for applying light pressure to two points in tandem (in conjunction). Tip- Try massaging the length of the back, bridging across the spine.

*How to: Lay Contour I on the body and roll it lengthwise along the muscle group.

Center Stem. Adequate for thighs, calves, upper arms, and the forearms. Also good between the neck and the shoulder.

*How to: Hold one end of the Contour I in each hand, then use stem to smooth kinks from narrower muscle groups.

The Contour I can also be used in conjunction with the Contour M for a multi-stone massage.


As the Contour I is ceramic, proper care and storage should be maintained. Be careful not to drop the massager nor store it where it could be broken. If it is chipped, cracked, or damaged in any way, do not use the massager but simply throw it out. To clean the Contour I, wash with a mild dish detergent, rinse with warm water, and hand dry with a soft towel.

Ceramic is nonporous so during massage, the massager is able to be inserted into the vagina but as there is no real flared base, inserting the Contour inside the anus is ill-advised.

The Contour I is a budget-friendly solution to a luxury that you may not otherwise be able to afford. This is a wonderful couples item that helps you feel better and get just a little bit closer to your partner.
This product was provided free of charge to the reviewer. This review is in compliance with the FTC guidelines.
Thank you for viewing
Contour I
– massager review page!