High cost for a small package- Naked Pink
I am really disappointed in it's lack of plump, but I will continue to wear this lip gloss for it's pretty color and delectable smell. I really liked the light shimmer of this lip gloss and enjoyed that it was fairly long lasting. If it had plumped my lips I wouldn't mind paying $16 for it again, but since it did not, I will not be purchasing it again and can only give it 4 stars.
Published:
Pros:
Smells great, Lovely color, Feels nice, Shimmer
Cons:
Doesn't plump, High cost for .2 fl. oz.
Packaging and size of contents
Your lip gloss tube comes to you in a 4" pink cardboard tube, with black writing and detail. This outer shell tube is where you will find most of the information about the lip gloss. Including the brand name, color name, ingredients list, that it was made in Canada, that it is recyclable, and a paragraph of Principessa Beauty telling you why this product is so great. The outer tube labels the contents as "plumping lip gloss" and tells you that the inner tube contains .2 fl. oz.. The lid of the outer tube is again labeled Naked Pink and is a simple pull off cap. After removing the cap, your new lip gloss can easily be slid out. The inner tube is actually only 3 1/2" long, with 1 3/4" of that belonging to the plain black lid. I had thought this lid was plastic, but it is actually metal. The other 1 2/4" of this tube is your lip gloss supply. This half of the tube is clear and you can see the color of the lip gloss through it. The side of this round tube simply states "principessa", but the bottom of this portion has a recap of the outer shell tube. It again tells you it is Naked Pink, contains .2 fl. oz., and that it was made in Canada(Vancouver, B.C.). The lid's length, including the dipstick, is 3 1/2", meaning the stick goes all the way to the bottom.

Application
Application of this lip gloss is child's play. Unscrew the lid by twisting the black cap to the left and pull apart from the clear portion with the surplus of gloss. After doing so, you will see a dipstick applicator with more than enough on it for application. Use the plush tip of this dipstick to apply to your lips. This plush tip feels very nice when rubbed over the lips.

Color
Naked Pink looks much darker on it's product page than it is in real life. Even inside the container it looks slightly darker than it does once it is on skin. Naked Pink is fairly subtle and has a bit of shimmer and a lot of sheen to it. Even when it is still on the dipstick, before application, you can see the small amount of very tiny sparkles.

Feel
When you first apply this lip gloss, it is very creamy and smooth and keeps your lips nice and slick. You cannot feel the shimmer, this lip gloss is totally smooth, creamy, and slightly oily. After about 2 hours(unless eating, drinking, or making out) it starts to dry up on your lips. Unlike many other lip glosses, it never becomes crusty or gunky feeling. Instead, when it starts to dry up it kind of just starts to disappear and leaves almost nothing behind. The lip gloss is fairly thick, and if you remove the dip stick and turn the portion full of lip gloss upside down, you will notice none will run out.

Smell
Pleasantly paffuto lip gloss in Naked Pink smells delicious. It truly smells good enough to eat, which is great for me since I am constantly on the look out for smells that smell like they would taste good. Sadly, the smell of the lip gloss has a much shorter shelf life than the lip gloss's staying power. When you unscrew the lid, you cannot smell it's sweet smell, but if you put your nose to it you can easily smell it. After application, your nostrils carry the smell around for you, since your lips are just below your nose. The smell dissipates from your lips after about a half hour to an hour.

Taste
While it does smell like it would taste delicious, Naked Pink lacks much of a taste at all. I would not call it a bad taste, not in the least, but I would say it is nonexistent. If you lick your lips you can feel the lip gloss on your tongue, but it does not have a taste.

Lip Plumping Ability
This is the one aspect of the lip gloss I was completely displeased with. It's product page claims that it has plumping qualities, but I firmly disagree. My lip were not any more puffy or plump than before, though they were very prettily colored. The extensive list of ingredients in this product are supposed to plump them. Since it does not, you may be better off you go to your local department store and spend much less on a lip gloss that will create the same pretty colored and lovely smelling lip gloss. I am really disappointed in it's lack of plump, but I will continue to wear this lip gloss for it's pretty color and delectable smell.
Experience
Why did I want it?
The real question is... who wouldn't want more voluptuous lips? Not me, because I would love thicker lips, even if it was only for a short while. The plumping qualities are what drew me in, but the color "Naked Pink" was the icing on the cake. I love lip colors that are subtle.
Personal likes and dislikes
I really liked the color as the light shimmer of this lip gloss. I thought the color meshed well with my pale skin tones and I feel that the shimmer makes my lips pop out. But, the plumping qualities were pretty nonexistent for me. My lips were no more plump than they are without wearing the lip gloss. Since this lip gloss is $16, I really expected at least some extra plump to my lips. Sadly, I was really let down in that department.
Here are a few photos I took to show everyone.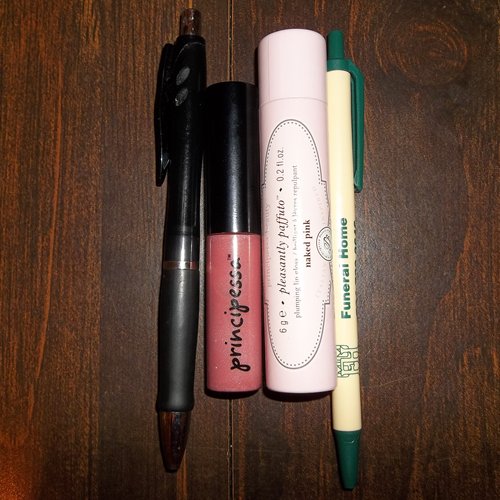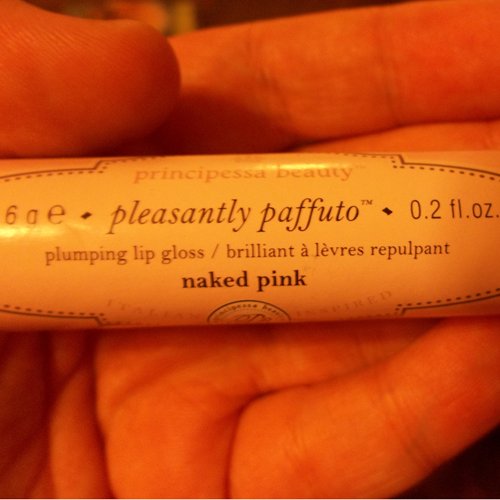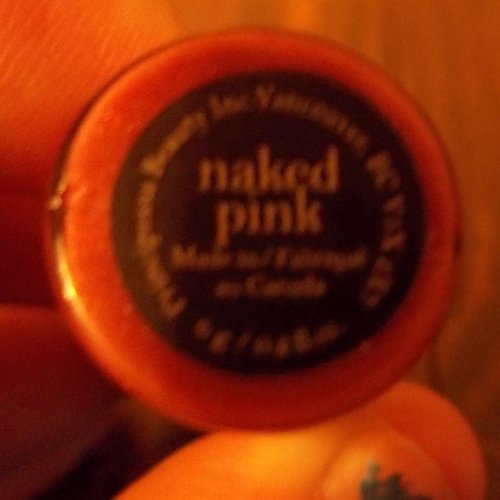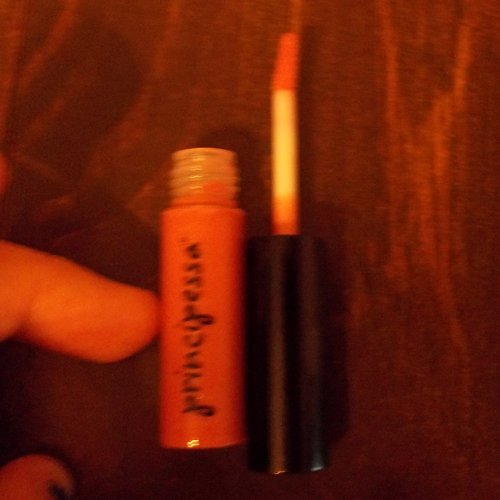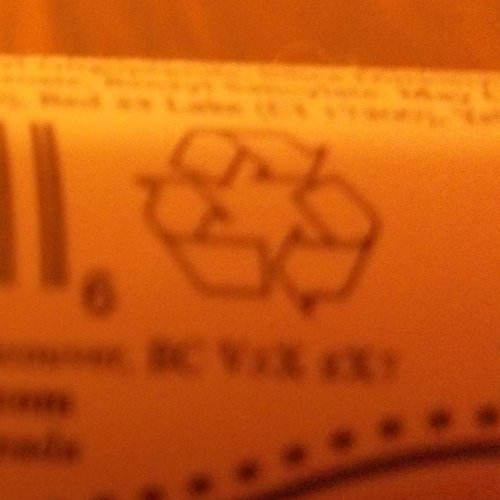 Follow-up commentary
13 months after original review
This lip gloss is still rolling through my make up box. It is still in the rotation of make up I use. I use it at least once every other week and it has lasted me quite some time now. I still think this is an awesome product, but am still not sure it is worth the price. If I had it to do over again, I would order it again.
This content is the opinion of the submitting contributor and is not endorsed by EdenFantasys.com

Thank you for viewing
Pleasantly paffuto lip gloss
review page!