Pleasant Indeed
If you're looking for a moisturizing, plumping gloss that isn't too sticky or so shiny that you can only wear it at night, look no further than Principessa's Pleasantly paffuto lip gloss. Choose from the four shades to find the one that fits you best or, if you'd rather, buy them all.
Published:
Pros:
Sheer color, adds shimmer, a touch of plumping, not too glittery, not sticky, pleasant scent
Cons:
not truly a balm, could last longer, pricey
Joining the ranks of lip glosses here on EF is Principessa Beauty's Pleasantly paffuto lip gloss. The description promises moisture, shine and sheer color in a product that works as well as a balm as it does a gloss.. and it'll plump without stinging? That's quite the claim.
Principessa starts off strong with the little cardboard tube that holds the lip gloss. It's cute and makes this feel a little fancier. It's recyclable and potentially useful for other things (paperclip holder, anyone?) but it's also unnecessary. My cats like it as a toy, until I threw it in the trash.
The tube does give the impression that this product is a bit larger than it is as well. In fact, the tube of lip gloss is fairly tiny. It's much smaller than Cake's lip glosses, for example. If I wasn't aware of the price or brand, I couldn't really be able to pick it out from drug store brands or something you'd buy at Claire's or the Icing (stores for tween girls). In my opinion, the font on the tube itself is a little unsophisticated. It's as though the company is not quite sure who their consumer is.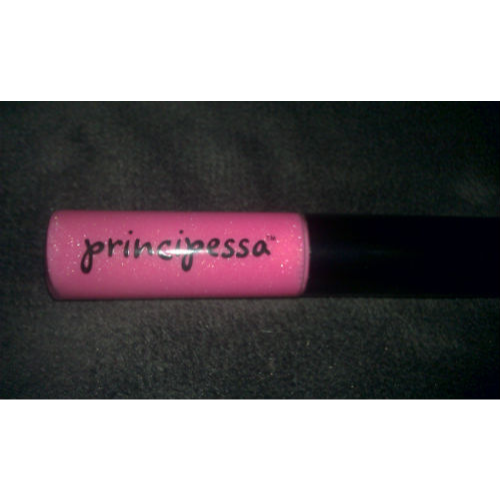 Aside from the text, the tube itself is clear, so you can see the gloss inside, with a black top. It's easy to unscrew and this gloss uses your typical wand so application is also quite simple. This lip gloss is thinner than some I have recently tried and I prefer it that way. It feels more natural on my lips and is easy to spread around.
I can definitely tell that the manufacturer was aiming for something more like a balm because it feels a little waxier. It's creamy, though and comfortable. I was surprised by how not sticky this was, given some of my recent experiences. However, it doesn't really act like a balm. I still want to run to the Chapstick after this wears off. No matter how much Shea Butter & Vitamin E Principessa puts in their gloss, I'll still be putting some real balm on underneath. This isn't really a complaint on my part. It's not sticky and pulling or drying like other glosses so that's good enough for me.
I do notice some slight plumping effects when using this lip gloss and, as advertised, there's no stinging. It's not a super noticeable plumping, but I like it, especially with the sheen of this product. It's more of a natural shimmer than a super in-your-face shine that may blind anyone who looks in your direction. Although there are some shimmery particles, which you can see in my photo, this isn't as glittery and I feel it's appropriate to wear during the day.
In terms of color, I chose Pinkini and this is definitely the most vibrant of the hues. It's actually a little darker, in the tube, than my flash made it appear. If this were truly opaque, it would be too bold for me but, because it's sheer, it adds just a touch of color and shine to my lips. The naked pink would be a little bit more neutral, though.
There is also just a hint of a fruity vanilla blend that wafts to your nose when you wear it. It's really quite gentle and a nice alternative if you would rather not smell like a bowl of fruit. This is combined with a neutral, slightly waxy taste. It's light and not bothersome, however.
Overall, I do enjoy this product and I would recommend it to others but I'm a frugal lady who finds the price a bit too steep, especially considering that its size in relation to other products.
Follow-up commentary
3 months after original review
I've recently begun pairing this with my Cake lip gloss for a pretty pink from this and shimmy from the Cake gloss. Although this does look like it's intended for a little girl, I think I'll soon be using it all up. Plus, I still do enjoy the light sweet scent.
This product was provided free of charge to the reviewer. This review is in compliance with the FTC guidelines.

Thank you for viewing
Pleasantly paffuto lip gloss
review page!