Pleasantly Non Plumping Pink! (Pink-a-boo Shade)
I give this lip gloss 5 stars even though the plumping ability is not there. It stands out on its own as a nice product that can sell itself based on the way it makes the lips feel and it seems to nourish mine. Amazingly, it helps to get rid of the old skin on the lips fairly well. I have only applied it today a couple of times and my dry lips that had been out in the cold were no where near as dry once I used this gloss. Thank you, Principessa!
Published:
Pros:
Silky feeling, Easy to apply, Not sticky
Cons:
No plumping like packaging states.
I was so giddy when my little box from UPS arrived at my door today. I knew that it was my Pleasantly paffuto lip gloss and I couldn't wait to try it out.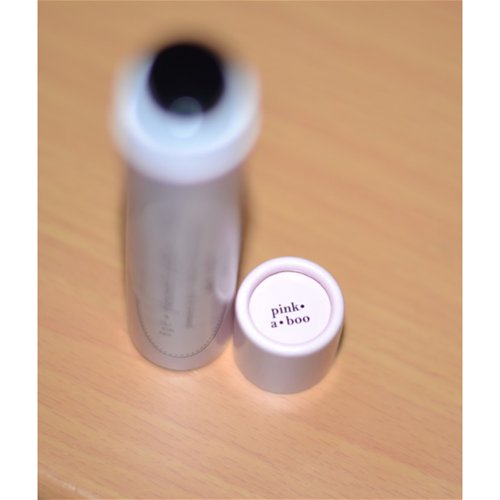 It arrived in a cute, cylinder shaped, pink cardboard tube. The tube measures at 4 inches long in length. The tube is light pink and the top comes off easily.
Once you take the top off, you have a clear and black tube of lip gloss. The full tube is 3- 1/2 inches long and 2- 1/4 inch in circumference. The clear part that holds the gloss measures at 1- 3/4 inches, this is a visible see through plastic and shows the color of the gloss in its entirety. The cap/lid part measures at 1- 3/4 inches and is a solid black lid. This is a perfect size to put in a purse, bigger wallet, wristlet, and even a pocket. I tried it out today with my jeans and it wasn't uncomfortable. This is definitely travel size.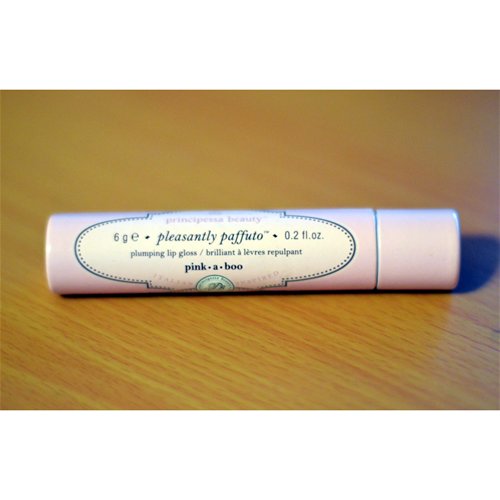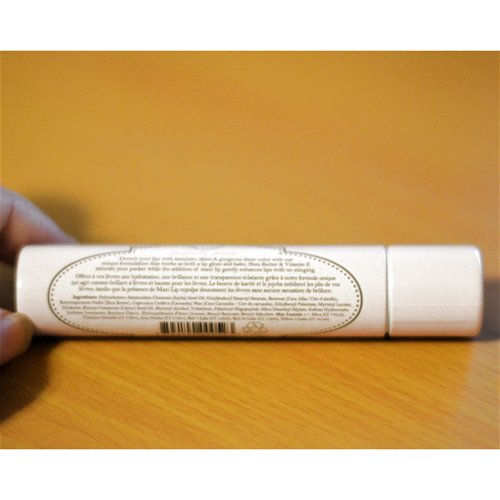 The ingredients are:
Polyisobutene, Simmondsia Chinensis (jojoba) Seed Oil, Octyldodecyl Stearoyl Stearate, Beeswax (Cera Alba/Cire d'abeille), Butyrospermum Parkii (Shea Butter), Copernicia Cerifera (Carnauba) Wax (Cera Carnauba/Cire de carnaube) Ethyhexyl Palmitate, Myristyl Lactate, Ozokerite, Ricinus Communis (Castor) Seed Oil, Myristyl Alcohol, Tribehenin, Palmitoyl, Oligopeptide, Silica Dimethyl Silylate, Sodium Hyaluranate, Sorbitan Isostearate, Butylene Glycol, Phenoxyethanol, Flavor (Aroma), Benxyl Benzoate, Benzyl Salicylate.
To open the gloss, you just unscrew the cap and the gloss is ready for use. It's not hard to twist and you don't have to twist forever to get it open. The applicator is the wand kind with a soft plush tip that applies the gloss. It seems to hit the bottom of the container so this helps with getting every last bit, I know that I have encountered other glosses where much of the gloss gets wasted because the brush won't touch the bottom. You can rest easy with this one, this should be able to get most of the gloss out when near the bottom. The gloss is also NOT a runny kind, you can tell by how the applicator comes out and I tested it over the sink by moving it back and forth and upside down slowly. None came out whatsoever. It has a thicker consistency but not one like a petroleum jelly would feel.
The actual applicator itself is 1- 3/4 inches long and it screws onto the clear gloss portion. The clear portion of the gloss kit reads Principessa and has the Trademark symbol. Those are the main printed words. There is a small batch number on the back near the bottom that reads G111. The bottom of the gloss reads pink-a-boo and also reads Principessa Beauty Inc. Vancouver, BC V5X 2X7. Made in Fabrique and Canada. 6g/ 0.2 fl. oz.
Once I applied the first layer of the gloss, I took into account just how smooth and velvety that the spongy tip was. It felt really nice on my lips and it glided across them with ease. No struggling or sticking to my lips and best of all, no clumping. I actually got lip gloss happy and just kept rubbing the applicator all over my lips. It was not thick and overwhelming. It had the "Just Right" consistency. This is one of the better lip glosses that I have purchased and I have purchased MAC, UD, Victoria's Secret and many more. This ranks right up with them for perfect consistency.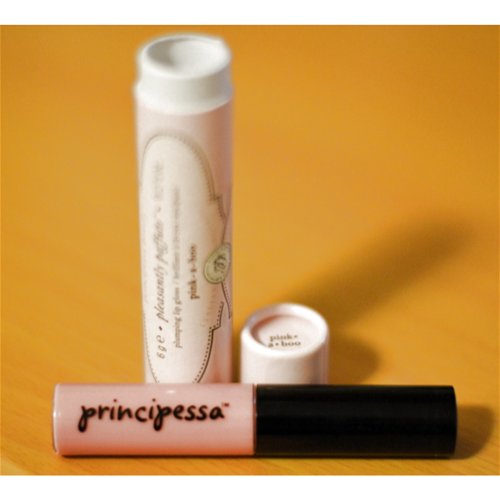 The gloss lasted for 2 hours on my lips without me eating or drinking anything. This was when I first applied it to my lips. I noted that there was no taste, even after being applied right away. I even kissed my guy with it on and asked him if there was a taste or smell, he said that it tasted sort of like petroleum jelly. He said that it was like the scent of a nice vanilla custard. You can't smell this unless you apply it to your lips or skin or if you smell the tube/bottle or applicator, it does not have an overpowering smell that someone next to you would be able to smell.
I can move my lips side to side on each other at this very moment and it is still there and it gives just the smoothest glide, almost like a lip butter which has a hint of oil. It adds a bit more than a subtle shine and the color is not bright, it is natural looking and works well with my skin tone which is a very light tan. There is no shimmer in this color.
Experience
Now, here comes the not so good news... This lip gloss did not plump me up, not one little bit. I felt a very light sensation as if it were trying to work but it did nothing for my lips. I mean the actual labels say Plumping lip gloss. This did not happen for me, maybe they need to fix the label. This would sell on it's own without the ability to plump because a lot of women these days are tired of buying a gloss that leaves their lips sticky and gunky and wanting to go take it off as soon as they applied it.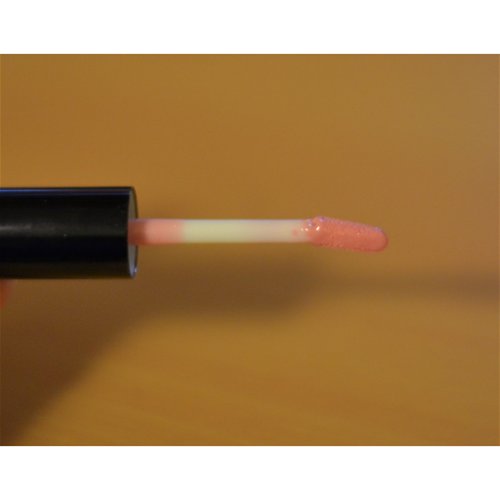 I am heavy into lip glosses and I have a very big collection and this will be used quite often just for the soothing properties that it provides.
I like that it has some nourishing ingredients in this lip gloss. Most that you purchase in a store do not have these in their lip glosses.
I can't stop applying it. Once it comes off after taking a drink or kissing my sweetie, I pick it up and reapply.
It compliments my face and it looks really good with blue eyes. If you are looking for something bright or hot pink, this may not be the shade for you, as it's subtle. I like this shade the best out of all of them. It hits right in the middle of the shades, in my opinion. It feels good, it looks good, what's not to like right? My guy even likes it on me...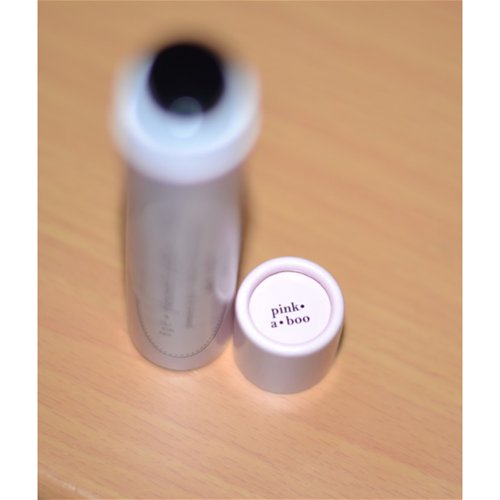 It just feels so good on the lips and I prefer this one now, over my most recent MAC lip gloss, in terms of feel and lasting.
No Phthalates / No Sulfates / No Triclosan / Parabens free
Follow-up commentary
27 days after original review
I still use this lip gloss a few days during the week. It keeps my lips moist and hydrated feeling. I can't wait to order it in different colors.
This product was provided at a discounted price in exchange for an unbiased review. This review is in compliance with the FTC guidelines.

Thank you for viewing
Pleasantly paffuto lip gloss
review page!