Hot Cocoa Mix.... for Your Body?
This "Body Candy" appears to be marketed as something to enhance the sexual experience. It is made of sugar and cocoa powder, cannot be used on the genitals due to the ingredients, leaves the body sticky and smelling of a child's nursery kitchen and has no use as a cosmetic, or even as a sexual enhancement product.

Body Candy could have done better with a different product.

As a candy, I suppose it works. But, as a sexual product it is a major fail.
Published:
Pros:
Sweet
Non Dairy
Cons:
Contains sugar
Can't be used as a cosmetic
Sticky
Sweet
Messy
This body powder, made by
Body Candy
is a light fluffy sugar based chocolate flavored powder. The consistency is a not quite as fine as powdered sugar, but much more fine textured than plain table sugar.
The ingredients are Sugar, cocoa processed with alkali, soy lecithin, carrageenan, salt, artificial flavors, spice, vitamins and minerals: calcium carbonate, ascorbic acid, zinc oxide, pridoxine hydrochloride, copper gluconate, manganese sulfate, biotin. Lucky for me it was dairy free. It appears to have almost identical ingredients to non-dairy cocoa mixes or flavored coffee creamers. Although it claims to have "vitamins and minerals" contained it in, not enough of this would be eaten in a session of play in order to make a difference in one's nutrition. The product is
very
sweet, and reminiscent of hot cocoa mix. It also reminds me of the bottles of coffee toppers at specialty coffee chains. (Perhaps it could be used as a coffee topper when it fails as a sexual play product.)
There were
absolutely no directions
on the plastic bottle (which appears to be recyclable) but we did assume it was to be used as a "foreplay" product.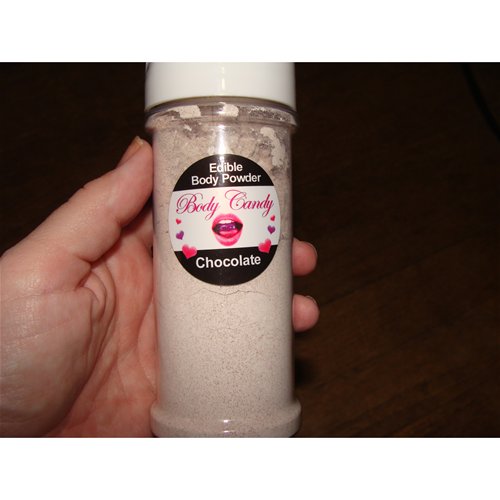 The plastic bottle also comes with a double lid, that can be used to either sprinkle or pour the product, similar to cake decorating or herb containers.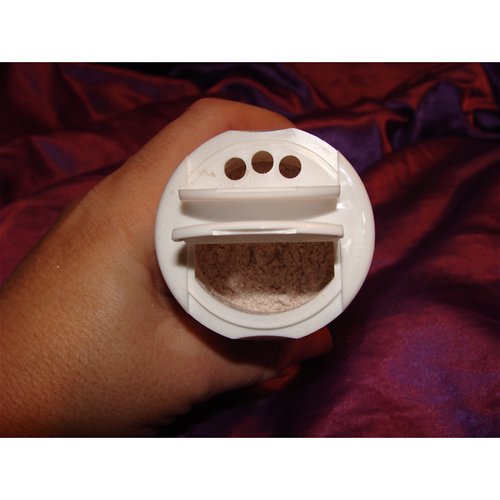 This may help the product, which is quite light and airy, to be disbursed on the skin in a controllable manner. The Chocolate flavor melts very smoothly and doesn't leave grit behind, like the fruit flavors appear to, according to other reviewers. But it does leave you a little sticky.
When simply sprinkled on dry skin, the powder falls off immediately, making a huge mess in the bed or where ever you are using it. I advise, if you do decide to use this product, to moisten the skin first, so that the product adheres a little better. Even then, some of the cocoa powder immediately starts to melt, leaving splots of brown chocolate under the powder.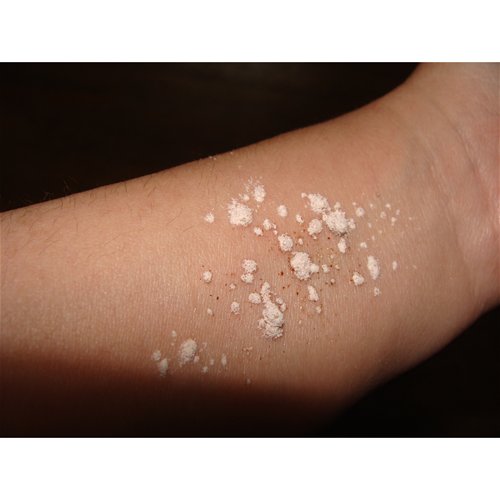 There is no shine or sparkle to the powder, so it simply cannot be used as a cosmetic.
I also suggest using this on a large sheet or a Liberator Throe over one's bed covers, so that you won't have sugar all over your bed after the product is used.
After applying to skin, one's lover is (I assume) to lick the product off of one's body. However, the powder leaves the skin feeling sticky and tight and using it over a large portion of the body seems a messy and unworkable task.
Also, because of the large amount of sugar in the powder, this should not be used near or on the vagina or anything that will contact the vagina, so as to avoid yeast infections or possibly urinary tract infections.
Experience
The uses of this product seems severely limited. Not to mention that people who can't consume sugar, either from something like diabetes or while trying to lose weight or simply not wanting large amounts of purified sugar in one's diet will not be able to use the product at all. Add that to the stickiness, the small areas one can use it on, the necessity to avoid genitals the lack of any instructions or suggestions from the company or on the bottle at all, and I can't really see any use for this product in the bedroom.

I honestly wouldn't want sticky bodies in my bed and all over my sheets during and after sex anyway. Perhaps it could be used in the tub before a shower or bath, to contain the mess and clean sticky bodies afterward.

Some have suggested using it as a hot cocoa mix, but as it isn't sold as a food, has no expiration date on it, and I have no idea how long it's been sitting in warehouses or where it was made (it doesn't say where it was made or shipped from) I wouldn't try consuming that much of it at one sitting myself.

The Product Description declares it a "candy" but I can't see myself simply scarfing powder out of a canister for any reason. I'm an adult, not an adolescent or a child.

I can't think of a truly good, adult use for this product and it seems a bit silly to have around.

To me, sex toys enhance the adult sexual experience, not make it more childlike and I never attempt to cover the amazingly unique smell and taste of full adult sexual experience with flavors, artificial aromas or candies.
Follow-up commentary
1 month after original review
I simply do not know what to do with this product. Every time I open my toy drawer (a drawer, Captain's drawer, under our waterbed) I see this.... sitting there, and nightmares of ants or mice getting into it invade my thoughts.

I have no desire to ever use it on my or my husband's body, I am not going to eat it (as I have no idea where it came from) unless I use it to sprinkle on cupcakes. But, even then, I'll be thinking, "These are sex cup cakes!"

I'm at a loss what to do with this.

I should probably toss it. I'm terrible about throwing away "perfectly good" products. I can't think what this stuff would be "perfectly good" for, however.

*sigh*
This product was provided free of charge to the reviewer. This review is in compliance with the FTC guidelines.

Thank you for viewing
Edible body powder
– edible powder review page!