Who's Up for a Clit Cocktail?
This water-based climax enhancer may not become your best friend, but all in all, it works for just about any woman to provide extra stimulation clitorally with its smooth formula and warming/cooling sensations. I find it's great to turn to when I need a little inspiration in the bedroom to get the blood flowing. It does the job well enough that I can recommend it to those who would like more sensation solo or with a partner.
Published:
Pros:
Mild scent
Nice packaging
Pump style bottle
Amount of product
Cons:
Not paraben free
Tastes awful
Doesn't last long
Durex presents a menthol mix that's guaranteed to get the blood pumping to your naughty bits in 45 seconds or so, but the pressing question is "Does it really work?" That response varies from user to user, but overall, the gel can help enhance sensations, if not your orgasm.
It's icy, it's pricey, it's Utopia.
The mixture provides an icy cooling, fading to a warm sensation. This is accompanied by a slight tingling when the skin is touched. As advertised, it's a "cooling, tingling, and warming sensation all at once." If you're anything like me, the very mention of 'tingling' will drive you away from a product. It isn't like the pins and needles I imagine when I hear tingling, but more of an energized kind of feel to the skin and area applied. It feels as if your skin has been invigorated, which I find to be pretty pleasant.
As I've told my partner, "It feels like a cool breeze against your naughty bits on a warm summer day when you're wearing a dress."
It's a good feeling, and if you don't know, try it sometime!
This stuff isn't anything to be weary to try, but it may be a dud for some users, anyway.
The similar product K-Y produces
also states that just about 75% of users experienced an enhanced orgasm using their product. Durex's numbers come in at about 79% of users. 68% said it heightened sensitivity for them, while 67% overall said that it provided them with extra stimulation. Even if this product doesn't push you over the top completely, it can make for a better sexual experience, which is good enough for me.
So what's in this stuff that makes it so great?
Ingredients:
Aqua, Propylene, Glycol, Arginine, Lactic Acid, Hydroxyethylcellulose, PEG-40, Hydrogenated Castor Oil, Aroma, Flavor, Isopulegol, Methylparaben
Obviously from the ingredient list, it isn't paraben free, which is a down side. However, it is a water based product. Water based is great, as it isn't going to damage toys that you may use it with or be tough to clean off/up.
When using this product, you may notice a minty smell. It isn't all that strong or overbearing, and fades with use. It's the taste that really got me. My partner loves oral but doesn't like it after this has been applied. It's not just the minty flavor, but a bitter taste that comes with it. It isn't pleasant and I don't recommend this product for oral. It isn't sticky or goopy, and you won't notice it lingering on your skin after intercourse. It'll disappear on the surface of a toy after a few minutes of use, but sadly, that's also when the product stops working.
The product amount is generous at .51 fl oz, but doesn't last all that long after it's applied.. After I put it on, I've got about 5-10 good minutes before the effects completely disappear and I'm left either needing to reapply more, or finish off without this neat sensation the product advertises. Does that make it a bad product? Not at all, because I use it to get me going more than anything. Feeling too tired to get all worked up? I turn to my Durex.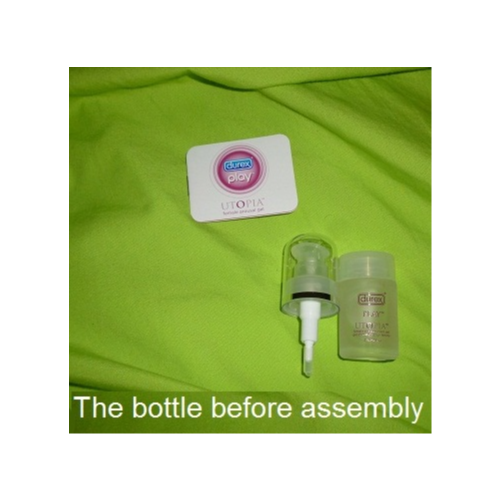 The product comes in a pump style, frosted glass bottle that I like, as it makes application much easier and less of a mess. On top is a plastic lid. When unpackaging, you do have to assemble the pump bottle together. This is to keep the product as fresh as possible before use. It isn't a huge bother, and once it's assembled, a couple of blank pumps, and the product will dispense easily. The only real complaint I have about the pump is that some of the liquid tends to clog in it slightly between uses and while not a hindrance to use, it gives me less product every time that I use it due to the clog. The bottle itself is made in Thailand and on the bottom you'll find the expiration date stamp.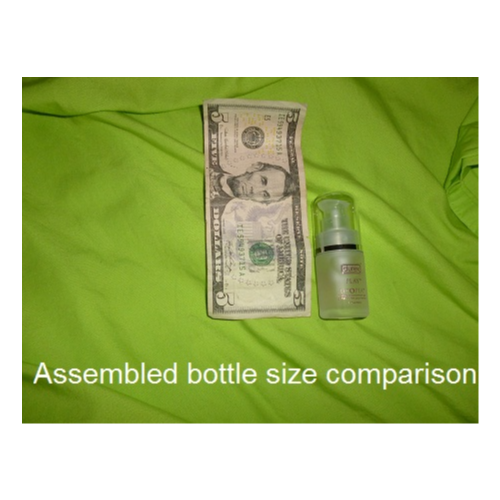 The cardboard packaging is nicely designed and minimal on the front and sides, while the back provides quite a bit of information on how to use the product and warnings. Also, inside, is a pamphlet that lets you know statistics of the product and how it's supposed to work.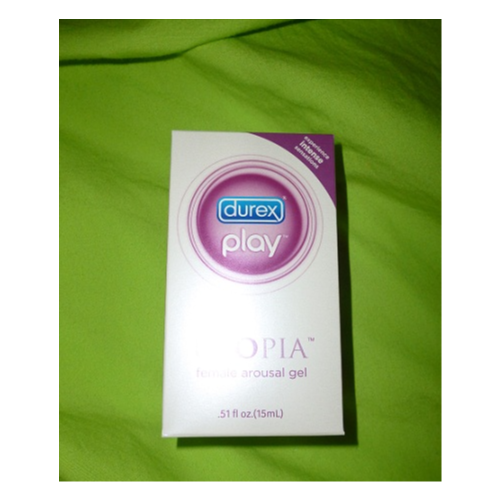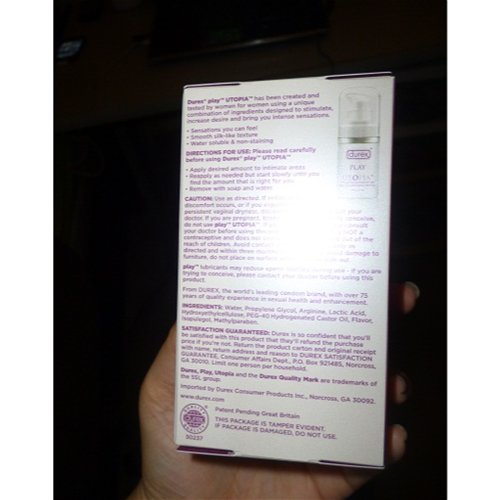 Directions are:
x Apply desired amount to intimate areas
x Reapply as needed but start slowly until you find the amount that is right for you
x Remove with soap and water.
You can use more, as there's no danger of applying too much. This isn't intended for use orally or internally. I also recommend testing the product on your skin first before applying it fully.
Experience
I liked that even though this product may be on the pricey side, you get a lot of product for your money. I've gone through using two tubes of K-Y Intense. At .34 fluid ounces(about 20 pumps/uses), it goes pretty quickly. Durex gives .51 fluid ounces, which is a good bit more and is bound to last a lot longer than my K-Y tubes have. Here's a comparison of how the products are packaged and the sizes of the bottles.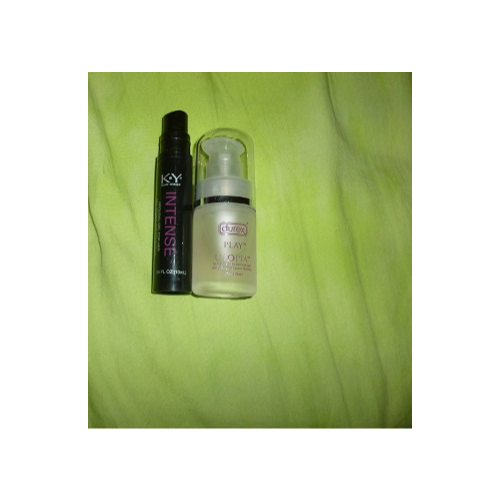 I find that the K-Y Intense provides a very similar sensation, and has the same aroma/taste as Utopia. Their ingredients have common agents, but are a bit different.
K-Y Intense Ingredients:
Propylene Glycol, Hydroxypropyl, PEG 8, Tocopherol, Niacin
Utopia has arginine as an agent, while K-Y does not. They both contain Propylene Glycol, which is the main agent in increasing the blood flow to the genitals. The Niacin in K-Y Intense provides a more warming effect when applied than is present in Durex. I find Durex creates more of an icy effect, and therefore, that is another way that they are different and may appeal more or less to users.
K-Y is also known for incidents in which users have had their skin burned or damaged by the product. These products in general are made with less natural ingredients than
other alternatives
, but Durex has had no such incidents that have been widely reported.
Follow-up commentary
4 months after original review
These types of gels tend to work on me pretty well when I need them, and I found Durex play to be one of them that I still favor the most. I like the pump bottle and design of the packaging a lot more than other brands, and I think you get a lot more product for your buck. It does what it needs to for me and I still use this whenever I need a boost to get me going.
This product was provided free of charge to the reviewer. This review is in compliance with the FTC guidelines.

Thank you for viewing
Play utopia
– arousal lube review page!