Perfect Utopia
Overall, this product is great for those who need help with increasing sensitivity to their clitoris and becoming more aroused. It contains the amino acid L-arginine which increases blood flow to your delicate areas and helps you become more sensitive.
Published:
Pros:
Helps with arousal
Cons:
Have to reapply
The Durex Play Utopia is designed to help women with arousal and boost the responsiveness of the clitoris. When l-arginine is used in a topical cream and applied to the external female genitals, it can improve female clitoral erections and ease of orgasms. L-arginine is an amino acid that boosts sensual pleasure, facilitates and increases frequency of orgasms, contains natural extracts that increase blood flow for intensified orgasms, and is non-toxic and latex compatible.

It is best used by those that have difficulty getting aroused and achieving climax. This can be used with and without toys during solo play or with a partner for added pleasure.

The product is very easy to use; apply a small amount directly to the clitoral area and gently massage into the skin until it is completely absorbed and you begin to feel aroused. I began to feel a small burning sensation, but it did not bother me but I know some like to avoid products that burn.

It is not recommended for use for pregnant women, those that are breastfeeding, or tying to conceive. It mentions if you have Herpes to see your doctor before using the product. The box mentions that this product may reduce sperm motility during use so if you are trying to conceive, please contact your doctor before using this product.

Do not use in the bathtub or shower because it is a water-based product and will wash away.

Texture / Consistency / Thickness / Viscosity

This is a very thin, clear, non-sticky gel that comes in a 0.51 fl oz container that is very easy to use - just pump the container and the product comes out. You are able to control the amount of product that comes out by pumping more or less out of the opening.

Once you have the amount you desire, begin rubbing the product onto your clitoral area. Once rubbed, it absorbs nicely into the skin. Do not apply inside the vagina because it is not made for internal use.

It feels slightly oily yet silky when applied, but stays in place once applied and did not run down my body into other areas.

The ingredients of this product are:
water
Propylene Glycol
L-arginine (amino acid used for arousal)
Lactic Acid
Hydroxyethylcellulose
PEG-40 Hydrogenated Castor Oil
Flavor
Isopulegol
Methylparaben

As you can see, it does contain parabens so those of you who steer clear of parabens this product is not for you. As with any product that is being applied to your most delicate areas, check the ingredients for possible allergies. If irritation or discomfort occurs, wash off immediately.

Taste / Aroma

The Durex Utopia arousal gel does not have any taste or smell. It does not contain anything that gives it a distinctive smell like peppermint or menthol like some other arousal gels do. It is not made for consumption, but I did a taste test and the only thing I felt was a small tingly sensation on my tongue. Since it's not designed for consumption, I would not use it for oral use.

Performance

Once applied, this product produces a pleasant tingly sensation to the areas applied and increases blood flow to the clitoris making it become more sensitive and allowing for an easier time for arousal. I have always had a hard time becoming aroused, so I need a product to help speed the process along. It loses its tingling sensation after awhile and you may have to reapply during use, but that will depend on each person and their ability to climax faster or slower than others. The box recommends to reapply the arousal cream as needed, but to start slowly until you find the amount that is right for you.

Once finished, the product washes off easily with soap and water.

As far as helping me along with my climax, it performs wonderfully. I can tell it is working after I begin rubbing the cream onto my clitoris because I feel a mild tingling sensation and can feel my clitoris engorging and becoming more sensitive. I am able to climax faster when using this product than I can without using an arousal gel.
Experience
Packaging
The product came in a white box with pinkish-purple on the cover and sides. The cover shows Durex Play in the center of a circle and underneath that it says Utopia female arousal gel. In the top right hand corner, it says experience intense sensations. The overall size of the box is misleading to the size of the small container that is located inside.
The back of the box shows a picture of the bottle and mentions how to use it, the ingredients list, their guarantee, company information, and the warnings mentioned earlier.
The 0.51 fl oz bottle is a frosted hard glass bottle that came with a lid screwed on so it would not leak during shipping and a separate plastic pump with pop top lid that you replace the original lid with to use. The back of the box says to use within three months of opening.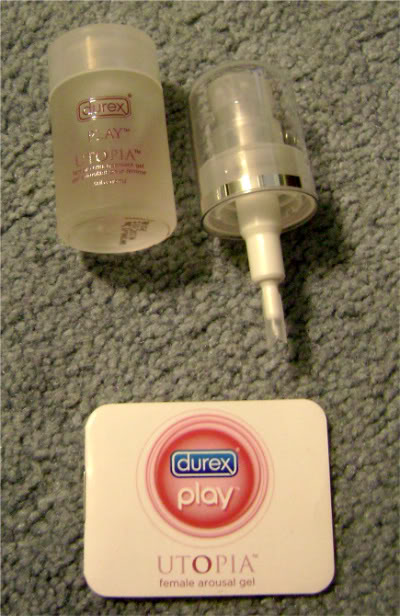 Experience
Overall, I really like this product and highly recommend it to those who have difficulty achieving climax and need a jump start with arousal. I really enjoy the sensations it produces when using with clitoral vibes because it seems to really amplify the sensations I am feeling and speeds up my solo sessions. I consider that it does what it is intended to do, but then again experiences may vary.
Follow-up commentary
5 months after original review
I've tried many different climax creams since I first tried this one because they are a necessity for me. I consider this one to be my favorite along with the Rain of Love g-spot cream. It does what it is supposed to do which is very important to me.
This content is the opinion of the submitting contributor and is not endorsed by EdenFantasys.com

Thank you for viewing
Play utopia
– lubricant review page!