Pleasant, but not utopia.
For someone who already has a highly sensitive clitoris or someone who's just looking to add a LITTLE extra sensation to their play, this is great.
For someone who's looking for a product that will make cumming as easy as counting to three, this may fall short of expectations.
While it DOES add a bit of sensation/arousal, it was not as potent as I'd come to believe from the advertising. It's worth trying out, but don't expect too much.
Published:
Pros:
pleasant sensations, water based, clear (won't stain), stays slick, no flavor or smell
Cons:
high cost for such a small amount, not as impressive as the name implies
Use:
Durex Play Utopia (by Durex) is an arousal gel for women that comes in a .51 fluid ounce glass bottle (that's teeny!). The L-arginine is meant to increase blood flow to the genitals, which increases arousal, sensation, and ease of orgasm. It is most effective when used externally, on the clitoris and labia, but can be used internally as well (though, is less effective that way).
Look & Feel:
The gel itself is clear, and of a medium viscosity. It becomes more watery as it warms up (from body heat), so you'll want to be ready for application before pumping any out. This product stays surprisingly slick during use, but will most likely need to be reapplied to maintain lubrication and increased sensation.
Smell & Taste:
As far as I (or my partner) can tell, there is little to no taste, and it's mild enough that it's practically unnoticeable. The scent is a bit menthol-like, but also very mild. Unless you're holding the product right under your nose, you won't notice it.
Performance:
When first applied, it has somewhat of a chilled feel, but quickly shifts to a tingling sensation. Now, to me, it started to feel like a tingling warmth, but every user will perceive the sensations differently. The sensations last about 10-20 minutes for me, but each user's experience will vary based on natural sensitivity and stuff like that.
Packaging:
The bottle comes in a simple white and pink cardboard packaging that displays a few photos, as well as info about the product, company, and satisfaction guarantee. When first opened, the bottle has a twist-off cap, but it comes with a pump top and a clear plastic protective dome to prevent accidental compression and waste.
Misc:
-The ingredients include water, propylene glycol, arginine, lactic acid, hydroxyethylcellulose, PEG-40 hydrogenated castor oil, flavor, isopulegol, and mathylparaben (so it is NOT paraben free).
-It is water based, so it can be used with any kind of material, and can be washed away easily with soap and water.
-With this product, a little really does go a long way. A pea-sized drop is usually enough.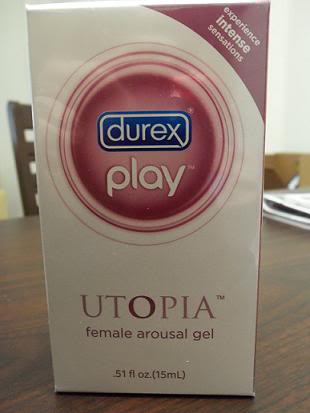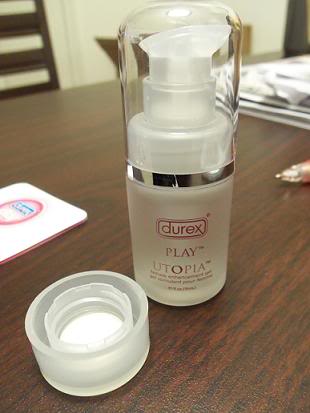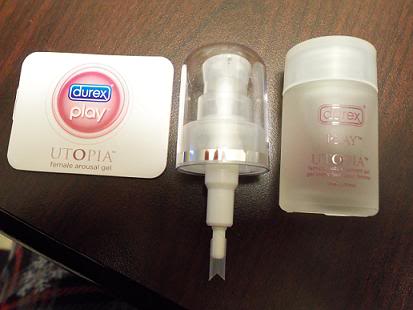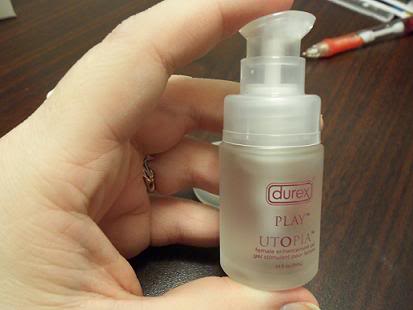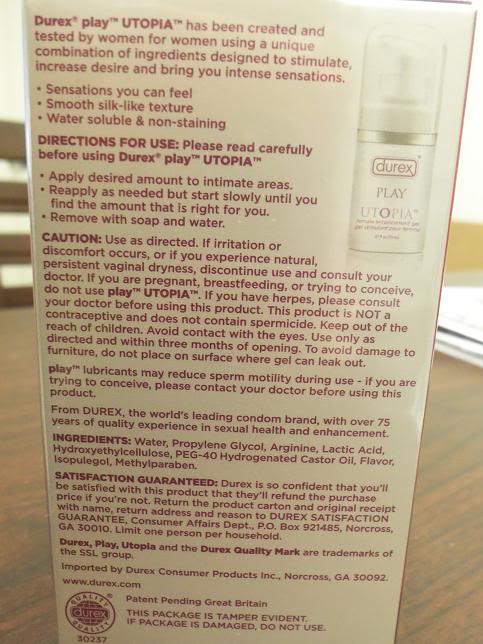 Experience
Honestly, I expected a lot more from this product, especially since there are so many rave reviews.
The first time I (we) used this product, we were on vacation with my family and were trying to snag a quickie before they came back from the pool. Instead of speeding up the encounter and making things easier, it was actually more difficult and frustrating for me to reach climax. I figured it was the anxiety, since I was worried the others would walk in on us.

So, we decided to try it again at a more leisurely time. My partner applied the gel to my clitoris and labia before beginning to (tentatively) perform oral on me. Once he realized there was not an unpleasant taste to the product, he became much more enthusiastic. The gel caused me to experience a cooling sensation initially, then began to tingle and feel warmer after about 30 seconds.

While it did increase sensation and make my genitals more sensitive, it did not launch me into erotic bliss as the name seems to imply. It was undeniably pleasant, but that's about all there was to it. It still took the typical amount of foreplay/teasing/stimulation for me to reach orgasm.
Follow-up commentary
4 months after original review
This is a nice product that will add a little extra kick to your play... But it's not nearly as incredible as the name makes it sound.
If you just need a little extra boost to your sensitivity, this is worth a try. If you want/need something that could potentially send you into orgasmic bliss all on it's own, you'll probably want to look elsewhere.
This product was provided free of charge to the reviewer. This review is in compliance with the FTC guidelines.

Thank you for viewing
Play utopia
– arousal lube review page!