Intimacy with a hint of coconut and pineapple.
The shave cream by KamaSutra is by far one of my favorite shaving creams. It has an incredible smell that is even perfect for the most sensitive nose. It comes in a beautiful body and leaves the skin feeling soft and smooth. It leaves a lite smell and can be used on any part of the body. It is Hypo-allergenic and comes in an easy to use pump bottle.
Published:
Pros:
Rick, softens skin, Smells amazing, Decent sized bottle, Hypo-allergenic, Unflavored, Pump Bottle,
Cons:
None
I'm not too picky when it comes to shaving cream. I've tried a lot of different shaving creams. I have noticed that my skin does not seem to tolerate a lot of things. It either causes me to breakout or become quite red. It almost looks raw. It hurts to the touch too. I try and find things that are not real smelly, or too runny. When I seen the intimate caress from kamaSutra, I did jump at the chance. I have not tried a lot of KamaSutra products, but what I have tired, I just loved it.
For the price, I was surprised by the size of the bottle. I thought it was going to much smaller, but it is a pretty decent size. The bottle is 8.5 fl.oz. It is about the size of a medium bottle of lotion. If used properly, it will last a decent amount of time. When you receive the KamaSutra shaving cream, it comes wrapped in brown paper and placed into a plastic bag. This is to keep it from spilling on other items.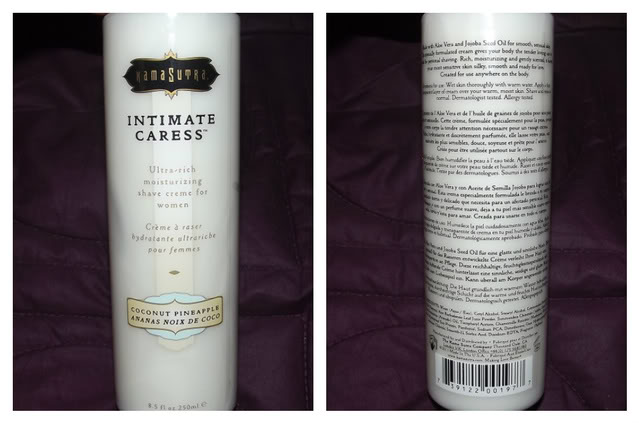 The kamasutra shaving cream comes inside of a cream and black pump bottle. The bottle is elegant and looks beautiful. I loved how adult it looks. It is not colorful or has some odd name. It is something that looks amazing sitting out with your other bath items, and it will not attract attention. The bottle is clear, and not really cream colored. The shaving cream itself is cream. I loved this about it, because most bottles or cans of shaving cream are solid, and you do not see how much you have left. This leaves you blind. With this bottle, you do not have to worry about that. You can just look at the bottle, and when it is getting low you can order another one before you run out.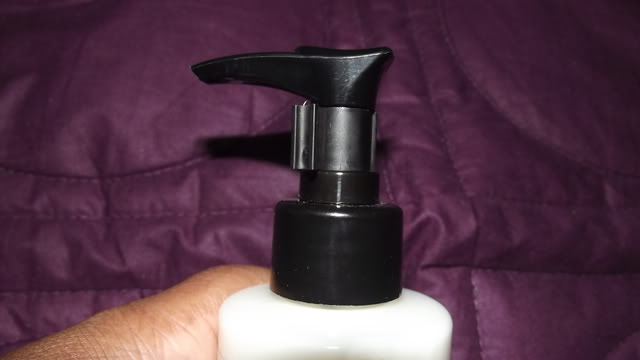 The KamaSutra shaving cream comes in three different, lovely smells. I personally ordered the coconut and pineapple. I love the smell. The smell actually does smell like a mixture of coconut and pineapple. The smell is not strong, but it is strong enough to leave a lite scent on the skin. It is perfect for the most sensitive nose. You do not have to worry about taking a sniff and whipping your head away, because the smell is so strong. The KamaSutra shave cream doesn't have a taste either, so you don't have to worry about kissing your partner, or them kissing you, and being left with a nasty taste in their mouth.
It is Hypo-allergenic and perfect for the most sensitive skin. It is dermatology tested, and allergy tested. According to the website it is not tested on animals. This is a considerable plus to me. I'd rather not use anything that has been tested on animals. It does have a decent list of Ingredients, and if you are allergic to any of them. I'd recommend staying away. If, you are not sure if you are. I'd recommend doing a small spot test on your inner arm before using it on a large area of your body.
The ingredients are as followed.
Water (Aqua/Eau), Cetyl Alcohol, Stearyl Alcohol, Cetrimonium Bromide, Colloidal Oatmeal, Aloe Barbadensis Leaf Juice Powder, Simmondsia Chinensis (Jojoba) Seed Oil, Persea Gratissima (Avacado) Oil, Tocopheryl Acetate, Chamomilla Recutita (Matricaria) Flower Extract, Hydrolyzed Soy Protein, Panthenol, Sodium PCA, Dimethicone, Guar Hydroxypropyltrimonium Chloride, Steareth-21, Sorbic Acid, Disodium EDTA, Fragrance (Parfum)
The texture of the KamaSutra is rich and has a decent thickness to it. You don't have to worry about it being too thick, and making hard to shave off. I've used creams that I almost had to grab a cloth and wash it off. When using the shaving cream, You just wet the area you want to shave and apply the shaving cream. When you are done shaving you can just rinse it off. It leaves your newly shaven skin all nice and smooth. The kamaSutra shaving cream can be used on any part of the body. You should make sure to use it externally. If you do somehow ingest it or get it into your eyes. You should rinse your eyes out. If swallowed, you should contact poison control. Try to keep it out of the vagina. If you happen to get any inside, you can just rinse it out. This shaving cream can be used by men and women.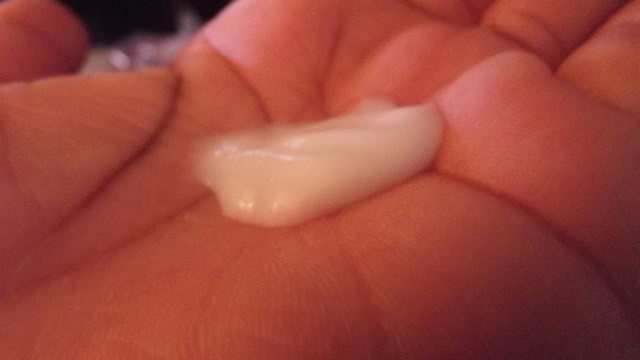 Experience
I love this shaving cream, and I plan to keep on ordering it. I love the size of the bottle, and the small. The smell is the best part to me. I love the pineapple and coconut. I plan on ordering the other ones, but right now I'm hooked on this one. When I used it for the first time, I was a little worried. I thought it was going to irritate me, or cause me to have to toss it. It did not do that at all. It actually made shaving feel easier. The thick cream made my skin soft and smell incredible. I used it just about all over my body. I used it on my legs, underarms and pubic area. When I got out of the shower, it did not cause my skin to dry up. This was the jackpot! Sometimes when I shave and get out of the shower, I'm all dry and ashy looking. When my boyfriend smelled it, he was also in love. He just kept rubbing his face on my legs. I used it before we had sex once, and when my guy went down on me, he said he could still smell it. It was a pleasant treat for him. I highly recommend this.
Follow-up commentary
8 months after original review
I do love this shaving cream and I would like to try the other scents. I sometimes find myself wishing that it was a little thicker only because I like thick shaving creams.
This content is the opinion of the submitting contributor and is not endorsed by EdenFantasys.com

Thank you for viewing
Intimate caress shave cream
– shaving foam review page!