KamaSutra Does It Again!
This ultra rich shave creme is perfect for shaving whatever needs to be shaved. It will protect your skin and leave it soft, silky and moisturized. The scents are amazingly life like and just plain yummy enough to tempt you to use it as a lotion as well as a shave creme. Personally, I recommend it as it softens tough heel skin and elbow skin as well!
Published:
Pros:
Thick, rich formula really protects and moisturizes skin, amazing scents
Cons:
None
If, like me, you have delicate, irritable, grouchy skin then you probably have a ton of shaving products that you trial looking for that special combination that leaves your legs and Lady Bits smooth and rash free. I have tried waxing, sugaring,and buffing but all of these methods leave me with rashes, blistered skin or worse. So I must shave.
I love my
Coochy
shave creme but my daughters are a bit iffy about the name since they have discovered the colloquial meaning of 'coochy'. I decided to honor that tiny bit of squidginess and try the Intimate Caress Shave Creme from KamaSutra. I will admit that I didn't read the product description all that closely before ordering the product and I believed this would be a shaving foam. I don't have much faith in foam type shaving products but I reasoned that it was from Kama Sutra and it was also meant for the girls who don't have skin as sensitive as mine.
As you can imagine I was pleasantly surprised by the fact that this is actually a smooth, heavy, creamy shaving creme.
The Creme comes in a generous 8.5 ounce bottle that is pretty enough to be in your Grandma's bathroom. It is clear plastic with a black pump type top. It is amazingly easy to use in the shower or in the tub. You get a generous amount per pump and I find that two to three pumps will cover my entire leg with enough product to shave it comfortably. The creme doesn't clog the razor so you won't have a problem with swipping up your leg or under your arm and coming away with nothing but product necessitating another swipe to remove the hair. I find that this double swipe technique tends to irritate my skin more than any other shaving problem. The product actually feels soothing to the skin after a razor pass which is something that I really appreciate.
The shave creme is white, creamy and very thick. It spreads easily and melts just a slight bit in the heat of a shower, or bath. The formula is so creamy and nice that I like to use it as an after bath lotion for my heels and elbows.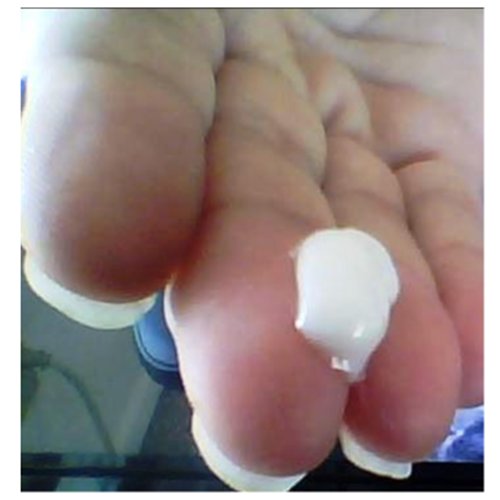 It rinses easily, and cleanly, away after shaving and leaves the skin soft, silky smooth and beautifully, but lightly, perfumed. I tried the Honeysuckle scent and at the first sniff I was just sure it was a hot summer day and I was walking near a sun warmed bush of amazingly sweet honeysuckle. If you like the actual smell of the plant rather than the sickly sweet attempts at recreating the scent then you will LOVE this product. My son will walk up to his sisters and smell their legs after a bath because he just loves the smell of this product.
I find that the fragrance will linger if I don't use a body wash after shaving but it mixes so well with other scents I might apply that it doesn't cause sensory overload.
Sometimes after shaving with other products I find that I need to use an after shave spray especially in the Winter. With the Intimate Caress formula I have never had that stinging rashy feeling even in my bikini area and otherwise genital region. The skin just feels smooth and soft, not irritated and bumpy. I can shave away all the stubble in just a few strokes of the razor making it a faster and easier experience. When you have a demanding and active toddler this can be a God send.
The ingredients in this shave creme are pretty mundane and lack all the nasties that seem to clog the market: Water (Aqua/Eau), Cetyl Alcohol, Stearyl Alcohol, Cetrimonium Bromide, Colloidal Oatmeal, Aloe Barbadensis Leaf Juice Powder, Simmondsia Chinensis (Jojoba) Seed Oil, Persea Gratissima (Avacado) Oil, Tocopheryl Acetate, Chamomilla Recutita (Matricaria) Flower Extract, Hydrolyzed Soy Protein, Panthenol, Sodium PCA, Dimethicone, Guar Hydroxypropyltrimonium Chloride, Steareth-21, Sorbic Acid, Disodium EDTA, Fragrance (Parfum)
The colloidal oatmeal, jojoba oil, aloe and avacado oil all work together to really protect and moisturize the skin and the chamomile helps to keep irritation at bay as well as sooth any previous rash you might have. This is particularly helpful if you are brand new to shaving and you mistakenly use a dull razor on your girly bits, as my daughter found out the hard way. The Intimate caress soothed her skin from the previous shaving experience and then allowed her to remove stubble effortlessly and painlessly.
The product is dermatologist tested, cruelty free, and hypo-allergenic. It is also paraben free which will please some users immensely!
Experience
We have used the product to shave faces, underarms, genitals, legs and just about every where shaving is generally done and have yet to experience any irritation either from the razor or from the product. I have had times where I have used soap or other products for shaving my lady bits and soon after noticed I was irritated near my urethera. Since I have stopped using anything but products meant for shaving intimate areas I have not had this particular problem. The results are annecdotal but seem to hold true.

Sigel and Arch have used the product for shaving their faces and were complimentary even though this isn't their preferred method of removing facial hair. Neither had any problems with breakouts or irritation usually associated with shaving the face.

The scent alone is enough to keep me coming back, and I wouldn't expect anything less from KamaSutra, but taken as a whole this is an amazing product that I am glad I gave in and tried.
Follow-up commentary
10 months after original review
I wish I could give this more than 5 stars. We LOVE the scent and the way it takes very little to do the job. The product doesn't clog a razor and the scent is heavenly.
This product was provided at a discounted price in exchange for an unbiased review. This review is in compliance with the FTC guidelines.

Thank you for viewing
Intimate caress shave cream
– shaving foam review page!