Coochy Coochy Coo!
Coochy is one of those products that should grace the bathroom shelves of anyone who owns a razor. While it can be used as a conditioner perhaps this is better for frequent travelers that need small bottles of body care products and versatility to prevent overnight bag overload. As a shave creme it is top notch and will leave your skin smooth and rash free.
Published:
Pros:
Non comedogenic, great for shaving all areas, lovely scents
Cons:
May contain parabens
This will be, yet another, rave review for Coochy Shave Creme. You have been warned! Seriously though, this is one of those products that is just a wonderful product that does exactly what it advertizes that it will; it allows you to shave extremely close without razor burn even on sensitive skin like mine. It has an added benefit of being a great conditioner for all types of hair, though it is a tad bit expensive to be used in this fashion. However, several guys I know use it on their beards and mustaches to moisturize the hair without clogging the pores of the face so I can attest to the fact that it CAN be used as a wonderful, fresh smelling conditioner as well as a shave creme.
My bottle of Coochy came in a white plastic 4 oz. bottle with a white plastic flip top lid that is easy to open in the shower but doesn't leak if the bottle falls on it's side. The bottle is recyclable. Now, since I first bought my bottle of Coochy there seems to have been a redesign of the packaging and several more scents made available, though they still seem to be 4 oz for the same price.
I tried the Green Tea scent and I fell in love! I haven't even tried the other scents because I love the green tea so much. It has a sweet, clean tea smell that mingles with my body chemistry turning it subtle, spicy and devastating. The scent fades rather quickly which I actually prefer because my guys have sensitive sinuses and I like to wear perfume. Too much scent and they are sneezing helplessly which is just not sexy! The scent seems to fill the bathroom, though and makes wandering in after I have taken a shower a pleasure. Sometimes I find a scent that is so amazing that I am reluctant to try another! When the current bottle is finished, however, I will probably take the plunge and try another scent...maybe.
I have terribly sensitive skin that is prone to rashes and chemical burns so I am always searching for products that are gentle, natural and irritant free. Looking at the ingredient list and then comparing it to my favorite conditioner I realized that the lists were very similar. Since I've never had problems with conditioner burning my skin I was fairly confident about using Coochy. The thing is just putting a topical conditioner on the hair is not the same as putting it on the body and then running a sharp blade over the skin. I have stopped using conditioner to shave with because of the fact that it actually will irritate my skin. The addition of Aloe seems to have made all the difference, though, because I have never had even the small red bumps after shaving my legs and bikini area.
D.L. Water, Steralkonium Chloride, Cetyl Alcohol, Stearyl Alcohol, Hydroxyethylcellulose, Glycerin Stearate SE, Jojoba Oil, Lanolin, Keratin Protein, Panthenol, Allantion, Methyloparaben, Fragrance, Propylparaben As you can see it does have some parabens but they are in small amounts and have never irritated even my ultra grouchy Lady Bits.
The creme is pearl white, thick and heavy.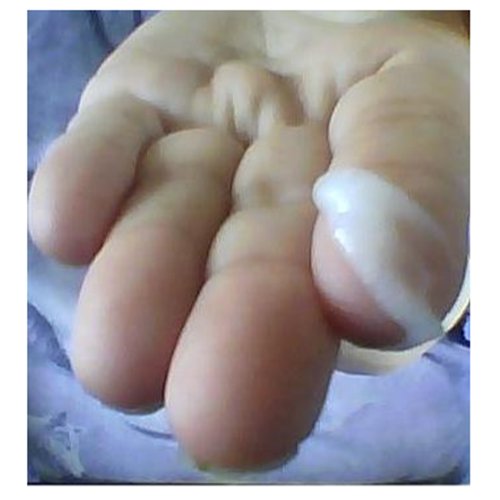 It smoothes on easily but then stays put. It will melt a little with the heat and humidity of the bathroom but it stays where you need it to be. I found that unlike other conditioners I have used instead of shave creme, Coochy doesn't clog up my razor. I hate it when I stroke the razor over my leg and all I get is a layer of whatever product I am using, leaving me to have to swipe the razor over almost bare skin the next pass. This is what tends to irritate my skin the most so I appreciate that Coochy allows the razor to shave off the hair without stripping the top layer of skin off my body!
Coochy rinses cleanly off the skin after shaving and leaves the skin moisturized and silky smooth. I found myself stroking my legs often after the first time I tried the product and even the guys were complimentary.
Experience
The formulation may have changed to be paraben free but since the picture on the EdenFantasys site for the green tea scent bottle is the same as the one I currently own I have included the ingredients as listed on my bottle. It is to be profoundly hoped that there has been a formulation change but that the product is still the same top notch product it has always been!

Both Sigel and I have used the product to shave our genital areas and neither of us has experienced rash, bumps or ingrown hairs that are common complaints about shaving that particular area. Even my daughters use Coochy to shave their legs and underarms and have nothing but compliments for the product. Sigel has used the product for shaving his face but said he prefers his own shaving foam because he likes that it has an added pore tightener included. He felt that he needed an aftershave lotion after using Coochy but doesn't when he uses his preferred product. Arch has also tried the product for his face but he prefers an electric razor. Still both of them admit that the product is great for facial shaving it's just not their preferred method of hair removal.
Follow-up commentary
10 months after original review
My daughters and I love this product for shaving underarms and legs. We are slowly working our way through all the scents! Definitely recommend.
This content is the opinion of the submitting contributor and is not endorsed by EdenFantasys.com

Thank you for viewing
Coochy shave creme
– cream review page!