Neener-Neener, I smell better than you
I'm pretty sure that my least favorite mandatory activity of my day is shaving. Either that, or brushing my teeth. It's just a tedious chore that I -have- to do, and really would rather never have to think twice about doing. This product has actually made shaving not so loathsome.
Published:
Pros:
Paraben & Glycerin free.
Phenomenal scent.
Thick.
Moisturizing.
Inexpensive.
Cons:
Doesn't shave as well as soap/cremes.
Coconuts are awesome. The milk is good for your tummy, good for your skin, smells awesome, is healthy, natural, and just all around a great fruit. Pineapples are pretty awesome, too, but I'm pretty sure they don't do anything amazing for your skin or anything. However, when you put coconuts AND pineapples, together, you get the delicious smell of a (cliche) tropical vacation, while maintaining all the fantastic qualities of coconuts, too.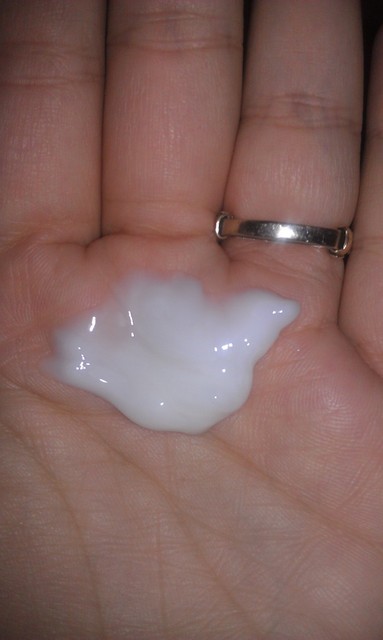 My package came with this pump-style bottle wrapped in the EdenFantasys traditional style of a tied plastic bag. There was no other packaging other than the bottle, which is fine because this bottle actually is quite sturdy. It doesn't have the screw-down pump that many other bottles have, but instead has a little plastic stopper than you pop off (and subsequently discard unless you plan on taking this with you often for travel purposes). The bottle is 8.5oz, and is a clear plastic. You can see the inside product that is an almondy-white color, and see how much you have left as you use it. The pump is black. Around the bottle is a plastic label that has the KamaSutra logo on the front, as well as "ultra-rich moisturizing shave creme for women" in English and French.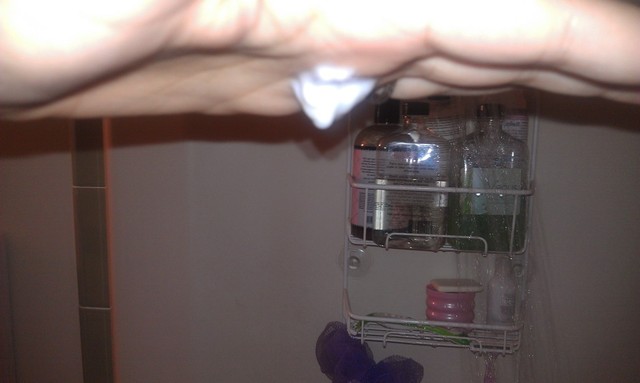 When you first open the bottle, you'll have to give this a few dozen little pumps to get the product going, but once it's backed up in the tube you won't have that issue in the future. Once I got the lotion flowing, I put about 5 or 6 small pumps on my hand and rubbed it together just to test the texture; it feels like traditional lotion does. It's thick, and I can actually hold my hands upside down and it won't slide off, or drip. That thickness is definitely a perk, since it doesn't take as much product to shave with, so it'll last longer. After getting my legs nice and wet in the shower, I rubbed it into my right leg, grabbed my razor, and started to shave.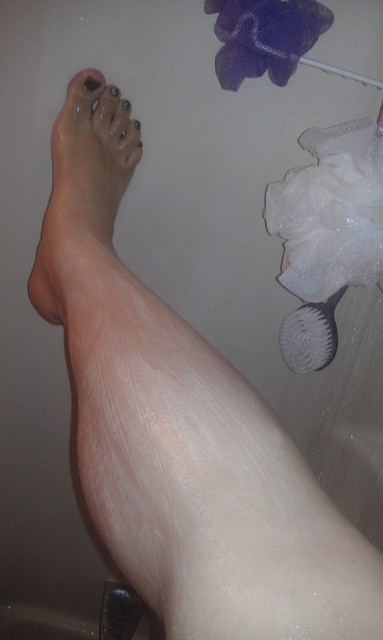 This product feels great, there's no doubt about that. And it smells pretty awesome, too, as I already explained. However, I don't know if it's the thickness, or if it's the oils in the lotion, but I don't feel like I get as close of a shave as I usually would using soap or shaving cremes. It's not so much that I have stubble left behind; I don't. It's just a feeling that my legs aren't as closely shaven as they otherwise could be, or would be. I tried using my regular creme on my left leg, and there is a noticeable difference on how my skin feels afterwards. My right leg, that I used the KamaSutra on, feels softer. However, my left leg feels smoother. After rising off my legs, there is no residue left behind. No oily icky feeling, no strange film. Nada.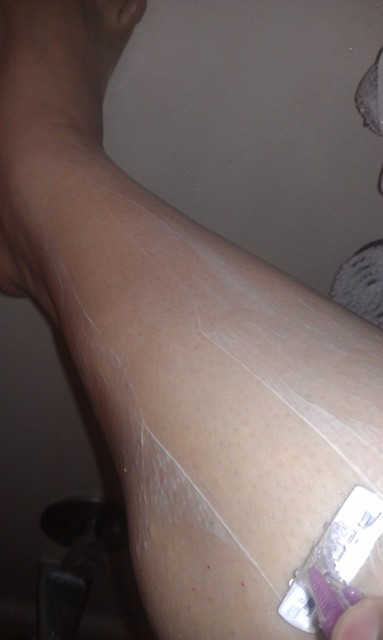 All-in-all, I do enjoy this product, and it will be used on a (fairly) regular basis in my showers, because I love the scent of it, and it does leave my skin feeling softer after use. I just will also likely be adding a small squirt of shaving gel into my hands, too, to mix them together. This product can be used for anywhere on the body, but I have only tested it on my legs.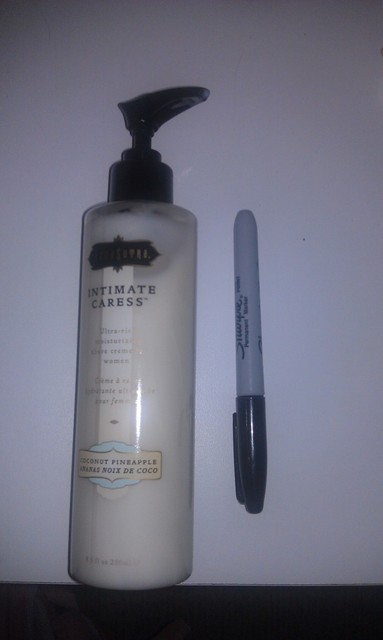 Ingredients:
Water (Aqua/Eau), Cetyl Alcohol, Stearyl Alcohol, Cetrimonium Bromide, Colloidal Oatmeal, Aloe Barbadensis Leaf Juice Powder, Simmondsia Chinensis (Jojoba) Seed Oil, Persea Gratissima (Avacado) Oil, Tocopheryl Acetate, Chamomilla Recutita (Matricaria) Flower Extract, Hydrolyzed Soy Protein, Panthenol, Sodium PCA, Dimethicone, Guar Hydroxypropyltrimonium Chloride, Steareth-21, Sorbic Acid, Disodium EDTA, Fragrance (Parfum)
This product was provided at a discounted price in exchange for an unbiased review. This review is in compliance with the FTC guidelines.

Thank you for viewing
Intimate caress shave cream
– shaving foam review page!