Is it in yet?
This is another big let down with the Dona line. It had no positive (nor negative) effects on me at all. It smells great in the bottle and seems like it would be a nice bath product, but unfortunately it's only worth is as a book end.
Published:
Pros:
- Cruelty Free, unless you bathe your cat in it.
Cons:
- See it more than you feel it, and it's clear.
That's what she said.
====================
Dona Herbal Bath Essence
*Bath Oil*
by System JO
Pomegranate
====================
They say if you fall off the horse you should hop back on and try again, but I really should have stayed away from the Dona line. This is my fourth try on them and only one of those was a decent product. Either I have really high standards for bathing products (especially when they cost so much), or this whole line needs to be discontinued.
==========
PACKAGING
==========
This comes in your standard, clear plastic bottle that anyone can purchase at a craft store. It's sturdy enough to not crack when dropped and the cap screws on tight enough so you should feel okay travelling with it. The bottle itself stands 5.25" High and is 1.5" wide. The product itself is 6oz.
The label is a colorful designed sticker that wraps around the entire bottle. It's a little too much writing all over that gets confusing. It includes directions, ingredients, and information on the manufacturer.
There is also a plastic seal coated lid under the cap to protect the product from dripping and scent leakage before arriving to your door. This is actually a challenge to get off if you have weak hands like me, however, that's a good thing. You shouldn't have any worries about the bottle having scented other products in your order.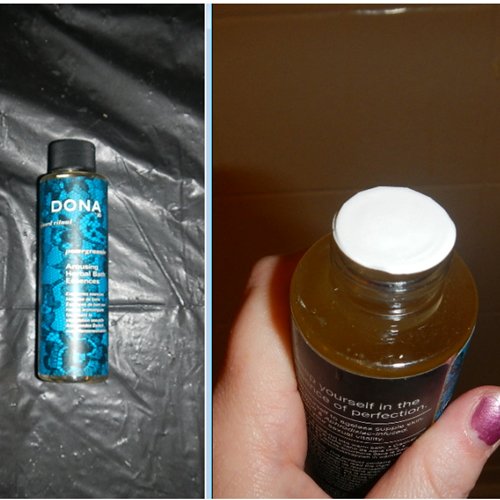 ==========
PRODUCT DETAILS
==========
According to the label, this product is:
*paraban free
*cruelty free
*natural
*petro. deriv. free
Ingredients
: Glycerin, Panax Ginseng Root Extract, Gingko Biloba Seed Extract, Centella Asiatica Leaf Extract, Paullina Cupana Seed Extract, Ptychopetalum Olacoides Root Extract, Turnera Diffusa Leaf Extract, Arnica Montana Flower Extract, Pausinystalla Yohimbe Bark Extract, PPG-26 Buteth-26, Hydrogenated Castor Oil, Fragrance
It sounds great in theory, but I'd like to see the original ingredients before it goes into this product. Some of the ingredients I'm not familiar with, but the natural extracts I am. They really should stand out more. Adding 'fragrance' itself was a turn off for me, as the best would have been a natural oil.
Scent
: I ordered mine in Pomegranate since I loved the scent in Dona's linen spray (my one good buy with Dona). Upon opening the bottle, the scent is very light. It has a pleasant aroma somewhere between a tropical fruit and a flower. I was very pleased with it.
The oil itself is mostly clear with a very slight tinge of brown. It's consistency is like water, but a tad thicker. It's oily, hence the name, and when you rub it on your skin it will leave behind a slight greasy feeling.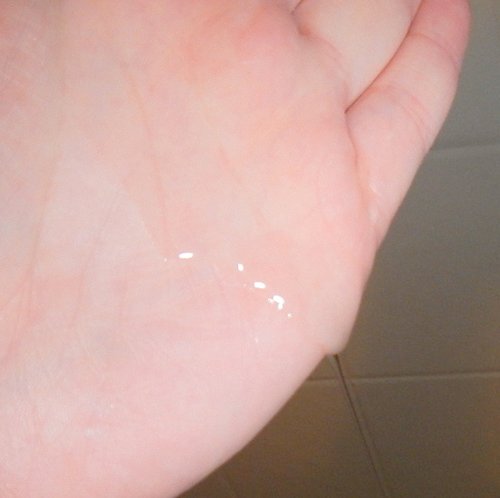 ==========
USAGE
==========
According to the label, the Directions are:
Dissolve 1-2 capful(s) into warm bath.
The directions are pretty obvious and are also repeated in other languages. The cap is roughly about 1" wide by 1/2" tall, so they are calling for about a tablespoon's worth. IF this really worked, you'd be getting about twenty baths for your money.
When you first pour the oil in, you will notice an oily like mix with the water. This does go away quickly as it dilutes and spread through the bath. I'd recommend stirring the water with your hand before getting in, assuming you still want to purchase this. After stirring softly, I noticed a bit of foam. This also settled down after awhile when the faucet was off.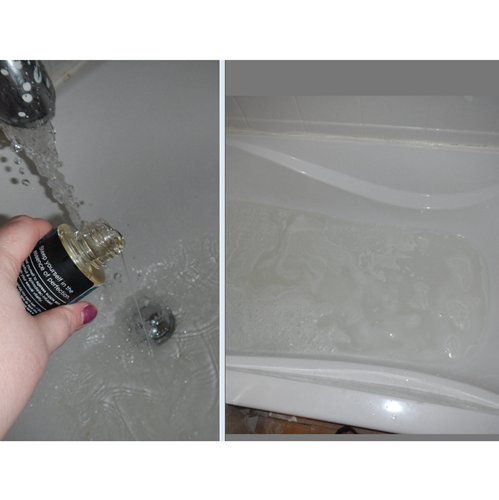 Experience
All seemed well enough until I actually entered the bath tub. First of all, I noticed absolutely NO scent. The aroma was great when I smelled it in the bottle, but once in the bath it wasn't strong enough to reach my nose. This was a big let down as aromatherapy is one of my favorite things about bathing, not to mention that lingering scent after a bath to make you feel all warm and cozy inside. No, there wasn't any scent on my skin later.

Secondly, the oil didn't make the water feel any different. I felt like I was just sitting in a puddle somewhere. It was boring and disappointing. After the bath, my skin felt as rough as if I really was just sitting in a puddle or swimming too long. My skin didn't run smoothly over each other (palm to arm, knee to thigh) like it does after bathing with nice products.

After the first bath and following the specified amount, I was frustrated and poured half the bottle in for my next try. I couldn't believe that it still had NO effects whatsoever! I actually have really delicate and sensitive skin, so that says a whole lot.

I've noticed other people had better experiences, so hopefully more people are finding enjoyment here. Perhaps I'm a bath snob? Either way, if you're looking for a product worth your money, I'd look elsewhere. If you're looking for a gift or just like to try new things, then why not.

Thanks for reading!
Follow-up commentary
16 months after original review
Using this product was like a weekend fling. It was over after a couple days, it left me with feelings of regret, and I quickly forgot all about it. I noticed that this is now discontinued, which I saw coming. Don't pick this up elsewhere!
This content is the opinion of the submitting contributor and is not endorsed by EdenFantasys.com

Thank you for viewing
Dona arousing herbal bath essence
– bath oil review page!