Nice Smell, but Not Love
If you want to enjoy a light, clean smell scenting your bath water, and prefer to keep to natural bath products with lots of plant based ingredients, this may be perfect for you. If you like lots of bubbles or a smell that stays with you throughout the day, keep looking.
Published:
Pros:
Nice Smell
Gentle, Body Safe Formula
Cons:
No Bubbles
No Lingering Smell
I'm a bath lover, and I find it the perfect way to unwind after a long day. I grab some bubble bath, a glass of wine and a good book, and hide away in the tub for a very long time. I'm always on the look out for a bubble bath that's more naturally sourced, but still makes a soak special.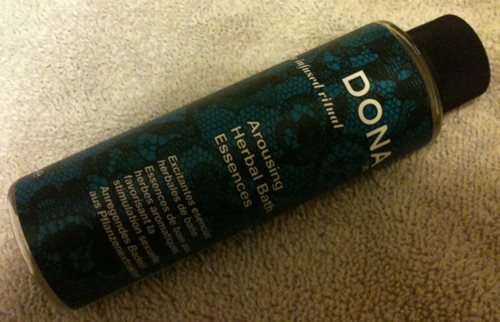 I used the recommended two cap-fulls of this bath essence. It immediately foamed up with bubbles. I was surprised as this didn't really bill itself as a bubble bath. Turns out that it isn't a bubble bath; the bubbles faded very quickly. The lovely smell remained throughout the entire bath. Other Dona products I've had in this scent, Camu camu, have been lackluster, but this scent was nice in this format. It didn't have the waxy generic smell I've grown used to when it scents the Dona lotions and body butters. In bath essence form, it was a nice light smell, with a clean linen sort of smell. I quite enjoyed it.
I don't hold much stock in the aphrodisiac abilities of the Dona line, but as long as a bath/body product makes me feel good about myself, I consider it a win. While this didn't dry out my skin, I don't think it moisturized it at all either. The water in the bath doesn't have that slick feel of some other bath products. The only real difference I could tell between this and a bath of plain water was the smell, which was nice, but I don't know if it's nice enough that I would purchase again.
I didn't notice any scent on my skin after the baths. I did attempt to pick up a whiff of it after I dried and dressed, but there wasn't anything I could pick up. So, although the smell is nice when you're in the tub, you can't rely on it to scent your skin for any length of time. As I don't think the Camu Camu body butter has a smell that's worthwhile either, you should just enjoy this product while you're in the tub and not expect it to be your daily fragrance. I suppose the good thing about that is, that if you have a perfume you enjoy you can still use that and not have this smell mix with it.
The bath essence itself is clear with a bit of a pale yellow tint to it, with no added dyes or colorant. The container is fairly small, but as you only need such a small amount per bath, it should last a nice long time. The bottle itself is a 6 oz. bottle made of thick sturdy plastic. The label is thick and waterproof, so that even if the bottle becomes very wet or rest in water for a while, the label remains intact. You can place this bottle in your shower so it's ready when you want to use it, and the label will survive. The cap is a basic screw off cap, and I've had no issues with leaking or anything like that. The packaging looks luxurious and pricey, even though the product isn't overly so. It is certainly gift-able, as long as you don't mind that it mentions arousal and aphrodisiac qualities on the label.
To give you an idea of the size of the bottle: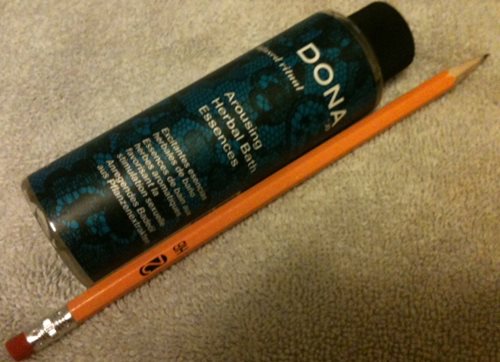 Experience
As always, the ingredient list is below. Be sure to look it over if there are ingredients you prefer to avoid for certain reasons.

Glycerin
Panax Ginseng Root Extract
Ginkgo Biloba Seed Extract
Centella Asiatica Leaf Extract
Paullina Cupana Seed Extract
Ptychopetalum Olacoides Root Extract
Turnera Diffusa Leaf Extract
Arnica Montana Flower Extract
Pausinystalia Yohimbe Bark Extract
PPG-26 Buteth-26
Hydrogenated Castor Oil
Garcinia Mangostana (Mangosteen) Fruit
Fragrance
This content is the opinion of the submitting contributor and is not endorsed by EdenFantasys.com

Thank you for viewing
Dona arousing herbal bath essence
– bath oil review page!