It smells so freaking good! Why must is come is such a little tube?
If you are looking for a smell that smells like it would taste good, Principessa Beauty's Belloccia may be just the scent for you. It's long lasting scent and easy to use applicator make smelling awesome a breeze. It's small size is perfect for taking with you on the go, but it's cost is a bit high for how little you get. The only reason I am only giving this 4 stars is the size for the price.
Published:
Pros:
Delicious smell, No Animal Cruelty, Phthalate free, Paraben free
Cons:
High cost for little perfume
Principessa Beauty's Belloccia
How does it smell?
This scent has become one of my favorites due to it's remarkably sweet smell. This scent truly is one that smells like it would taste good. Floral undertones with a light mix of baby powder doused in caramel, is the best description me and my fellow could come up with.
How to apply Roll on Perfume
The application of this and other roll on perfumes is rather easy. Unscrew the lid which will expose the roll on applicator and simply roll on. When doing so, pay attention to the areas your body releases heat. This includes the wrists, neck, cleavage, and behind the ears. Since this scent is not overbearing, you can apply to all of these areas or any combination of them.
Roll On Applicator: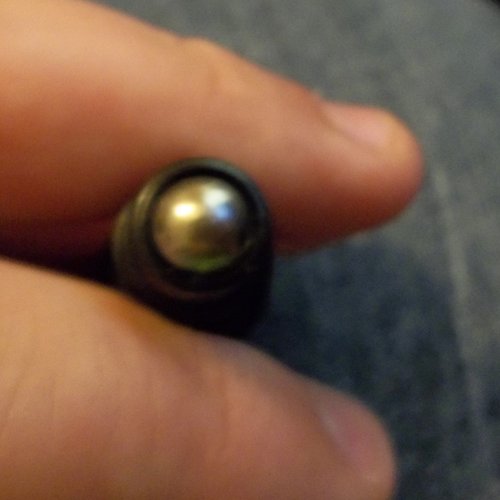 Is there any benefits to using this product?
Actually there are a few to mention about this product. Let me start by stating that this perfume is not alcohol based and will not dry out your skin at all when using. It not being alcohol based makes it a much less abrasive and a more gentle to your skin alternative to regular spray on perfumes.
Another quality that makes this perfume worth the price is the length of time this scent lingers on your skin. You can apply in the morning and still be able to smell it clearly by night. Even after sleeping, I was able to still smell this scent on my wrists and between my breasts.
According to the Principessa Beauty website, this company is also animal cruelty free, paraben free, petroleum free, and phthalate free.
All about the packaging
This roll on perfume comes to you in a thin cardboard box. This box is round and fits the tube inside perfectly. This box has a slide off slide on lid that makes storing and accessing your perfume easy. The outer box states that the ingredients inside are just "Parfum". The tube inside the box is clearly labeled as Principessa Beauty's Belloccia. This tube is mostly black, with a black screw on lid and black glass tube, but has a pink sticker with black writing that wraps nearly entirely around the tubes midsection. This label tells you the brand and scent name, as well as that this scent is "piccola perfume oil" and it is "Italian Inspired". The tube itself is 2 3/4" long(with lid), 5/8" wide, and contains .2 fl. oz.. Neither the box or bottle mention pheromones. The outer box is also noted as recyclable, when throwing out please do place with your recyclables.
Front Box: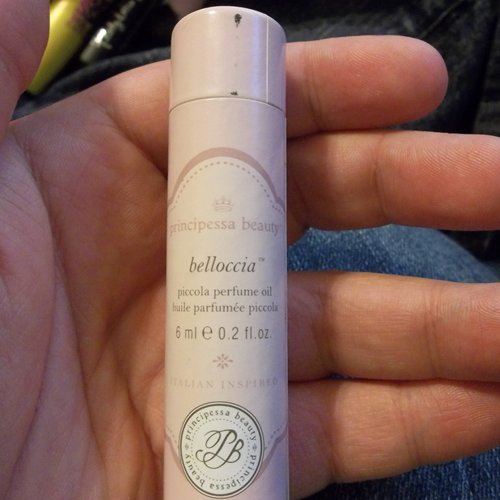 Rear Box: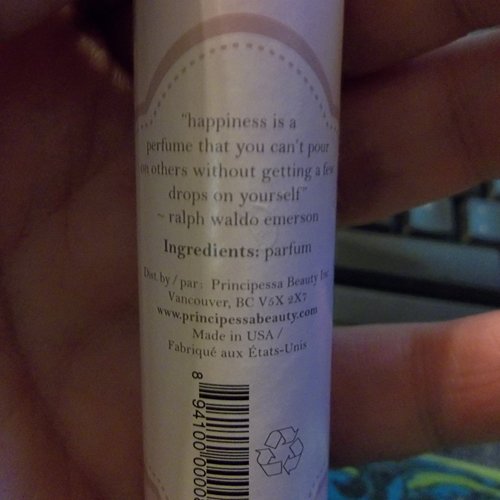 Bottle Front: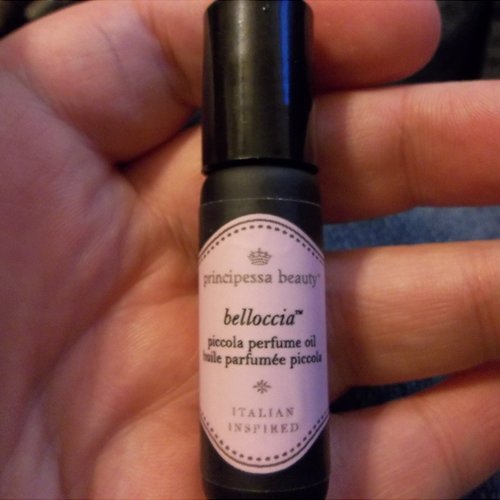 Bottle back: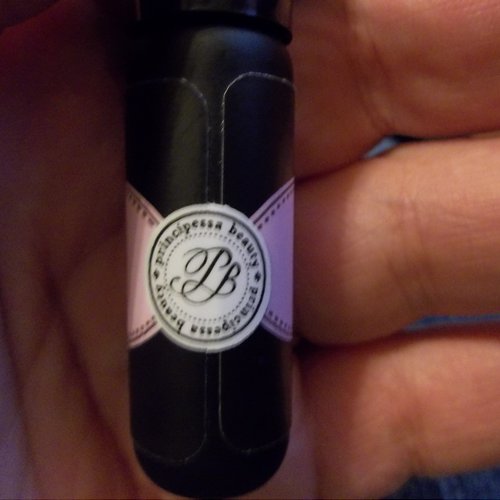 Experience
I purchased Principessa Beauty's Belloccia out of sheer curiosity. I had tried many other perfumes from Edenfantasys prior to this one and have found that I liked the majority of them. Not just for their pheromone qualities, but simply because I really like smelling good. This roll on perfume oil has become one of my favorites due to it's delicious smell. It's a smell that smells like it would taste good, and that is exactly my favorite kind of smell.
Size comparison to Mascara(left) and Flirty Little Secrets Perfume Oil: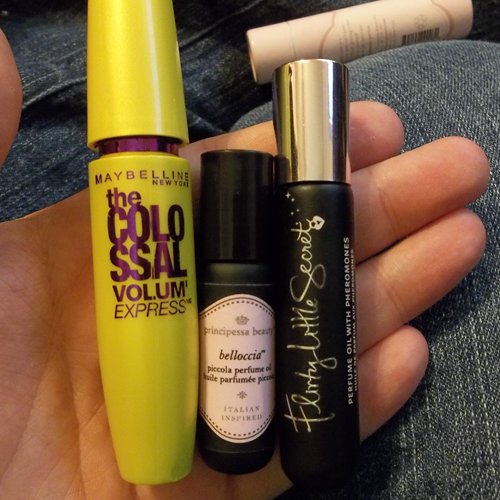 Generally, the scents sold by Edenfantasys.com contain pheromones. This one, however, was not labeled on it's product page as containing pheromones, nor anywhere on it's packaging.
Follow-up commentary
4 months after original review
Since this roll on perfume was so costly for so little, I save it for special occasions. I only wear it once a week or every other week. I'm still impressed with the bold and tasty smell of this perfume.

I would recommend it to any woman who has a collection of perfumes or any female who likes to smell good. This perfume would be especially appreciated by those who enjoy smells that smell like that would taste good.
This content is the opinion of the submitting contributor and is not endorsed by EdenFantasys.com

Thank you for viewing
Perfume oil
review page!