Milk Made Mixer
Disappointment will overshadow the good ingredients on this one. If you have a stockpile of bath salts, bubble baths, and/or other ingredients to mix this with you may find a decent experience in all of it. I would only recommend this to someone who has never taken a real milk bath before so they can get a feel for it. However, if you're not someone who makes your own baths like me, perhaps you will find joy here anyways.
Published:
Pros:
- Good Quality
- Good Ingredients
- Travel Friendly Container
Cons:
- Not enough for the Price
- No Scent
- Simplified Mixture
First off, let me note that my Dona Bath Milk was the Camu Camu variety. I'm not sure if this makes a difference or not, but it should be said just in case. These Bath Milks are said to be "an aphrodisiac infused ritual" and may differ depending on the scent you choose. Camu Camu is a small tree found in the Amazon that produces a cherry-like fruit that has a sweet scent.
I am a bath slut! I don't say that lightly. I take a bath almost everyday and always use some sort of bath concoction. I am also a self-proclaimed herbologist who makes her own bath products. I make soaps, lotions, bubble baths, bath salts, and milk baths. Because of this, I am writing this review on my experience with prices and qualities of the ingredients I use for a great bath.
First Look
The Milk Bath arrived without any additional packaging. It's a hard plastic container that is what you would expect a decent product to arrive in. The labeling is on a sticker instead of printing. Other Dona products I've tried have had nicer placed stickers, but this one has air bubbles in it, at least on mine. Granted, this really doesn't make a difference unless you're looking for something that looks extremely nice for gift baskets, but I thought I'd note it anyways.
This is an 8oz (228.8g) jar with a screw on lid. The nice seal power of the lid makes this travel friendly. The product states it is natural, paraban free, petro. deriv. free, and cruelty free. The label says it is skin-softening milk, superfruit & aphrodisiac-infused, and silky skin restores sensual energy.
Directions
: Add generously under running water into bath tub.
Ingredients
: Dry Milk Powder, Magnesium Sulfate, Hydrolyzed Collagen, Myrclaria Dubia (Camu Camu) Fruit Powder, Fragrance.
When I opened the lid, this looked just like a simple milk bath should look: like milk powder. There may be a difference in what a "bath milk" and "milk bath" might be, because I was expecting lumps of other ingredients. A GREAT milk bath should include sea salt, oatmeal, and perhaps some dried pureed camu camu berries. I guess it depends on what you want/need in a milk bath, but this was a downer. I was hoping for something I could use easily without having to mix my own. As for the scent, I didn't smell anything but the milk. The smell was so good though!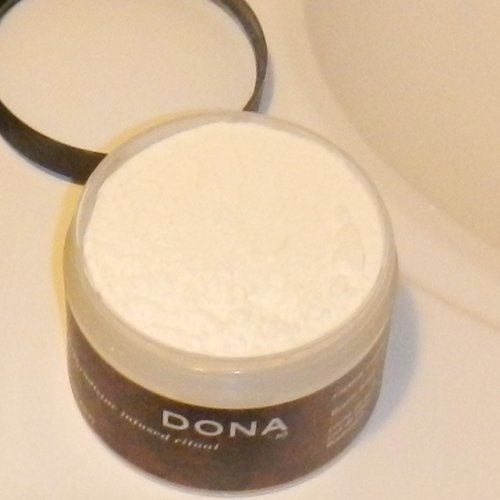 Using
I knew right away that there was no way this container was going to last long. Even though it's powdered milk, it doesn't expand as you would expect. If you've ever used powdered milk to make a glass to drink or cook with, you need about a cup per two cups. For my first use, I sprinkled about half the container into the bath before the water took on a nice milky look close to what it should have. If you have sensitive skin or don't need a milky bath to be happy with this product, you might be able to get away with a fourth of the container instead. Still, that's a $2.50 bath.
The product doesn't sprinkle very well, which is one of the good things in nice milk baths that are mixed with other ingredients. Mixes are easy to sprinkle and don't clump like this one did. As you can see in the pic below, lumps form that are like lumps of cookie dough. They were kinda fun to play with though so I really didn't care.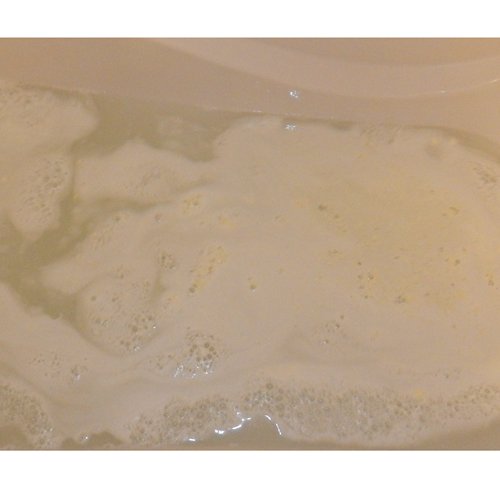 Once the bath tub was filled and I played with all the lumps I found, the bath took on a good milky look like it should have. This took half the container though in my tiny tub and could have easily used the whole container.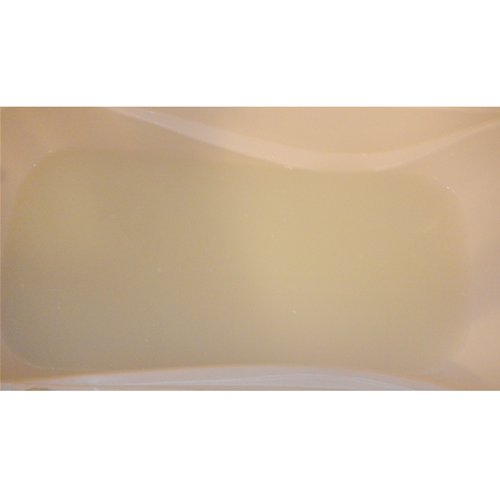 I enjoyed the way the bath felt on my skin. It wasn't overpowering as some milk baths are (even using half the container), but was enough to make me feel soft while laying in the tub. My skin held a bit of softness after I was dried off as well. As for the scent, well, there was none. The only time I smelled anything was the yummy milk scent when the powder was in the container. This is disappointing as I love aromatherapy scents while I bathe.
Experience
Overall, this isn't worth the money, at least not alone. I plan on purchasing the Dona Bath Salts in the same scent to mix them and see if it helps this product blossom. It's probably not worth the money as so far Dona has really disappointed me, but I believe in trying everything once.

On the plus side, my sensitive skin didn't get irritated by this nor any of the Dona products. I can tell the milk is of good quality, even if they don't give you enough or mix it with the right ingredients. Depending how this product mixes with the bath salts of the same line, I may still purchase this here and there when I'm too lazy to mix my own batch. You would probably do better just bathing in some whole milk though.
Follow-up commentary
2 months after original review
I have tried this mixed with the Dona bath Salts and it does make a much better bath. A great bath in fact. However, these should have been mixed together to start with (as most milk baths include salts) in a larger tub for the same price. You are still paying way too much for this bathing experience. If I were to get this as a gift, I'd be happy. Paying out of my own pocket? No, thanks.
This content is the opinion of the submitting contributor and is not endorsed by EdenFantasys.com

Thank you for viewing
Dona bath milk
– bath and shower gel review page!