Mini Nipple Biters
This feels more like a nipple biter than a nipple sucker. Still, there are plenty of ways to experiment with these suckers. For the price, it might just be worth staying in bed for the day and playing.
Published:
Pros:
PVC is known to withstand a lot of play.
Inexpensive.
Easy to clean.
Cons:
These are only a 2 on the safety scale.
Quite painful.
Suckers don't keep an even pressure.
I recently ordered the Mini Nipple Suckers in purple out of desperation for some nipple play. I've been eye-balling these for quite some time, and most of the reviews were quite positive. To give you some comparison between reviews here, they were quoted as being "serious business" with "surprising staying power."
Well, I hate to call the reviewers overly complimentary in their reviews, but it seems many reviewers were overly complimentary!
I ordered several items from Eden, so the package that I got may be different from what you receive if you order these suckers solo. As it were, the Mini Nipple Suckers came in plastic casing that was just tossed into a shipping box. The plastic casing itself is meant to be disposable. I find that I like to keep the suckers snapped into it due to the fear of losing one of the pair.
California Exotics has put a couple of phrases on the front of this packaging, including "Safe and Pure," "Heightens Sensitivity," "Super Suction," and "Soft and Pliable." In this case, curiosity got the best of me, and I searched the Cal Exotic website to figure what "Safe and Pure" actually translates to. In this case, it means "safe and non-toxic material". These items are phthalate-free or follow standards for the softener. The material itself is Polyvinyl chloride, which is only a 2 on the safety scale. However, PVC is known for having a long shelf-life. These suckers should be cleaned with water and antibacterial soap and used with water-based or silicone lubricants (more on this in the experience section).
Upon opening the clamshell plastic packaging, I found that no instructions were included. This means that it is up to you to experiment with these. The actual suction side that goes on your nipple is almost precisely nickel-sized. This means that if you place these suckers on your nipple, most likely your nipple will barely be covered (though sizing does vary from person to person). Your areola is not going to have any stimulation from this.
Place the sucker centered on your nipple and apply pressure. Then, squeeze the sucker with your thumb and pointer finger until you feel the nipple sucker's pressure on your nipple. When you release, the sucker should stay attached to your nipple. Now, this is where I had some issues. Yes, at first it would stay put, but with some motion, it would pop off. Not to mention, the suction felt somewhat like when you are breastfeeding a child who hasn't attached correctly when first applied. Then, it would lose pressure quickly. Despite the fact that the pain wasn't working for me, I decided to test out a method to better attach these for those of you who have nipples that aren't as sensitive as my own. I applied some water to the inside of these, and they attached whole-heartedly and stayed put through all kinds of movement (jumping jacks included). However, the pressure was also super intense, and I doubt many could withstand it (my nipples were sore two days later).
The color options included pink and purple. I don't really have a preference on color, and it really won't change the function of the suckers. However, I do believe that purple suckers on just my nipples tended to look kind of hysterical. I think the more natural pink might be more pleasing to look at.
In order to enjoy these suckers at all, I had to pair them with vaginal penetration. If you want to use these items solo, you may have some difficulty in reaching your peak.
Finally, these nipple suckers had a slight smell to them upon opening. It didn't go away with the first washing, so it may be an issue for some (though the probability of you getting your nose that close to your nipple is most likely slim). On the other hand, there is absolutely no taste.
To break down my rating...
Pros:
Can provide power if you experiment.
Made to last.
Small enough for travel just about anywhere.
Can be squeezed less intensely for a lighter sensation (though they won't stay attached for a lot of movement).
Cons:
A 2 on safety.
Can be too intense.
Experimentation is needed to get these to work for each individual.
Packaging is not discreet.
Tend to lose the round shape and have to be squeezed back into shape.
I give these two stars. I'm not into these, and they're far too much work for this kind of an item. However, those who appreciate some pain and like to experiment may find themselves up to the challenge.
In their packaging: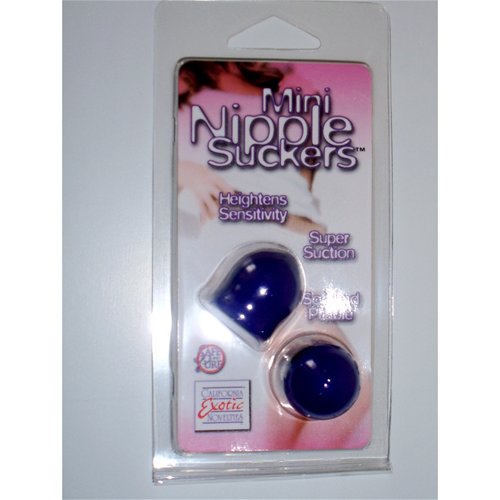 Size-comparison with the top of an Elmer's glue-stick: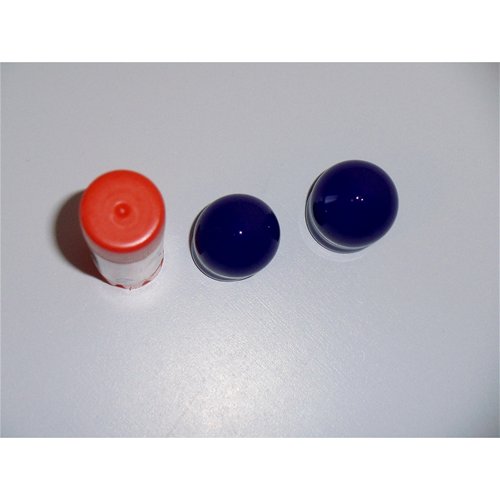 Inside: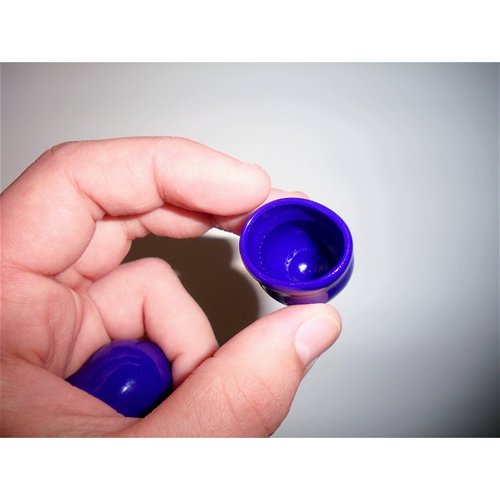 These are most definitely dark purple. No matter what I tried, they showed more blue.
Experience
To attach these for a crazy-intense suction, I believe that the water-based or silicone lube may actually be applied if plain old water doesn't do it for you. Some of the lubricants add benefits, which I give some thought to directly following this:

Some ideas to try: warming gel on the nipples, cooling gel on the nipples, and nipple cream (such as with breastfeeding) that can soothe the nipples after or during

This item can suction to your clitoris. I thought it may put enough pressure on my clitoris to arouse me, and it did just that. However, after the initial stimulation, I was ready to pop the sucker back off and actually play with my clitoris almost immediately. It might be a nice idea to have the pressure during sex and possibly with some warming/cooling/tingling gels.

Running these under hot water did nothing for me.

I put one of these in the freezer (knowing it would become hard and not function as a sucker) because I had the idea that it might feel good if I used it as a cap over my finger to tease my nipples once it was cold. This was by far my favorite thing about it. It felt like an ice cube without the mess. It stayed cold for a couple of minutes, which was long enough to turn me on. One caution with this is that over time, freezing the material may actually harm it (I'm not sure), but since I wasn't into it as a nipple sucker anyway, it's worth the chance.
Follow-up commentary
5 days after original review
These mini nipple suckers are just too intense for me. I find that varying the pressure of the squeeze radically alters the suckers' staying power. If I squeeze gently enough to enjoy the sensation, the suckers don't stay on. That's the thing about suction though: lots of pressure equals good suction, a little pressure equals no suction power. In order to get these to stay on, I have to squeeze too hard for my liking. In order to enjoy these, I get only a moment of actual pleasure out of them before they detach. It seems impossible to find a balance, and I definitely would not recommend these for a beginner. However, if you enjoy punishment sex or that level of pain, these could definitely be your thing!
This content is the opinion of the submitting contributor and is not endorsed by EdenFantasys.com

Thank you for viewing
Mini nipple suckers
review page!