My Handy Love Kit
This product would travel easily if you're planning a romantic weekend somewhere. I even think it would travel on a plane because everything liquid is at 1 oz. It is discreet individual packages. The big box has Love Candy on it. I don't know how discreet that is, but the box is nice in red and black. This is worth the buy if you love the curtain scents that come in it. I would recommend it to a few friends that really love the scents that are in the products.
Published:
Pros:
A good time in a box for all couples. Great product choices.
Cons:
None.
I couldn't wait for this to come because it had a lot of products in it that I have wanted to try. This is a nice starter kit with a little of everything you need. This kit worked well to set the mood for a night of relaxation and enjoyable sex. You can use this to set up a night of erotic massage or a long relaxing bath for two. Just add your own candles and wine to the picture and you're ready.
When it got here my husband and I opened the box. The box is very nice and well packaged. The first thing we opened was the Rose Pedals. These are a good look to a Romanic night. They do not smell. They are well made. No strings or loose threads that I found. To me they give the room a nice look but I prefer the real pedals instead of these. They are not itchy against the skin if you are lying on them.
Then there is the 1oz. Rendezvous Aphrodisiac Infused Room and Linen Freshener. That I really wanted to try and I now know I will buy more of this. The smell of goji berry and mangosteen is nice. It is not too flowery. It does not stain the sheets when applied. It gives a nice refreshing smell that last a while. It is paraben Free, Cruelty Free, All natural petro. Driv. Free.
The Dice I like because it is a little bit of a game to play. There are two red dice with white letters. You can; lick, kiss, rub, nibble, oil up or rub vibe several spots on the body plus your choice. I wish there were more advanced choices but your choice makes up for that.
1oz Lovephoria Aphrodisiac Infused Sensual Massage Oil nice. The smell of acai and pomegranate is very relaxing and soothing. It is silky to the touch. A little does go a long way with the oil. It massages into the skin nicely. If you don't use too much oil you don't feel the need to wash off the excess afterwards. It does not stain the sheet. It does not leak. It is paraben Free, Cruelty Free, All natural petro. Driv. Free.
The 1oz Sweet Crush Aphrodisiac Infused Lickable Body Drizzle is one product I don't think I will buy on its own. It is a fruity flavor and for me not my favorite. It tastes like a berry but it gets very overwhelming in taste. If it comes in another flavor I may try it. It does not stain the sheets or leak. It is paraben Free, Cruelty Free, All natural petro. Driv. Free.
1oz Smitten Aphrodisiac Infused Invigorating Bath Essence. I love this gogi berry and mangosteen bath product. It mixes well and gives a very relaxing, exhilarating bath. I found it not to be overwhelming. It didn't leave my skin oily in the end either. It is paraben Free, Cruelty Free, All natural petro. Driv. Free.
1oz Lovephoria Aphrodisiac Infused Hydrating Body Lotion. I love the smell of the acai and pomegranate. It is not over whelming. It rubs in the skin nicely. It is not oily in the skin at all. Leave my skin feeling smooth and silky. It is paraben Free, Cruelty Free, All natural petro. Driv. Free.
Massager is made of plastic and easy to hold on too. When used with the oil it glides across the skin nice and smooth. It has a visible seam on the side because of the placement of the seam if you keep the massager flat the seam never comes close to your skin. When using oils it makes it smooth enough that the seam shouldn't be a problem. However, mine had a little rough (Bur) area. A little sand paper took it right off.
Ingredients:
Purified Water, PPG-26 Buteth-26, Hydrogenated Castor Oil, Lyceum Barbarum (Goji), Coffee Arabica (Coffee Seed), Euterpe Oleracea (Acai), Morinda Citrifolia (Noni), Punica Granatum (Pomegranate), Camelia Sinensis (Green Tea), Garcinia Mangostana (Mangosteen), Glycerin, Phenoxyethanol, Ethylhexylglycerin, Fragrance .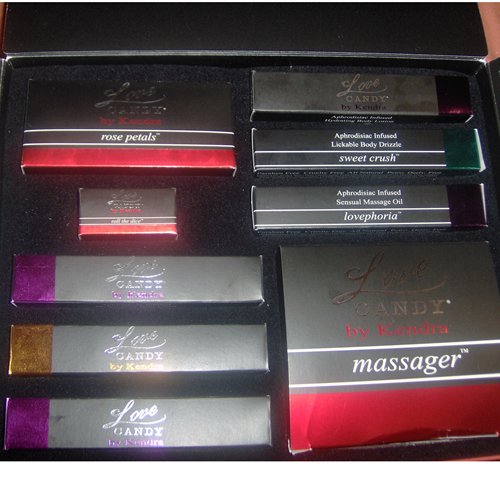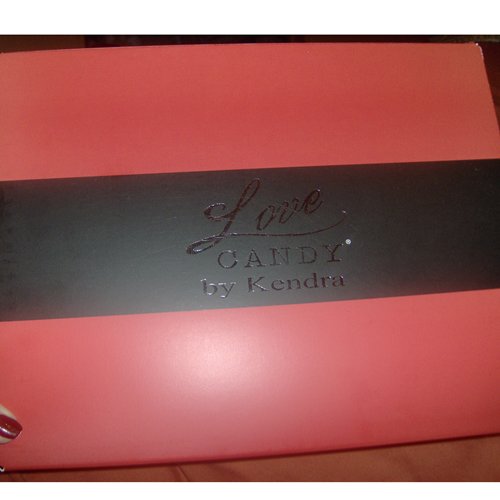 Follow-up commentary
2 months after original review
I really like having this kit around for easy access to what I need to plan a romantic night. A must have. What would make it even better is to be able to choose your scents
This product was provided free of charge to the reviewer. This review is in compliance with the FTC guidelines.

Thank you for viewing
Love Candy by Kendra kit
– massage kit review page!