Not just for below the belt!
Don't let the name fool you - this stuff gives a great, clean & smooth shave on any part of your body. It's so good, I might just have found my new day-to-day shaving lotion
Published:
Pros:
Easy to use, Works for sensitive skin, Discreet & Manly packaging
Cons:
Small size, Doesn't eliminate all razor bumps
Ok, I'll admit it. I'm one of those men who not only likes a bit of smoothness below the belt on a woman, but I also like the look and feel of bare skin on myself. I'm also one of those men who takes hype with a pinch of salt. After all, shaving soap is good enough for my face, so why not other parts of my body? It's for that reason that I've used the same shaving soap for all of my shaving needs and it's always pretty much done the job I've expected it to. Not amazing, but definitely acceptable.
The problem for me though is that I've got extremely sensitive skin especially on my face, so when I came across Classic Erotica's Max Shave here on EF I did my usual research and liked what I read. I wasn't looking for a pheromone-laden pickup lotion, just something that will make the tedious act of shaving more bearable. It's for this reason that the following information about the Max Shave grabbed my attention:
Made with Hair & Skin Softening Agents for a Smooth, Rash-Free Shave
Jojoba Seed Oil skin lubricating/moisturizing
Panthenol Pro-Vitamin B5 nutrient for skin
Allantoin anti-inflammatory/anti-irritant
Hydrolyzed Hair Keratin protein to condition skin and hair
Since I always thought Jojoba was the month before November, the descriptions of those ingredients meant more to me than the names themselves. I know marketing plays a big part in everything, but based on that list I really couldn't think of a good reason NOT to try this out. So I duly waited until the last promotion and ordered a tube, treating myself to Doc Johnson's
Nice Nuggets
at the same time (more of that in a separate review) and waited with both baited breath and stubbly scrotum until the UPS man turned up at my door a few days later. Since I wanted to give my bits time to really try this stuff out, I thought that a quick shave down below the day before my package arrived would be cheating so ignored the screaming itch for as along as I could.
Ok, so what about the lotion itself? Well for starters, the tube is a lot smaller than I expected it to be. Coming in at just 2 fl.oz, this is hardly going to be a long-lasting product. Granted, you don't need very much, but this looks more like trial/travel size than something that's going to sit around your bathroom sink for the next few months. Time will tell whether this will go a long way or not, so hopefully it won't all be gone by the time our two-month update comes around!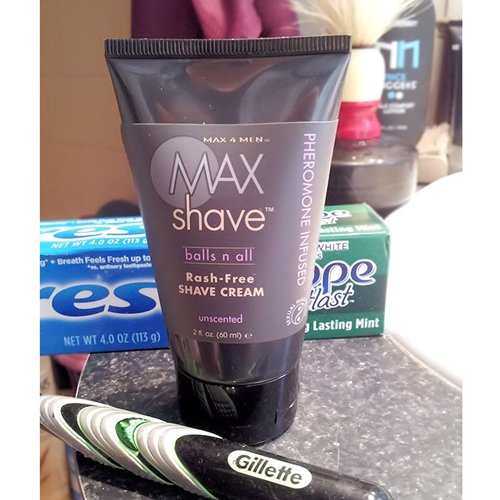 Size isn't everything, but I wouldn't have complained if I'd been given a bigger one
One thing you'll notice when you use this lotion is that it doesn't foam or lather. Some people might be used to this depending on their choice of shaving products, but for me it was something new. I'm not that old but my preference is for an old-fashioned soap dish and shaving brush, so squeezing out a dollop of this lotion then rubbing it onto my face (yep, that's where I started with this) both looked and felt decidedly different and has a consistency more like Hair Conditioner. The reason I started with my face was two-fold. Firstly, I needed a shave. Secondly, the aforementioned sensitive skin. Since that's part of the blurb for this stuff, I needed a way to really put it to the test before taking it to my boy bits and I'm glad to say it passed the test with flying colours.
Experience
When it comes to my face, I've yet to find an electric razor that gives a close shave. I've gone through soaps, lotions, gels, creams, some expensive and others less so and almost always have the same result of fairly close shaves with some razor burn. The Max Shave has definitely helped to give me about the closest shave I've had to date, and while I won't say there was zero burn, there was definitely less than before. Not only that, but my skin feels softer and moisturised which is a real bonus.
An hour after the 'trial run', I decided it was time to try this lotion down below. One hot bath later and I was ready. My wife has always liked me to be clean shaven down there apart from a little strip (yes, men do that sometimes!) so there wasn't a whole lot to work with. While my facial hair tends to grow fairly thick and coarse, it's soft down below and I'm not all that hairy there. So, after getting the stubbly area wet, I applied the lotion and began to shave. My razor went easily over the whole area and really did feel smooth instantly. In the interest of honesty, I DID experience a couple of small shaving bumps but there were definitely less than normal. There was no burning, itching or redness, and once I'd got out of the bath and dried, everything down there was baby smooth.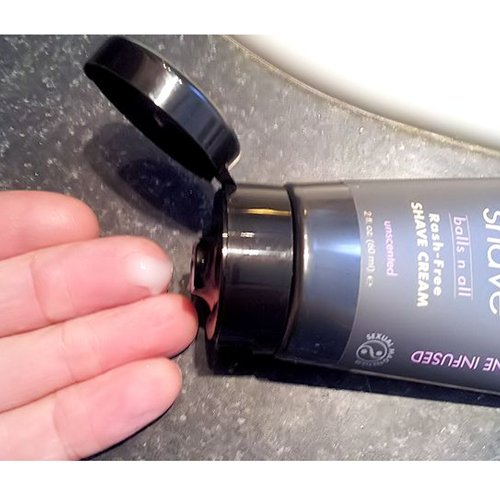 I know what you're thinking, but it's the lotion. Honest.
So all in all I'd have to say that despite a slight razor burn on my face and those couple of little shaving bumps on my bits, this lives up to its name and hype and I might just have found my new shaving lotion of choice.
The back of the tube also states the following:
Same Great Shaving Formula as Coochy Shave Crème on the Inside…Max Shave for Men on the Outside!
Shaving of male pubic area increases sexual sensitivity
The cleaner you are…the bigger you look
Designed to give every man a comfortable, rash-free shave
Shields skin from razor friction
Conditions & softens even the coarsest body hair for a smooth shave
Perfect for grooming any & all areas of the body
Helps prevent embarrassing shave bumps & ingrown hairs left behind by other shave products
Unscented for sensitive skin shaving
Personally I found most of that a little unnecessary. If you've bought this, you've probably bought it because you already shave - or are considering shaving - your pubic area. I don't think they needed to add a selling point like "The cleaner you are...the bigger you look" but that's just my personal, cynical nature.
For what it's worth, the full list of ingredients is as follows:
Water, Cetyl Alcohol, Cetrimonium Bromide, Stearyl Alcohol, Hydroxyethylcellulose, Glyceryl Stearate, PEG-100 Stearate, PEG-60 Lanolin, Simmondsia Chinensis Seed Oil, Hydrolyzed Keratin, Panthenol, Allantoin, Phenoxyethanol, Sorbic Acid, Sodium Hydroxide, Fragrance, Copulandrone, Copulin-alike, Reconstitued Androne.
A final point of note is that the maker's website states that this is Paraben-Free, and
that it's actually the same lotion as their Coochy Cream, just repackaged. However, it seems that the Coochy Cream may actually contain parabens so that's a little discrepancy that might warrant further investigation.
Follow-up commentary
2 months after original review
Well, two months have passed and I've still got a lot of this cream left (probably over half of the tube!). I don't always use it for regular shaves, but do use it for shaving down below. It's still giving close, smooth shaves that are definitely better - and leave my skin smoother - than regular soap.

Since picking this up, we've also picked up the Coochy Shave Creme and can confirm that it's an almost identical product except for the scent. If I could change anything with either though, it would be for it to foam, even just a little. Otherwise, it's still well worth having, especially at this price.
This content is the opinion of the submitting contributor and is not endorsed by EdenFantasys.com

Thank you for viewing
Max shave balls n all
– shaving foam review page!