Shine On!
If you are looking for a great gloss that doesn't wipe away or slide off the lips easily then Bella Il Fiore's Shine On is just about perfect. It doesn't need to be reapplied as often as thinner brands but might be a bit heavy on the lips for some users. The color is rich but sheer and has a lovely shimmery gloss finish. It can be layered under a shinier gloss for dramatic impact.
Published:
Pros:
Great color saturation, nice glossy finish, no icky flavor
Cons:
Heavier than most glosses
I have tried and love many Bella Il Fiore products so I was so glad to see yet another sheer lip gloss offered here at EdenFantasys. The Shine On Lip Gloss is another product that I am 100% satisfied with and will continue to purchase for as long as I am able!
Shine On Lip Gloss comes in 6 different colors: Pink, Pearl Pink, Hot Pink, Blush, Nude, and Red. I chose the red as I have worn Bella's red glosses before and I know they are very natural looking on my skin. The Shine On is a heavy gloss that goes on thick and is quite sticky. It won't make your lips feel as though they are stuck together but you will be able to feel it on. It can eventually 'kiss off' but it lasts quite a while before doing this and will not make your partner look as though he (or she) is wearing lipstick after kissing you. It does, according to Sigel, look good enough to want a taste but it doesn't have an appreciable flavor, good or bad. I use a clear flavored gloss over the top of this gloss if I want high impact shine or flavor.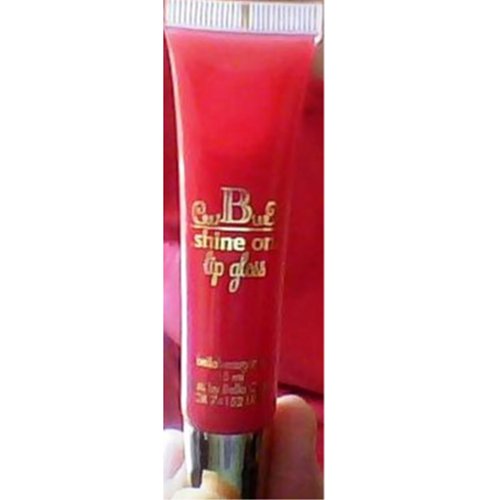 The tube it arrives in is classy and looks elegant in a purse or an evening bag. The gloss comes in a soft plastic tube with a contoured lip applicator but be careful not to squeeze too much product out especially if it is a warm day! This isn't a thin gloss by any means but it comes out of the tube easily and it is easy to get too much if you are used to having to squeeze up gloss out of these shaped tubes. I find that simply holding the tube by the center and tilting it up to apply it allows for enough product to flow out.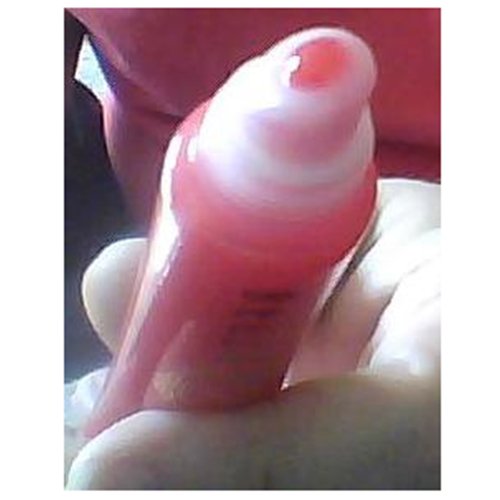 While you might find that you need to reapply the gloss at some point in the day it doesn't wash away easily and you will have to use a facial cleanser to wash it away totally. It has a pretty nice stay put formula so you won't find it sliding off your lips like some clear glosses can, especially in the heat.
I generally use a gloss as a base for colored lipsticks that can be quite drying but this gloss doesn't provide the kind of surafce that makes lipstick look good or glide on easily. On the upside I don't find that my hair gets plastered over my lips with this product. Shine On has a sweet scent that mixes well with other scents you might be wearing.
It does make a great overlay on a nude or pale pink lipstick and has a lovely glossy finish. On naked lips is imparts a sheer red color that I can't seem to showcase very well, with my camera, as it keeps coming out more pink in the picture than the true red that it is but I can show how intense and pigmented the color is while still being very sheer.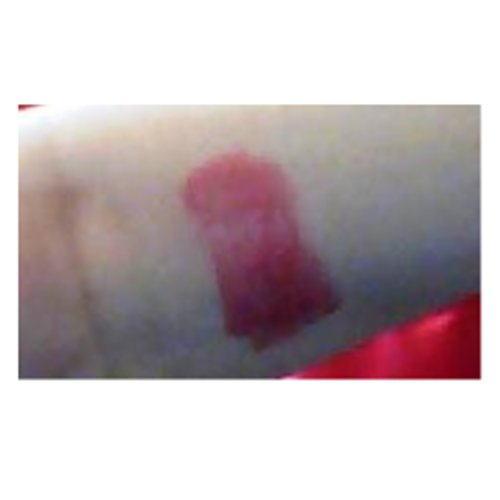 In my opinion this is a great substitute to heavy color lipsticks and since I tend to dress my eyes dramatic when I go out it does a great job of making my lips look dressed but not over dressed! During the day it can make you look put together without looking overdone as well.
This gloss is great as a stand alone gloss and looks very dramatic when a clear gloss is layered over the top. It is sheer enough that it should go well with just about any skin tone.
Follow-up commentary
9 months after original review
I really am sorry to see this product has been discontinued because it is such an amazing one. My daughter is 14 and suffers from fairly severe hypothyroidism. This condition causes her skin to be dry and her secretions to be too oily to do much good for her mucous membranes. The result is she gets seriously dry, chapped lips whenever the weather changes. A few days ago she was upset because we were going to take a picture and her lips were particularly bad off.
I gave her my tube of this gloss thinking it wouldn't further dry her lips out and would cover the color discrepancy between the healthy skin and dry, chapped skin.
In short, it worked. Her lips looked great! They looked naturally colored and not "made up".
A few hours later I noticed that she still had the gloss on her lips and I commented that the gloss color really suited her. She blinked and told me that she had wiped it off an hour or so ago when she had eaten! I tell you, her lips looked like she had undergone days of healing.
I hope we pick up more Bella Il Fiore lip products in the future because now, more than ever, I am totally a fan.
This product was provided at a discounted price in exchange for an unbiased review. This review is in compliance with the FTC guidelines.

Thank you for viewing
Shine on lip gloss
review page!