Shine on, little glow worm!
Being a lip-gloss slut, I have my share of these tapered little tubes all over my house. I am usually re-applying on an hourly basis, if not more often. This one falls directly in the middle of the spectrum for me; it isn't garbage, that makes me annoyed to have on my lips, and it isn't that pure ecstasy that you rarely find in a lip gloss, that you can hardly feel, and looks amazing. Middle of the line price, middle of the line quality, and middle of the line product.
Published:
Pros:
Great color,
Long-lasting,
Doesn't stain,
Paraben-free
Cons:
Gets grainy
I am not a makeup person. I never really have been, because I am allergic to most makeup. This does not mean I have not tried makeup, it just means I don't get to wear it. However, I am a lip gloss slut. Because I get an awful rash and breakout to most makeup I am left with married mostly mascara and gloss. So any time I find a new quality lip gloss I am excited. So when I saw shine on I decided I had to have it.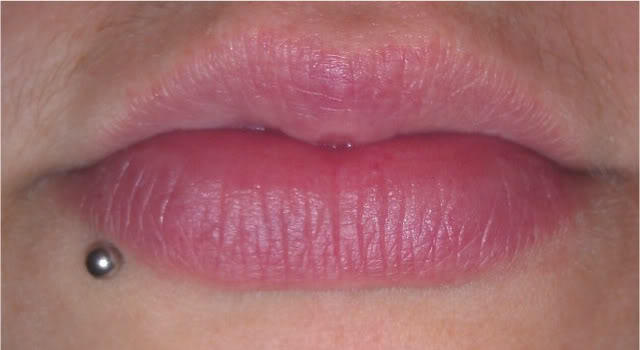 before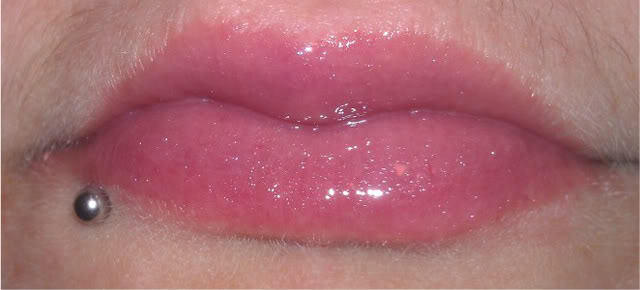 after
Shine on comes in a fairly small package, it's cardboard and it's a very pretty pink and brown design with the logo and some other swirly Victorian style images. Inside of the container is your lip gloss and nothing else. The little package of gloss itself comes in a standard container and is plastic with a little taper on the end that looks sort of like a fish tale. It's got a twist top, gold lid, and when you open it up it has the applicator head with a hole in it that when you squeeze the lip gloss comes out of. The lid of mine is gold and all of the writing on it is gold. Other than the name, website, and address there is nothing else on the package. Since owning mine for about a month, the gold has started to scratch off on the lid in a few places as well as the logo in a few places, but other than that it has held up fairly nicely. It is definitely travel friendly and I often toss it in my purse and I don't have to worry about leaking.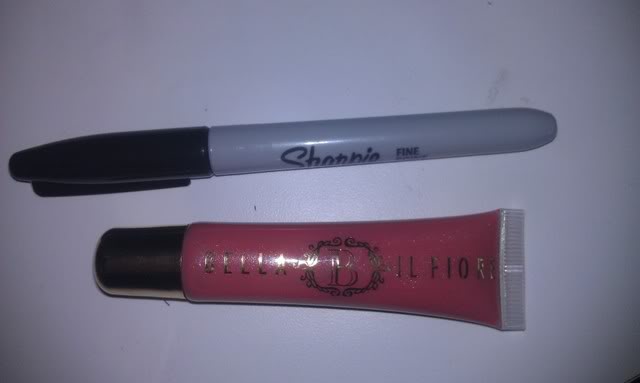 I have read other reviews that claim that this product thickens the lips. I'm not entirely sure if it actually makes my lips look thicker or if it is just a glossy product and therefore adds the contours of my lips. I have also read a few reviews where people talk about how thick it is, however this seems like the standard thickness for lip gloss to me. I am wearing it right now, and it does not seem too thick or tacky to me. As with most lip gloss, the more often applied, the better it feels. After about an hour it starts to feel a little bit grainy. I personally prefer my lip gloss to be thicker as opposed to being thin, so I don't have any complaints in this department. However, if you prefer a lighter coat of gloss you likely will not like this product because it is very very thick and it does coat completely.
Taste wise, there is not much to be said it's not something meant to be eaten, but if you lick your lips you don't get a residue or flavor. On my mouth I cannot smell anything, however if I smell the package it has a hint of vanilla smell that I enjoy.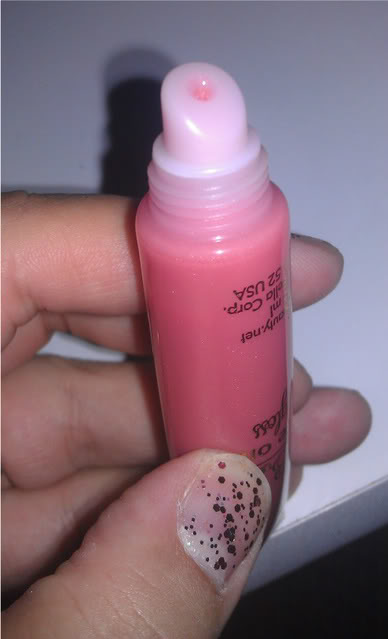 This can easily be used every single day with the rest of your makeup routine and be your main product for your lips, or simply be used before you hit the gym just have a little bit color. It's very versatile. While it does range a little bit on the expensive side for non-name brand actual makeup products, I do find that I will get my use out of it. And while I do not have any complaints, I probably could also find the exact same quality in a tube of extremely inexpensive dollar store lip gloss, too.
Experience
Ingredients: Polybutene, Ricinus Communis (Castor) Seed Oil, Bees Wax, Caprylic/Capric Triglyceride, Glycol Distearate, Prunus Amygdalus Dulcis (Sweet Almond) Oil, Ethylhexyl Palmitate, Ascorbyl Palmitate, Tocopheryl Acetate, Squalane, Phenoxyethanol, Ethylhexylglycerin, Fragrance, May Contain: Mica, Titanium Dioxide, D&C Red No. 6, D&C Red No. 27, D&C Red No. 7, Iron Oxide Red, Iron Oxide Yellow, Iron Oxide Black.
This product was provided at a discounted price in exchange for an unbiased review. This review is in compliance with the FTC guidelines.

Thank you for viewing
Shine on lip gloss
review page!