Spank Me! But...could you wash your hands first?
This is a pretty creative cream and decent quality. Whether you are a spanking expert or seeking something to up the level of bedroom play, you will probably enjoy this enough for the price. I'm sure there are better creams on the market, but this one seems to be good enough for a go.
Published:
Pros:
- Seems to Work
- Pleasant Aroma
- Great Packaging
Cons:
- Spanking Cream is Sticky
- Soothe Cream is too Watery
I've never considered using a cream for spanking before. Since this was assigned to me, I figured I'd give it a shot! I'm glad I tried it, but I'm not sure it's something I'd use often. Still a good product. It will definitely have a place in my drawer for special occasions.
PACKAGING
Both jars come in a super sexy and sleek box. It has an elegant appeal that I'm sure would help it sell fast in a retail environment. Inside, the jars are stacked on each other and have an extra plastic band to seal the caps. Under the cap is yet another plastic piece to help prevent the liquid from spilling. This is needed as the jars are going to be tipped around when you're examining the box. There are labels on the top and around the side that are unobtrusive and in the same print as the box. One does have the word SPANK in pretty obvious print, so if you have kids that can read or other visitors around, you may not want to leave this out. Each jar also has an expiration date stamped on the bottom. Mine say 08/06/14 and 08/07/14, so they did give me almost two years to use this all. The caps are easy to screw on and off and if you save the plastic insert, this will be travel friendly. To make sure the inner plastic seals correctly, you need to press down in the center and move outwards to get the air out.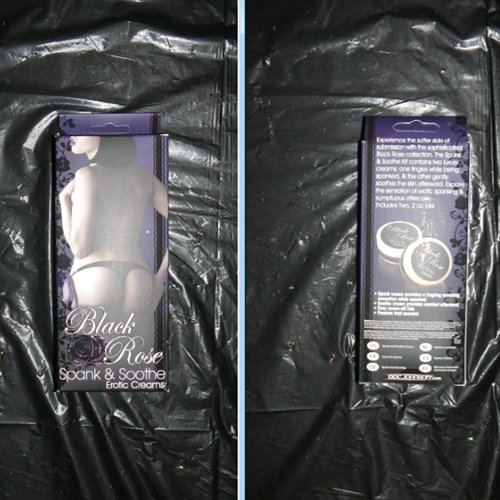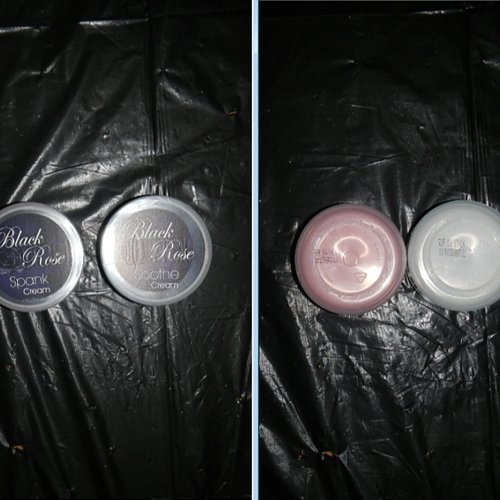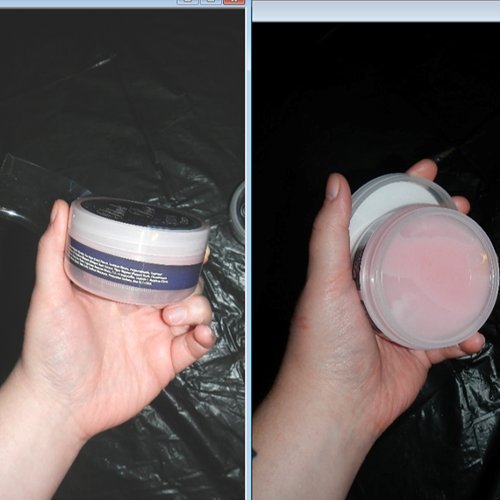 CREAMS
According to the company, the Spank cream provides a tingling arousing sensation when spanked and the Soothe cream provides comfort afterward. This is a Doc Johnson Product.
Size:
2oz Each
Aroma:
Passion Fruit Scented
Spank Ingredients:
Propylene Glycol, Glycerin, Zea Mays (Corn) Startch, Sorbitan Oleate, Polyacrylamide, Isopropyl Palmitate, Polysorbate 20, Zinginer Officinale (Ginger) Root Extract, Piper Nigrum (Pepper) Resin, Cinnamonum Cassia Resin, Capsicum Frutescens Resin, Capsicum Annuum Resin, C13-14 Isoparaffin, Laureth-7, Butylene Glycol, Fragrance (Parfum), Water (Aqua), Citric Acid, Sodium Benzoate, Potassium Sorbate, Red 33 (17200)
Soothe Ingredients:
Water (Aqua), Propanediol, Glycerin, Polyacrylamide, Pentylene GLycol, Sodium Polyacrylate, Panthenol, Aloe Barbadenis Leaf Juice, Sodium Hyaluronate, 4-t-Butylcyclohexanol, Chamomilla Recruta (Matricaria) Flower Extract, C13-14 Isoparaffin, PVM/MA Copolymer, Laureth-7, Fragrance (Parfum), Citric Acid, Diazolidinyl Urea, Sodium Benzoate, Potassium Sorbate
Both creams have the same exact scent, no matter their slightly different ingredients. It's a sweet and fruity scent that is pleasing to the nose and lingers in the air while using it. I was pleasantly surprised that the scent was actually not too overpowering and not too mild like most products I've tried lately.
Experience
SPANK CREAM:
This is a pink gel-like substance that does a decent job of holding it's form. It's fairly easy to apply without it dripping all over the place. It made my hands start heating up right away but I didn't feel any tingling. When I applied it to my backside, it also just felt warm. I had to run and wash my hands cause it was bothering me having hot hands, and my partner was afraid of it bothering our sensitive bits. Once my hands was washed the spanking began, and although it felt nicer than normal, I didn't notice more tingles. The gel was also pretty sticky and we both washed our hands when we were done then ran back into the bedroom so we could actually have sex.
SOOTHE CREAM:
This one is a white substance that is pretty watery. If you tip the jar a bit it will drip. I had to be quick about applying this to avoid making a mess. I'm not sure if it's because the liquid keeps a cool temperature or the ingredients themselves, but my butt did feel better during application. It doesn't soak in as well as lotion, but eventually I was sort of dry enough to replace my clothing.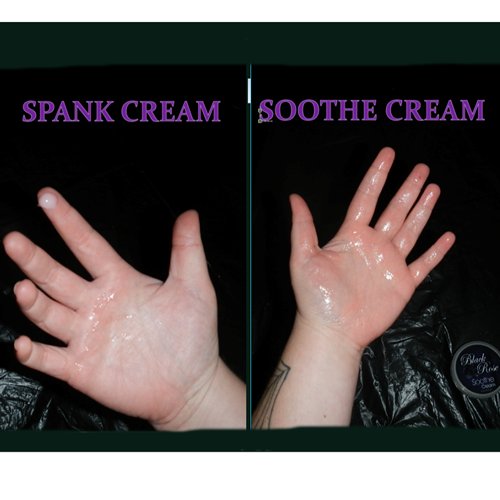 I should note that I have sensitive skin and noticed no irritation with either jar. Although my butt was red from spanking, I am pretty sure the cream did nothing to add to it. Overall these creams are pretty decent. I would recommend them to anyone who is a spanking enthusiast. I would suggest you keep a box of baby wipes close by for cleaning quicker between applications and after.
Thanks for reading, and have a spanking good time!
Follow-up commentary
2 months after original review
This cream might not be the greatest, but it works and is worth the money. I STILL have half a can full of each! A little goes a looong way with this! If you're in the market for a cream like this, you'll get your money's worth here!
This product was provided free of charge to the reviewer. This review is in compliance with the FTC guidelines.

Thank you for viewing
Black rose spank and soothe
– body moisturizer review page!