Yummy Pink Cupcakes!
Who can resist the scent of cupcakes with pink frosting? This dust smells delicious! It also tastes sweet. My biggest problem with this dust is that it's not shimmery. It's a light pink powder with microglitter. This powder would look great on very pale to light skintones but if you have darker skin it may come off as looking really chalky. Also, I don't believe in the hype of products containing sex attractants. I still love it and think it's great though!
Published:
Pros:
Pretty pink!, smells delicious, tastes sweet, large amount lasts a long time, glittery!
Cons:
I don't want to eat glitter, sex attractant claims are questionable, kinda messy.
If you love shimmer and the scent of sweet freshly baked cupcakes with thick fluffy pink frosting you will love this shimmery dust! This shimmery Diva Dust from Crazy Girl (Classic Erotica) smells as pretty as it looks. The label claims that it's infused with a "sex attractant" and is also pink cupcake flavored. You can use the shimmery dust as a highlighter all over your body focusing on areas such as the decolette, cheekbones, or anywhere you want the light to catch and highlight your features. It's inexpensive, small, and would make a sweet gift.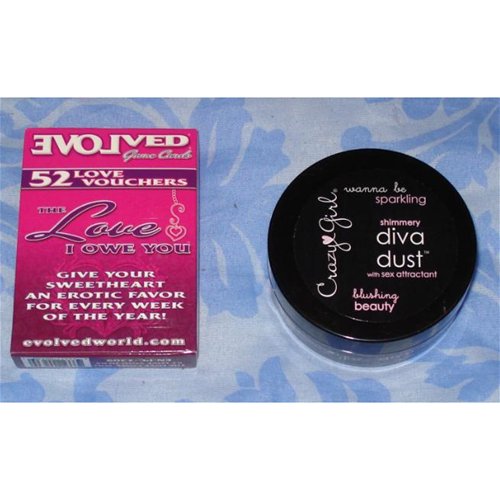 There was no plastic seal to break on the lid. It arrived exactly as shown. The container is made of clear plastic with a black plastic lid. It's about the size of a pack of playing cards. It holds .5 oz.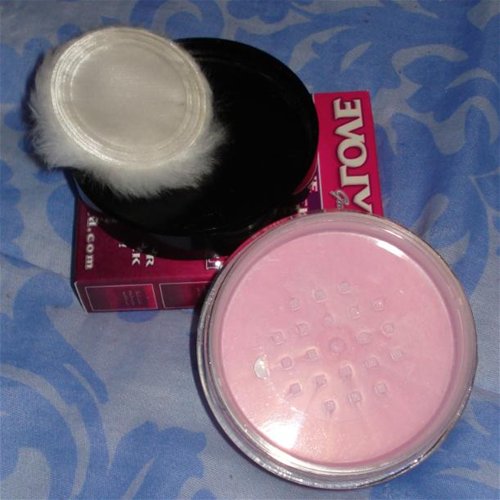 Inside the container there's a plastic sifter with a large circle sticker placed over it. A soft white fluffy puff is also included.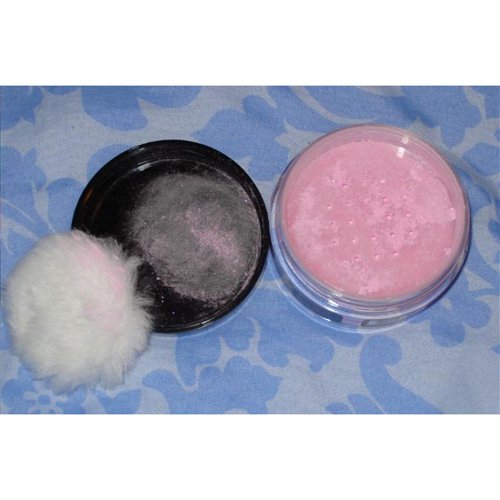 The dust is soft, velvety, and smooth. It's a very pretty light pink color that's packed with very fine rainbow microglitter. It smells delicious! The scent of pink cupcakes makes my mouth water!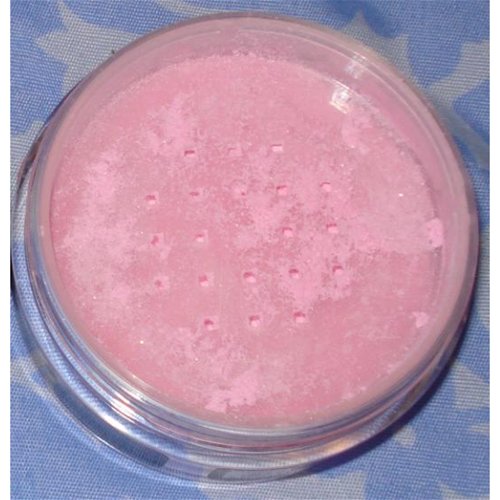 Closeup!
Here's a closeup swatch of what the dust looks like on my arm. As you can see it's got a light pink tint to it. I hate to say but it's not exactly "shimmery" like it claims to be. This dust is full of very fine microglitter so to me it's more like pink powder with "glittery dust." I don't like it any less it's just not exactly what I expected. The glitter is so fine you can't feel it at all.
Use:
To use the shimmery dust take the puff out of the container, screw on the lid, and gently invert the container a few times (turn it over and back again.) Open the container and there should be a nice amount of dust on top of the sifter. Use the puff to gently pick up the dust and gently glide it over any area of the body you want to add a little sparkle. If you don't like the puff you can toss it and just use a fluffy makeup brush instead. Also, if you don't like the sifter you can take it out as well. That way you can dip your brush and tap off the excess. It's messier but some may prefer to use it that way.
Scent:
This smells exactly how it claims to smell. Yummy delicious sweet pink cupcakes! The scent ranges between light and medium in strength. It smells stronger in the container than on the skin. On the skin it's very light and I can't really smell it unless my nose is close to it.
Flavor:
On the label it says, "Kissable pink cupcake flavor... taste as good as you look." To me it's pretty obvious that it means it's edible. It's not something you'll want to eat a lot of but if you have some on your skin and your partner licks you it'll give a hint of flavor. To me it tastes powdery and sweet. There's no bitter aftertaste. If you lick your finger and dip it in a large amount and then taste it... it sort of melts on your tongue (corn starch feeling) but it tastes sweet similar to frosting. It's far from the real thing but to me it tastes really yummy!
Ingredients:
Corn starch, talc, mica, boron nitride, vitamin C, fructose, saccharin, aloe leaf extract, copulandrone, copuline-alike, reconstituted androne, flavor, aroma, may contain titanium dioxide, iron oxides, yellow 5, blue 1, red 6, calcium sodium borosilicate.
Experience
My Personal Opinion:
First of all, I love the pretty pink color of the powder and the pretty microglitter but to me this isn't shimmer. Shimmer is shimmery, glitter is glittery. To me there's a difference. Also, shimmer tends to stick to the skin more than than powder. This powder rubs off easily and the glitter fallout can get on your clothes. It's not terribly messy but it's something to consider.

It smells and tastes really yummy and I love it! I prefer to use it on my decolette and on my cheeks when I'm feeling extra girly and cute. The pink tint lasts maybe an hour or so and the glitter tends to stick around a lot longer. It washes off easily. I'm planning on wearing it on my cheeks over a pink blush on Valentine's Day. This would also be pretty in the spring time.

The dust contains sex attractant "pheromone" ingredients that supposedly make you sexier and more attractive to the people around you. I personally don't really believe in these types of claims with these types of products. My boyfriend loved the scent and taste so in that sense it was attracting to him but not because of the "sex attractants."

There's certain ingredients in this shimmery dust that really aren't that appetizing. It contains mica and it's glittery. I'm not a fan of eating glitter or having glitter on my tongue but I don't mind licking this dust. It contains some dyes, fructose (sugar), and saccharin. The good thing is that it contains vitamin C and aloe which are soothing for the skin. I don't know if it's just the powder or a combination of the aloe/vitamin C that makes my skin feel so soft. I love wearing it but I'm not a huge fan of ingesting it.
This product was provided at a discounted price in exchange for an unbiased review. This review is in compliance with the FTC guidelines.

Thank you for viewing
Crazy Girl shimmery dust
review page!