Carried By Eden, Literally
Chances are, you need a reusable tote like this one. You may not know what for, but for $2? You should definitely grab one and be happy. This bag can serve many purposes and holds a lot of stuff, all with a cute, modern design and a durable material. I give this bag five stars because it's awesome.
Published:
Pros:
- Great value
- Big size
- Holds up to abuse
Cons:
- No cons here!
Oh, how do I properly review a tote bag? It will be hard, but I will try my best. For a $2 tote bag, the one by Eden Fantasys features a fun and flirty design, durable material, and a good size for any purpose you might want to use this for.
The material is the plastic-feeling sort that many low-cost, reusable shopping bags are made from. While some bags I've seen and felt have a texture I find disagreeable, I like the lightly textured surface of this one. The inside feels almost like fabric but it's only the other side of the same material. There is no lining. The side seams on the outside feel just like the inside but are black. The straps feel like the same material.
The outside of the bag is black and shiny, and the inside is white. The design on the front and back of the outside is in bright pink and a spring green, as well as some white. One side has the little Eden Fantasys graphic repeating in pink and green with "edenfantasys.com" underneath it in pink. The other side has "edenfantasys" at the top with 'Sexy & Smart" underneath it in large letters. At the bottom it says "facebook/twitter @ edenfantasys." So, this bag is a good way to show your love for this site and the community since people will possibly ask about it or remember the links on this bag and check them out for themselves. If you're not on board with showing off your affiliation loud and proud, the side with the repeating pattern is a little more discreet than the other. That said, I doubt anyone is going to immediately put two and two together and realize that Eden sells sex toys. There's nothing downright naughty about this bag.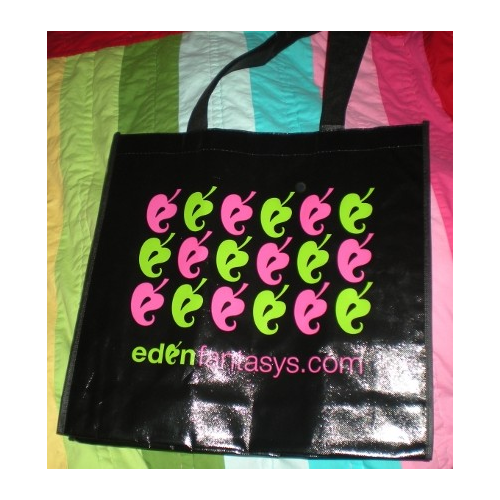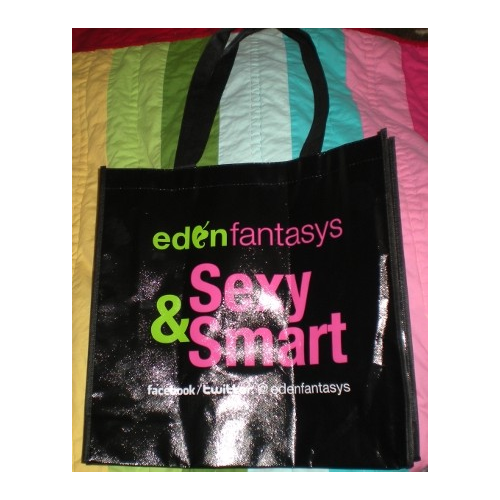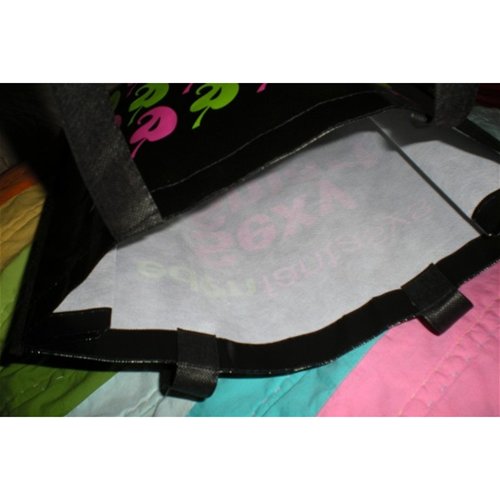 The bag is about 15" by 15" and the base is 4" wide. This bag is pretty big, and holds a lot of stuff. The straps are around 25" long in all and a little over an inch wide. The straps are a good length and width because you can throw them over your shoulder and go instead of having to hold onto them with your hand like some reusable shopping totes I've seen out there. They are strong and can hold a decent weight. It can also fold up nicely when empty.
If you get something on it, soap and water will clean it up just fine! On the same note, rain won't cause it any harm, but be careful if you're toting stuff around in it in the rain because the top is open without any sort of fastening to close it.
I got this bag in my package with no additional plastic or anything around it. It did not need any.
Experience
Now, aside from using this bag for carrying groceries or other purchases when out shopping, here are some other ideas:
- You can use this bag to hold toys in their original packages or whatever.
- You can use it to hold craft supplies, like I am currently doing. It holds quite a few skeins of yarn!
- You can use it to hold a small collection of paperback books.
- You can use it to store a small umbrella when it rains.
- You can use it to hold things like towels and sunscreen at the beach.
There's not much you can't keep in it!
Follow-up commentary
2 months after original review
Nothing has changed here. It's still a cool tote bag. What more can I ask for? Not much. It hasn't fallen apart or anything. I'm still not brave enough to use it to grab groceries but I have my other uses and you will find them too.
This content is the opinion of the submitting contributor and is not endorsed by EdenFantasys.com

Thank you for viewing
Edenfantasys tote bag
– storage container review page!