Holds More Than You Think It Will
This box held a lot more than I had expected. That was a pleasant surprise. Interior of box measures 13.5" * 3.5" * 3.5". I was able to get quite a few toys into this little box. It is perfect for travel on a weekend get away. Don't limit yourself to storing just toys, it would be a good storage box for a number of things. It comes in 3 colors purple, black and pink. I rated it 5 out of 5 for ease of use, durability, and quality.
Published:
Pros:
Sturdy
Combination Lock
Finished corners
Cons:
Size
I had had this on my wish list for a while. I debated about getting it. On the plus it is very cute and lockable. On the minus was the small size. So finally, I bit the bullet and ordered the purple. I expected it to hold one or two toys and intended to use it as a take along for weekend trips. I was pleasantly surprised when I started putting toys in to it for this review. I put one after another in. In all I managed to get 5 full sized vibrators, 2 small vibrators, 1 bullet vibrator with controller, 2 nipple clamps, 1 kegel exerciser, extra batteries for all and some Eden Wipes. Below you can see it loaded with my stash, the stash and the empty box.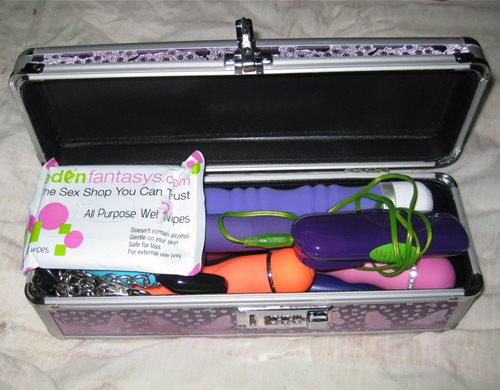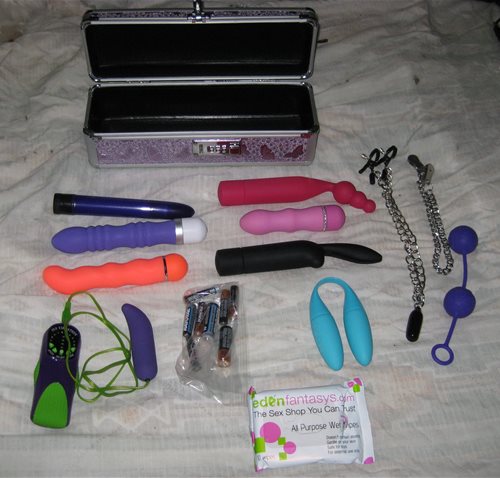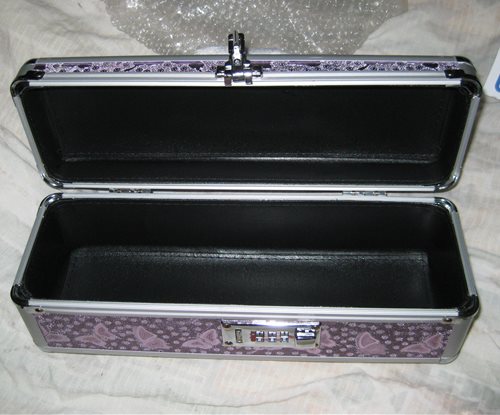 Hopefully this gives you an idea of how much this little box can hold.
Design
The design is a rectangular locking storage box. I chose the purple. As you can see from the photos, it is lavender and the color is true to the model on the sales page. It is covered with raised butterflies which reflect when light hits them. The box is trimmed with silver detailing to give the box a nice finished look. The corners are shiny chrome as are the hinges. There is a combination lock on the front.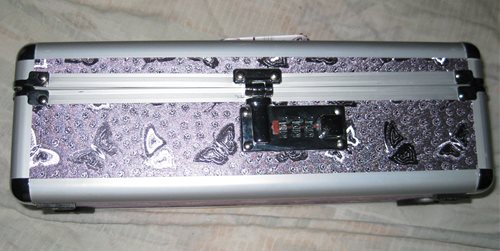 The back has two hinges.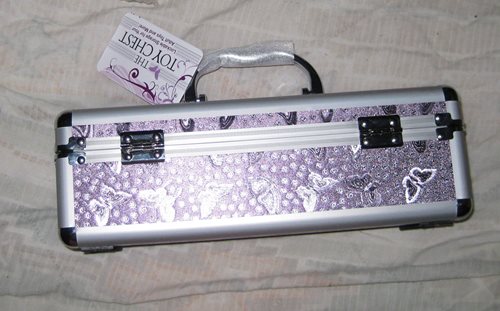 There is a silver handle on the top for easy carrying. My hands are smaller and I found it to be quite comfortable to carry. For those with larger hands, the handle may be a bit small. I would not be overly concerned about this. The box is not very large and it is easy to grab a hold of.
On the bottom are four black rubbery half circles that act as padding so the box does not scratch or be scratched. In the center of each quarter circle is a rounded tipped nail.
Packaging
The box comes packaged in bubble wrap. It has a hang tag that reads, "The Toy Chest Lockable Storage for Your Adult Toys and More. When you open up the tag, it gives instructions on how to set the combination lock. The box can be used as a gift box as well as being a gift.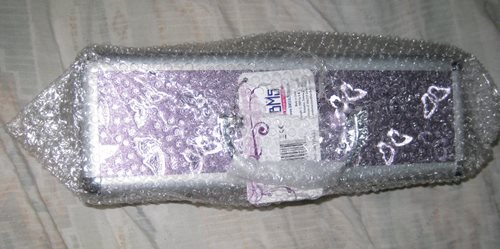 Size
The exterior of the box measures 12" * 4" * 4". The interior of the box measures 11.5" * 3.5" * 3.5".
Experience
This box was a pleasant surprise. It held far more than I expected. The quality was higher than I expected as well. All of the edges are well finished. I expect this to last a long time. The hinges and lock seems secure. I would say this is very well made considering the price point.

The combination lock is easy to set. There is a red plastic insert in the combination wheels to keep it from locking accidentally. The locking mechanism is very sturdy. Be sure to write down the combination where it can be kept secure. The lock is sturdy, but could be opened with a bit of effort and a screwdriver. This is not meant to keep those who really want to get in out. Mainly to keep prying eyes away. I found no difficulties with opening it. If someone messed with the lock, they would not able to open the case just by jiggling it.

It is heavier than I expected as well. I do not have a scale that will measure this something light so I cannot provide exact weight. The handle is well secured and should hold up to a good amount of abuse. I am not sure how the exterior edging is secured. The interior covering appears to be glued in.

All in all, I would highly recommend this lockable storage device. This box is not just limited to toys, you could store anything that will fit into the box such as jewelry, cash or other valuables that you would like to lock up. I liked it so well that I ordered a second one in black for my Sweetie. He does not have any toys but does has other small things he likes to lock up. This is great for travel.

Unless you were familiar with toy storage, you would not immediately recognize this as a vibrator case. I got the purple, that is very "girly".

Remember that silicone toys should never be stored next to each other. If you would like to store them be sure to put them in a bag or wrap them in some material. This will keep them safe and prevent them from moving around inside the box.
This product was provided at a discounted price in exchange for an unbiased review. This review is in compliance with the FTC guidelines.

Thank you for viewing
Lockable sex toy case
– storage container review page!